UM System President Bullish On Downtown KC Arts Campus And Improving Diversity
As Mun Choi approaches six months on the job as president of the University of Missouri System, the challenges keep coming.
Missouri Gov. Eric Greitens' state budget for fiscal year 2017 included a $37 million cut to the university system and the potential for $57 million more in permanent cuts in 2018.
Freshman enrollment at the Columbia campus is down 35 percent since the fall of 2015, when protests over the school's response to persistent racial bigotry made national headlines.
That attention was refocused last month after a story in The New York Times on the fallout from the protests. Since the article appeared, the system has stepped up its campaign to highlight the progress being made on the four campuses.
But Choi remains hopeful. There's UMKC's prospective Downtown Campus for the Arts, which he says "there's a very strong chance, if all the elements are in place," could start to take shape as soon as December of 2018. There's a new compact with the citizens of Missouri that the system will release during this academic year.
And then there's Choi's natural optimism.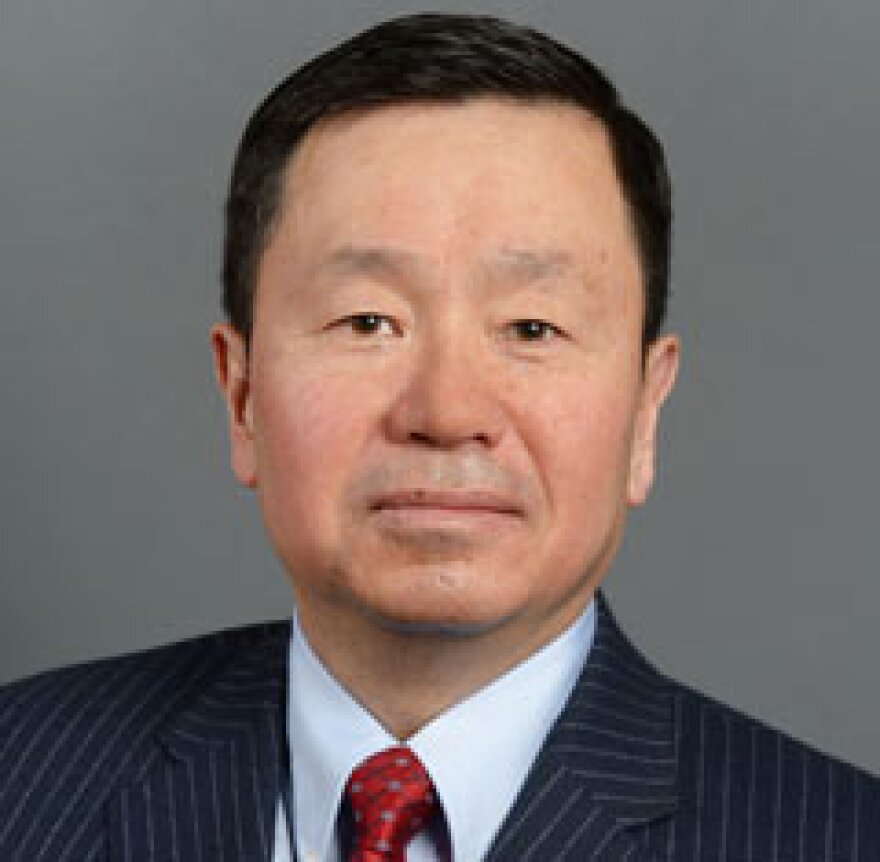 "I get to get up each day thinking about ways that I can contribute to our student's learning, our faculty members being able to pursue their research and creative work, and translating that teaching and learning to the citizens of Missouri," he says. "I find that to be a great honor and I'm excited about it."
On Wednesday, Choi spoke with Steve Kraske on KCUR's Up To Date, and addressed those issues and more. Here are some highlights from that interview, edited for length and clarity:
Interview highlights:
On increasing the number of students of color
"We have to take the concerns of the students very, very seriously. If students are being made to feel that they're not included, they're not appreciated, that's an issue that we have to address at all levels."
"After the aftermath of the protests in 2015 ... the new leaders who took over ... invested significant resources and time to help improve relations among the students and the faculty. We hired at that time Dr. Kevin McDonald as the chief diversity officer, and he's worked with constituents throughout all four campuses to develop what is known as the Inclusive Framework for Excellence, in which we identify ... training programs, cultural sensitivity as well as expressions that strengthen our commitment to the free exchange of ideas and that has been adopted by all of the campuses."
"I think we need to do very proactive recruitment. We need to work closely with the school districts throughout the state and encourage students — all students — especially students from lower socioeconomic classes and those students who come from under-represented groups to apply to the university.
"Even before then, [we need to be] engaging students by having more summer programs, or enrichment programs ... that can really engage high school [and] middle school students to think about professions in engineering and the sciences, or in the humanities. Early identification and early alert about the possibilities of higher education is going to be critical in that effort."
On the future of a downtown campus for the UMKC Conservatory of Music and Dance
"We are going to work very diligently with the leadership of UMKC and the Kansas City supporters, and our plan is to bring a proposal to the board of curators for the consideration by December.
"It's going to be a task that's going to require a lot of creative thinking to come up with the approximately $50 million that is needed for this project, but I recognize, as well as many Kansas City residents, that the conservatory is a jewel. It's a jewel that actually promotes the value of the arts in the Kansas City area, and it's an organization that has few equals in the United States."
"Our goal is not to borrow the money, it's going to require some public-private partnerships, some innovative ways for us to think about this project. It may actually mean descoping the project from it's current budget of $100 million ... lowering the overall cost of the project. That may come through by reducing the footprint, reducing some of the programming, or it may come from the public private-partnership that we are also considering."
"My feeling is that it is going to get done. It's going to take some work, it may take a little bit longer than expected, but it's going to get done."
On if the university system has a public relations problem
"Yes, we do. It's very clear that we do, and part of the blame rests with us. I think that many of us within the university have not been proactive in the past because things were moving in the right direction. Enrollment was going up, the state support was steady during that period, but after what happened in November 2015, we quickly found out that we did not proactively share the value of the university and engage with the partners who are very important to the success of our university. That's something we have to work on proactively."
On the university system's responsibility to Missourians
"As part of our very important strategic plan development that's going to occur during this academic year, we are going to be adopting four compacts with the citizens of Missouri. These Missouri compacts touch upon student success, [that is] training our students to graduate, and graduate and assume positions in leadership, in industry, government, or attend graduate school.
"In terms of research and creative works, the measures that are very important for public research universities are extramural research grants, the books that are published by our faculty, the journal articles that are published and the citation indices and the national awards for our faculty.
"When it comes to engagement, it is making a difference through education and research with the citizens of Missouri, developing partnerships within industry that lead to workforce development and economic development.
"The last compact is to be a university that is known for operational excellence, a university that has four campuses that are unique — that are distinct — but that are collaborating to bring the best value to it's citizens, to the students and the faculty."
On Choi's approach to tough financial decisions
"It's done in a fashion that is very interactive and collaborative. For example, there is a tremendous amount of faculty and staff input into some of the reductions that we have made. Not all of the reductions ... that have been recommended by the departments or the schools were accepted because of the importance of those programs to the university's overall goals for teaching, research and engagement. But there are other programs that were not being considered that we encouraged, as senior leaders, as chancellors and provosts, as president, [we encouraged] the units to consider.
"It's a back-and-forth process where we talk about the pros and cons of our actions, but ultimately we knew that we had a very difficult job, to eliminate or to reallocate and eliminate about $100 million worth of budget for this upcoming year and, on top of that, further cuts that occurred in July as well."
On the future of NCAA Division I athletics at UMKC
"There are many benefits to having a successful sports program that can serve as that front porch to a university. I come from a university out in Connecticut that has really benefited from the success of the women's and men's basketball program. That brought significant interest from students who applied from parts of the country that did not apply before — and internationally as well."
"As a person who is examining very carefully the finances of the university, which drive our goal towards achieving excellence, I need to ask the questions about what is the true value and what is the true cost of running these sports programs, and so we'll be examining that very carefully with leaders in Kansas City."
"[T]hey care deeply about UMKC and it's future, and want to ... help us inform that decision by objectively examining the status of the athletics program. What are the possibilities for investment if it can reach the level of prominence at other universities? Or, if that likelihood is not very high, what is the plan that we're going to have to actually reduce the support for athletics? That decision has not been made yet, but we will be examining it objectively."
You can hear Steve Kraske's entire conversation with Mun Choi here.
KCUR is licensed to the University of Missouri Board of Curators and is an editorially independent community service of the University of Missouri-Kansas City.
Luke X. Martin is associate producer of KCUR's 'Up To Date.' Contact him at luke@kcur.org and on Twitter.