Music Review: Moreland And Arbuckle's 'Promised Land Or Bust'
Moreland & Arbuckle
Promised Land or Bust
It's not easy to surprise with a blues record.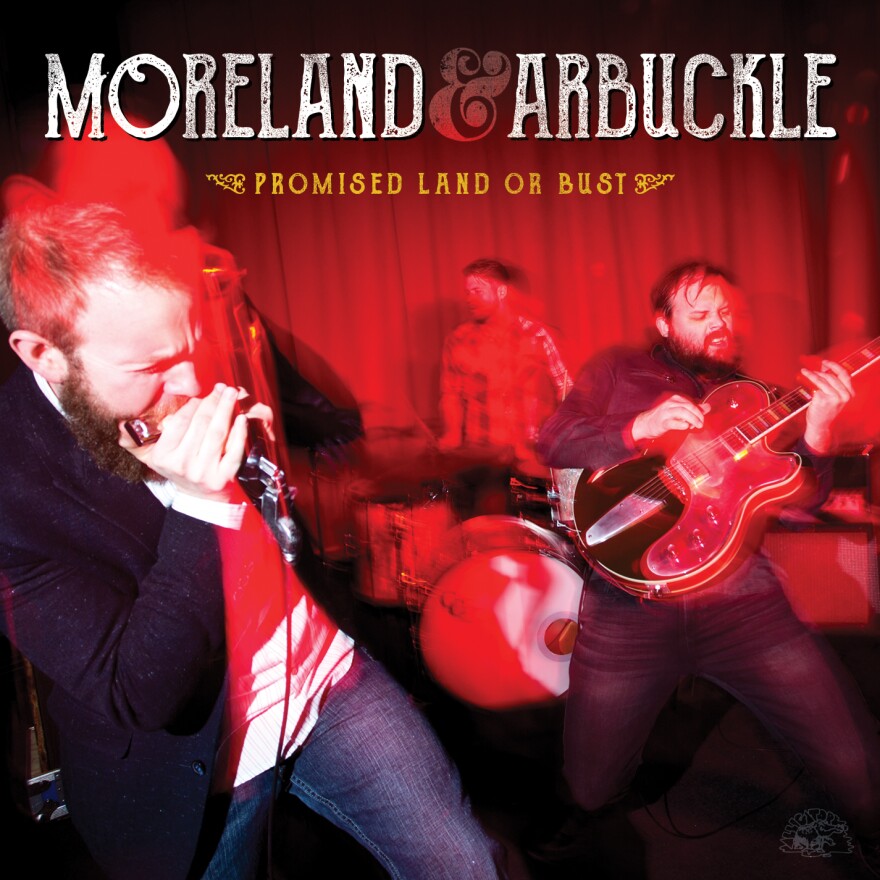 As a matter of fact, blues artists often take hits for being surprising. Violating expectations and audience demands is as risky within the blues as it is within bluegrass, or country … or punk. But Moreland & Arbuckle, a trio from Wichita with a long Kansas City stopover history and a distant punk/garage rock past, do what they want on Promised Land or Bust, their seventh release – and their Alligator Records debut.
Aaron Moreland and Dustin Arbuckle (drummer Kendall Newby rounds out the band) understand tradition. When they cover Slim Harpo's risqué "I'm a King Bee," or, even better, "Woman Down in Arkansas" byLee McBee – a Kansas City harmonica hero who passed away just a few years ago – they realize and work with the comfort of familiarity. When Arbuckle sings "Been gone for nine or twelve long days/She break my heart when she goes away," then dives in with scratchy, lived-in, pure McBee harp riffs, it's obvious they respect where they came from, and they know how to pay tribute.
And Promised Land or Bust has lots of gripping songs about traditional blues subjects, including nasty people ("Mean and Evil"), aggressively and passionately exhausting women (the sultry "When The Lights Are Burning Low"), and a realistic and comical catalogue of relationships that truly did not pan out ("Why'd She Have To Go [And Let Me Down]").
But Moreland & Arbuckle are clearly used to taking the long road. (Their last record, 7 Cities, was centered on Francisco Coronado's 16th Century journeys from Mexico to Kansas, after all.) Here, the journeys are more personal. Songs touch on spiritual searches, the kind that you embark on after getting burned by the one you loved.
"Mount Comfort," for instance, is a gently rolling and fairly direct metaphorical meditation on trying to break out of the stifling boxes of modern life. "I'm dancing with my shadow/in the iridescent glow" is not a typical blues lyric, but it captures the sadness of a man trapped in the deliberate and depressing isolation of his own house. All the guy wants is a ride downtown, but it's not there.
The swamp gospel of "Long Did I Hide It" shows another side of that isolation. The singer has "long hidden" sin, pain, addiction, and desperation, and he passive-aggressively lashes out: "Think you know me well/You don't know me at all." In this angry song, the hurt is never resolved.
The other big surprise of the record is the sound, which, even when the subjects are familiar, avoids both the pitfall of trebly distance (which many guitar-driven groups wind up with) and the blur of the bass-heavy mess of blues bands trying to sound "live." Producer Matt Bayles, who's worked with metal bands like Mastodon, found a way to keep Arbuckle's vocals and harp, and Moreland's guitar, way up front — not intrusive, but bold, urgent, and audible.
All told, Promised Land or Bust just sounds fresh.
KCUR contributor Mike Warren has written for a variety of local and national music publications, including No Depression. Follow him @MikeWarrenKC.