Kansas City Ballet Dancer Gets Her Dream Role In 'The Nutcracker,' Makes History
For years, ballet dancer Whitney Huell had an ornament of the Sugar Plum Fairy from "The Nutcracker" hanging on her Christmas tree. The miniature ballerina was African-American like Huell.
"This is a very iconic role and a role that many dancers dream of doing, myself included," Huell told Central Standard host Gina Kaufmann. The role of Sugar Plum Fairy is so big, in fact, that Huell barely allowed herself to think snagging it was possible, though she's been a professional dancer for a decade.
But this season she got it, and it's her first lead role. It's also the first time an African-American dancer in the Kansas City Ballet has had the role.
Last year Huell also made Kansas City dance history by being the first African American to dance as the Snow Queen. She told Kaufmann it's an honor.
"I feel that it could be very inspiring to young dancers of color that may want to pursue ballet and possibly be the Sugar Plum Fairy, and see someone like themselves on stage so they know that they can get there."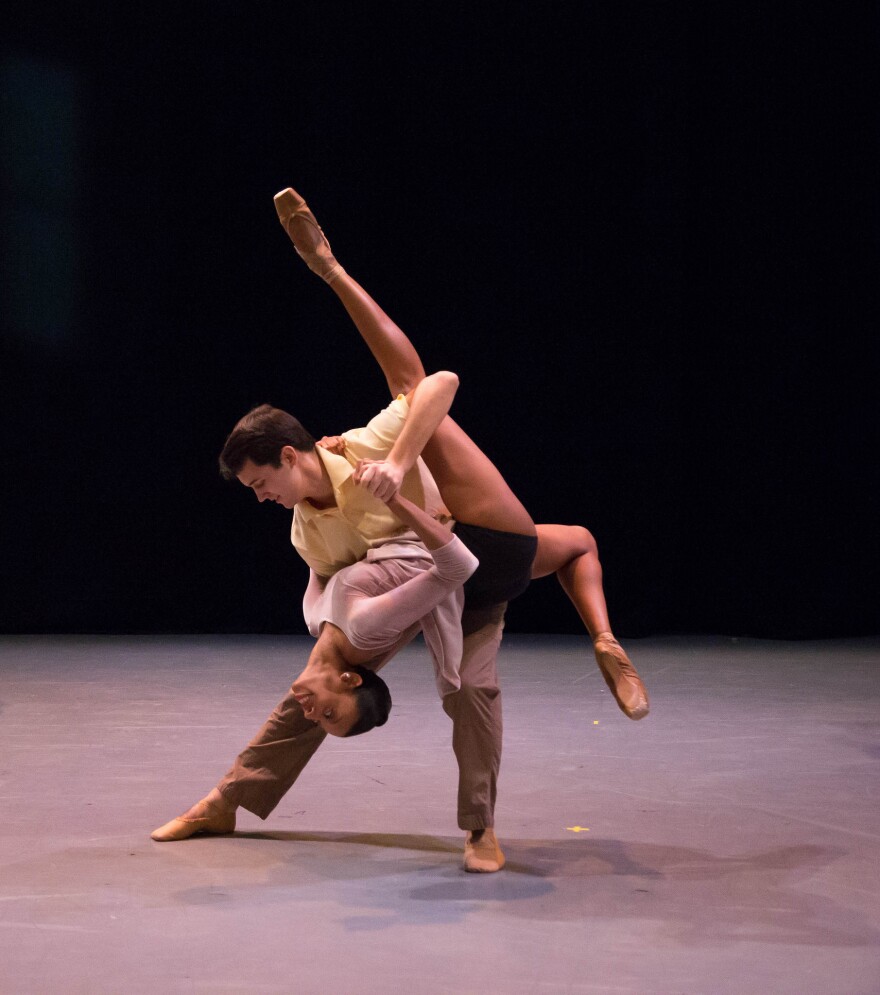 This year's Kansas City Ballet production of "The Nutcracker" has seven casts. Huell's parts vary by which cast she's in — she will appear as the Snow Queen two more times this season (on December 20 and 22), and has already completed her run as the Sugar Plum Fairy.
She began dancing when she was five at a school in South Carolina, where she was accustomed to a diverse student body. As Huell progressed to become a more elite dancer, she began to realize she was one of only a few people of color in her classes.
"When I would go to summer programs, especially when I went to Boston Ballet, I think I was one of the only African-American females in the summer program, and in my level, I was the only one. I was like, 'Oh wow.' Because at other places there were two or three," she said.
But the lack of diversity didn't especially bother her until she felt that casting directors were making decisions about her based on her skin color. It didn't happen often, but when it did, it hurt.
"I felt like I could dance just as well as the other dancers in the room, and I'm like, 'Why isn't this person looking at me? Why do I feel overlooked?' So, I began to be like, 'Is it because I'm black? Do they not think I can do it?'"
After graduating from Indiana University, the first company Huell signed with was in Salt Lake City. Ten years ago, she said, she was the only dancer of color there.
Then in 2014, she decided to move to Kansas City.
"I really wanted to move somewhere with more diversity; somewhere where I thought I would fit in a little better, a city that I think would welcome me more," Huell said. "I got into Kansas City Ballet, and it has been a great fit. It was probably one of the best decisions I've made thus far in my career."
For Huell, one of the greatest parts of being in a more diverse place is looking out and seeing children of color in the audience and to be able to, she said, "reach out to people who looked like myself. When I was young and I saw a dancer of color on stage, that's what drove me really. ... Not everybody has to look the same."
Kansas City Ballet's "The Nutcracker" runs through 7:00 p.m. Friday, December 28 at the Kauffman Center for the Performing Arts at 1601 Broadway Blvd, Kansas City, MO 64108. Ticket prices vary.
Follow KCUR contributor Anne Kniggendorf on Twitter, @annekniggendorf.