Rural Kansas Hospitals Search For Ways To Survive
A lot of the hospitals in rural Kansas are called "Critical Access Hospitals." It's an important designation, because Critical Access Hospitals were created by the federal government to maintain access to health care in rural areas.
But Many Kansas Critical Access Hospitals are in financial trouble. Medicare requires them to offer 24-hour emergency services. But most don't have enough ER patients to justify the cost of 24-7 service, says Melissa Hungerford, senior vice president for health care leadership at the Kansas Hospital Association.
"Keeping staff, and supplies, and equipment, and buildings, and all of the facilities that it takes to deliver that around-the-clock, quality inpatient care is an expensive system," Hungerford says.
Hungerford is in charge of a new KHA initiative aimed at helping rural hospital administrators devise what might be called strategic survival plans.
One idea is to allow small hospitals to give up some or all of their acute care services and become "primary health centers." These centers would stabilize patients and transfer them to larger hospitals. Some might still offer emergency care 24 hours a day. But others might only operate their ERs for 12 hours.
Five hospitals have signed up to participate. Hungerford says they have agreed to keep two sets of books – one that documents their current procedures, outcomes and costs, and another that estimates how much could be saved by operating as primary health center.
"We will be able to look at the patients that they have served, and say, 'So, what would have happened differently from what happened in today's environment?' And then look at what the cost of that entity might be, and see if there are any opportunities for savings," Hungerford says.
The Edwards County Hospital, in Kinsley, is participating in the experiment.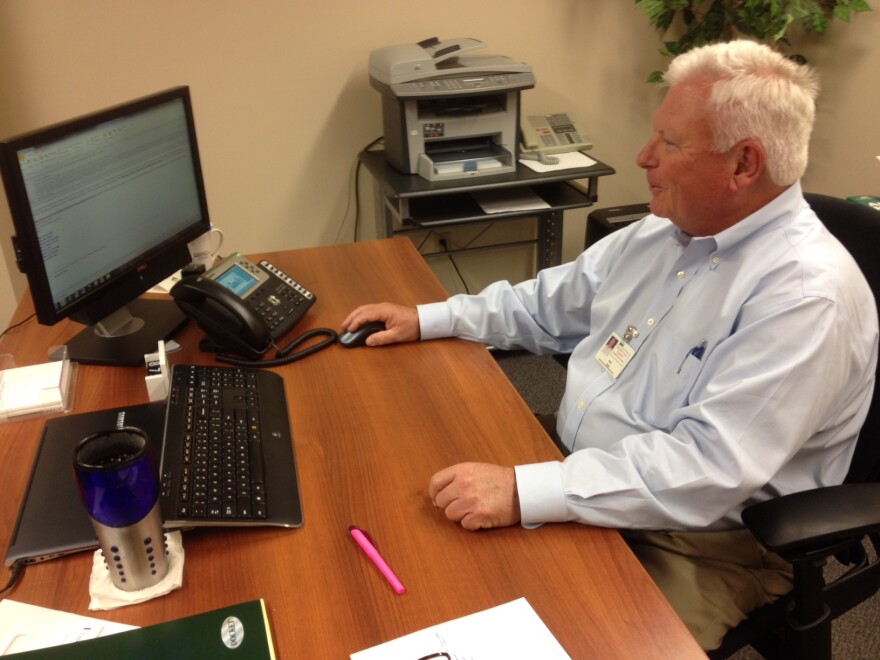 "I don't think it's going be a first choice for anyone," says the hospital's CEO, Bob Krickbaum, "but the time is coming that I think it will be something that a lot of these small community hospitals have to consider."
The southwest Kansas town has been losing population for 60 years. It peaked at nearly 2,500 people in the 1950s, but Kinsley's population is now around 1,500. About as many live in the rest of Edwards County. Krickbaum says it's not easy to keep a hospital open with numbers like those.
"If we can get through a year here, and we can make 1 or 2 percent on the bottom line to reinvest right back in this facility, we've had a really good year," Krickbaum says. "The really bad years, those numbers are red."
Eighty percent of the hospital's revenue comes from the federal Medicare program. But Krickbaum says reimbursement cuts are taking a toll.
"We are continuing to see a decline in Medicare support," Krickbaum says. "I don't want to be over-dramatic, but I would use the term, honestly, we're under siege."
Medicare established Critical Access Hospitals in 1997 to help preserve access to health care in rural areas. It did that by reimbursing the hospitals for their actual costs.
But sequestration — the across-the-board budget cut adopted by Congress in 2012 that is still controlling budgets — reduced those payments by 2 percent.
That may not sound like much. But Brock Slabach, senior vice president of the National Rural Health Association, says it's the main reason why 35 percent of the rural hospitals in America are operating at a loss.
"When you have 80 per cent of your volume controlled by one payer and you take a 2 percent cut on that, that's a significant number, proportionally," Slabach says.
Many small-town hospitals balance their books with local tax subsidies. The Edwards County Hospital gets $385,000 a year from county taxpayers. But Krickbaum says the tax base is shrinking in many Kansas communities.
"I think there is no doubt that we will not be able to continue to support 84 Critical Access Hospitals in Kansas," Slabach says, "and right now, the choice is they stay Critical Access or they close. And that is going to leave a lot of rural communities without care."
Changes in the way Critical Access Hospitals operate would require corresponding changes in federal Medicare rules. If the results of the experiment are promising, the KHA's Hungerford says the next step is to ask the federal government to fund a demonstration project as a final test.
Bryan Thompson is a reporter for KHI News Service in Topeka, a partner in the Heartland Health Monitor team.