These Rural Missouri Counties Got Lots Of COVID Vaccine Doses But A Third Went Unused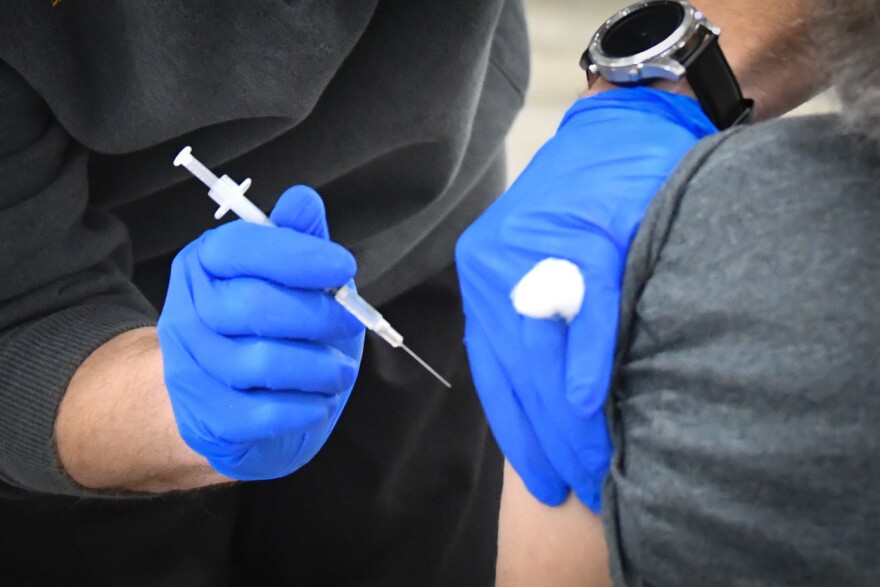 While outsiders blame low rural vaccination rates on vaccine hesitancy, local health officials say the state's distribution system has made providing shots difficult.
More than one-in-three Missouri residents have received at least one COVID-19 vaccine dose, but in much of southern Missouri vaccinations have stalled at some of the lowest rates in the country.
During the first few months of the vaccination campaign, many rural parts of Missouri received more doses per person than cities. But an investigation by KCUR found that many of these doses didn't make it into the arms of local residents, and state data provides limited information about where they wound up.
Though low vaccination rates in rural areas have often been chalked up to hesitation or flat-out refusal to getting COVID-19 vaccines, some rural residents and officials say the state's distribution system is also to blame.
"There's confusion about who goes when and where and how to access it," says Jessica Nease, a councilwoman in West Plains, Missouri. "I think that probably is having an impact, and I think that's more or less a disconnect in communication at the state level of how it's being implemented at the state level."
In the first few months of Missouri's vaccination campaign, vaccination Region G, a cluster of nine counties in south-central Missouri where West Plains is located, received a percentage of the state's doses equivalent to its percentage of the state's residents. North of G, Region I, which compromises six counties, received a similar proportion of doses.
The relatively high number of doses sent to many rural areas prompted questions about fairness from some urban officials, including those in the Kansas City area, which received a lower percentage of doses than its percentage of the state's population. In the early months of 2020, the Kansas City area's vaccination rate remained well below the state average, and many residents who were able to do so embarked on long road trips to get vaccines elsewhere.
But state data show that many of the doses sent to rural counties didn't reach locals. While nearly 46,000 doses were allocated to region G as of April 13, only 37,000 doses were administered to the region's 137,110 residents.
Even fewer doses were used by locals in Region I, which received 95,765 doses as of April 13 but administered only 54,269.
All of the counties in these two regions have vaccination rates far lower than the state average of 23.6%. Some of them have been highlighted in state vaccination equality reports as having some of the lowest vaccination rates in the state, including Pulaski County, at 7.3%; Reynolds County, at 9.6%; and Ozark County, at 10.1%.
Autumn Shirley, a Howell County business owner who sought a vaccine when it first became available, said that the pandemic had evinced deep skepticism of the medical establishment within her largely conservative community. That skepticism emerged in contentious debates over mask mandates and continues in the form of reluctance to get the COVID vaccines.
"It's almost to the point where asking a person to get a vaccination is sort of asking them to change their personal identity in some ways," Shirley said. "Some of these very conservative people believe, truly believe, that this is a government overreach. At the very least, it's a government overreach and at the worst, it's also a way to track us or sterilize us or make us all sick."
Vaccine hesitancy
At the start of January, residents of southern Missouri reported the highest rate of vaccine hesitancy of any demographic group in the state, according to polling conducted for the Missouri Hospital Association. Just over half of southern Missouri residents said they would not get the vaccines.
Jack Pahlmann, mayor of West Plains in Howell County, who initially opposed then supported a local mask mandate, said the pandemic had exposed deeply rooted skepticism toward government and the health care establishment among his Ozark neighbors.
"They're honest. They're hard-working," Pahlmann said. "But they're just not – the term these days is 'sheeple' – they just don't line up and do whatever the government tells 'em to do."
Howell County's vaccination rate now stands at 12.1%.
Missouri Gov. Mike Parson announced the opening of vaccine eligibility to all residents on April 9, explaining that his decision was based in part on the January polling data showing that 40% of Missourians would not seek vaccines. He said that in some areas vaccinators were at risk of running out of eligible people who wanted the shots.
More recent polling has found greater interest in obtaining the vaccines across demographic and political groups. A recent Department of Health and Human Services report based on federal surveys estimated that rural Missouri residents, including those living in southern Missouri, were more receptive to getting vaccines than rural residents in most neighboring states.
Dr. Mary Anne Jackson, an infectious disease specialist and dean of UMKC's School of Medicine, said that hesitant attitudes toward the vaccines have shifted dramatically since the beginning of the year.
"The wait-and-see population – it's shrinking," Jackson said. "It's shrinking from 40% of the population in December to less than 20%. It's more like 15% right now. So I think we're turning the tide on this."
In Howell County, health officials say they've been struggling to reach many willing residents.
Jaci McReynolds, a West Plains-based nonprofit healthcare advocate who coordinates region G vaccinations through a state-created regional implementation team, said that local vaccinators had trouble scheduling vaccinations because they're only informed of how many weekly doses they will receive on the Saturday or Sunday before the week begins. They're then required to use the doses within five to seven days.
"These circumstances leave vaccinators in the position of being reactive to vaccine supply and resident demand, rather than being proactive in planning," McReynolds said in an email.
West Plains Councilwoman Nease added that unreliable local internet service and a geographically spread-out population have led to locals missing out on important vaccine information.
"There's just a lot of confusion about how do I actually access it. Do I need documentation to get a vaccine? What do I need to show? What tier group am I in?" Nease said.
Many of the counties in Regions G and I are also some of the most vulnerable in terms of income and health. Recent studies by the Kaiser Family Foundation, a nonprofit research organization, show that access appears to play a larger role than politics in determining vaccination rates in such communities.
"I think this is less about people's attitudes in these communities and more about some of the structural barriers that they face in general, and that is continuing when it comes to access to the COVID-19 vaccine," said Jennifer Tolbert, director of state health reform at the Kaiser Family Foundation
Vaccine waste
State officials insist the waste of vaccines has been minimal, but health department data provides incomplete information on what happened to the vaccine doses that were allocated but not administered in these regions.
Doses that are not used by clinics may be offered to other vaccinators, pending the approval of the state, or may be slated for use as booster shots in the future, according to Missouri Department of Health and Human Services spokeswoman Lisa Cox.
But dose transfers conducted through April 13 accounts for few of the unused doses, according to information provided to KCUR by the state health department. It shows that 1,500 of the nearly 9,000 unused doses allocated to Region G were redirected outside of the region, but nearly all of the other transfers were sent to other local clinics within the region.
Cox said that many doses allocated to a region may have been given to people from other parts of the state who traveled to obtain the vaccines. But she acknowledged that additional waste may have occurred that is not reflected in the state's data.
"Some could've been wasted, and some could still be in their inventory. I'm waiting to see if there are other possibilities I'm missing," Cox said.
In the last month, Missouri's health department has shifted the vaccine distribution strategy and sent doses based on the number of eligible people in each county who have not received shots. As a result, many more doses have gone to Kansas City and St. Louis, where vaccination rates trailed state averages.
The number of doses being sent to Region G, meanwhile, has declined, and southern Missouri now stands as one of the largest areas in the country with low vaccinations rates,
A race against time
COVID-19 cases and hospitalizations have dropped significantly since the start of the year, but new cases have remained at a plateau of roughly 360 per day for more than a month. Health experts, including UMKC's Jackson, warn that the spread of more transmissible and potentially dangerous variants could lead to a jump in cases, as has happened in states such as Michigan, Minnesota and Rhode Island.
"It's a race against time for us to get as many vaccines in arms ahead of the variants," Jackson said.
Jackson said she was encouraged that the numbers of new cases have remained relatively low in Missouri, even as variants have been spreading.
Supplies of doses have remained limited in recent weeks, although Parson and other state officials have expressed optimism that supplies will increase in coming weeks.
But health experts say the goal of achieving herd immunity through vaccination rates of 70% to 80% may require specialized outreach in rural areas, including recruiting "trusted messengers" within communities to convince residents of the safety and efficacy of the vaccines.
"You can't just say, 'Hey, you need to get vaccinated,' and consider that done," said Tolbert of the Kaiser Family Foundation. "It's going to take a lot more effort, but with targeted outreach and persistent outreach it will be possible to get more people vaccinated."
West Plains Mayor Pahlmann, who is retiring at the end of this month, has inadvertently taken on that trusted messenger role for some in his community.
Pahlmann and his wife were vaccinated weeks ago, and he said many friends and neighbors who are still making up their minds about vaccinations are now watching them closely.
"There are a number of people sitting back looking at us to make sure we don't grow another limb or get a third eye or have some weird thing happen to us," Pahlmann said.