My Fellow Kansans: The Rise — And Fall — Of Sam Brownback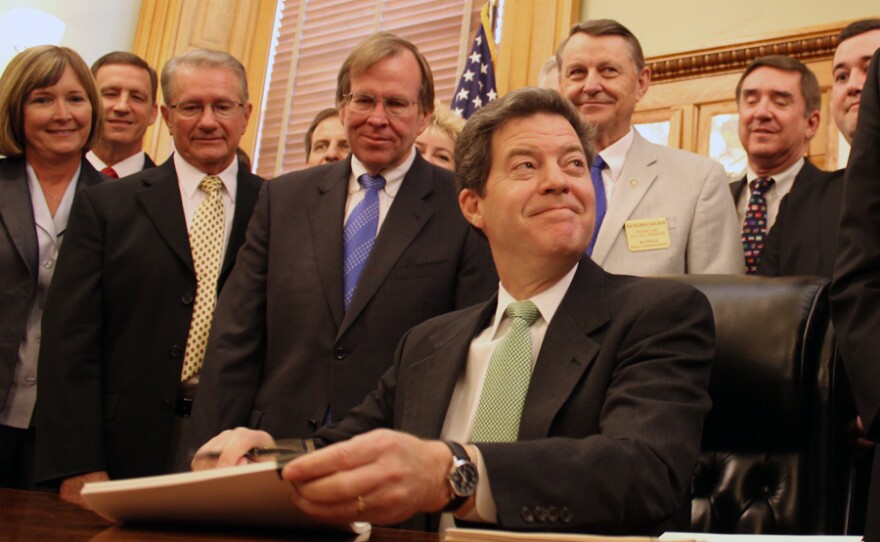 File Photo / Kansas News Service
Brownback gives a farewell address when leaving the U.S. Senate.
CSPAN
Brownback applauds during his final State of the State speech in 2018.
Celia Llopis-Jepsen / Kansas News Service/File photo
Before he was governor, Sam Brownback had been state agriculture secretary, congressman, and U.S. senator. But when he captured the state's top office in 2010 he had even bigger plans: to transform Kansas into a red-state model for the nation.
That's not the way things panned out.
Deep income tax cuts that Brownback pushed for and got Kansas lawmakers to approve succeeded in making the state a model — but one to avoid, not emulate.
The anti-abortion protests of the Summer of Mercy effectively paved the way for Brownback to ascend to the top of Kansas politics as a leader of the Christian right. His campaign to consolidate power culminated with a purge of the Legislature in 2012.
But four years later, voters staged a successful anti-Brownback revolt.
Brownback has left the building, so to speak. But his shadow still hangs over Kansas and its politics, and definitely this year's governor's race.
Among those heard in this episode:
Sam Brownback, U.S. Ambassador at Large for International Religious Freedom, @IRF_Ambassador
Patrick Miller, political scientist, @pmiller1693
My Fellow Kansans is a production of the Kansas News Service, a collaboration of KCUR in Kansas City, KMUW in Wichita, Kansas Public Radio in Lawrence, and High Plains Public Radio in Garden City.
The podcast is written and reported by Jim McLean, edited by Amy Jeffries, and mixed by Matthew Long-Middleton.
The production team includes Beth Golay, Nadya Faulx, Scott Canon, and Grace Lotz. Primary Color Music composed our theme.
Thanks to KCUR's Ron Jones for narrating Jeff Sharlet's Rolling Stone article, "God's Senator," for the podcast.
Thank goodness for C-SPAN, from which much of the archival audio was gleaned (we might not have a podcast without C-SPAN. Kansas News Service statehouse reporter Stephen Koranda and Kansas News Service fellow Nomin Ujiyediin contributed audio to this episode.
Special thanks to Neal Carruth of NPR and the NPR Training team.
If you liked this episode, please subscribe, and leave us a review on iTunes. It helps other people find our podcast. You can follow us on Facebook and Twitter.