Kansas City, Kansas, Police try something new to get unlicensed cars off the road: Teach driver's ed
Because the Kansas City region mostly lacks reliable public transportation, people routinely drive without valid licenses. But that can mean court dates, escalating fines and bewildering encounters with law enforcement and legal bureaucracies
Ulisa Arreola-Campos had a lot on her plate the day she was supposed to attend court on the charge of driving without a license.
The Kansas City, Kansas, teenager had only recently been discharged from a month-long hospital stay after being felled simultaneously by COVID-19 and appendicitis. Her mother was also laid up — she broke her leg in multiple places when she fell on a public bus.
Ulisa, a high school sophomore, was trying to manage online classes and help her three younger siblings with their school work as they all stayed home during the early months of the pandemic in 2020.
"Virtual school wasn't going good for me," she said. "I had a lot of things going on."
A couple of months earlier, while her mom was working, Ulisa had borrowed a friend's car to drive to a CVS store to pick up medicine for a sister. She didn't have a driver's license, and she relied on luck to run a quick errand. A police officer pulled her over and issued tickets for driving without a license and not producing proof of insurance.
Ulisa was assigned a date to attend municipal court virtually. But she was panicking over her tanking grades. Faced with the choice of logging into class or court, she opted for class. Now, along with two traffic tickets, she had two arrest warrants on her record.
At age 16, Ulisa had fallen into a trap that is familiar to hundreds of teenagers, immigrants and low-income adults around Kansas City. Because the region mostly lacks reliable public transportation, people routinely drive without valid licenses. But the consequences frequently include court dates, escalating fines and bewildering encounters with law enforcement and legal bureaucracies.
"For kids who are undocumented, kids of color, below poverty level, their first experience with police is getting tickets and seeing their car towed," said Matt Tomasic, executive director of the Police Athletic League of Kansas City, Kansas.
Those initial experiences, plus mounting warrants and fines, often force young people to continue driving unlicensed and uninsured — at substantial risk to themselves and others on the roads.
Tomasic, a former Kansas City, Missouri, police officer, wants to change that narrative. So he and the new Kansas City, Kansas, police chief have created what might be the nation's first police-run driver training school.
Community connections
Dozens of young people gather daily at the Police Athletic League (PAL), located in an old Catholic church in the Strawberry Hill neighborhood of Kansas City, Kansas.
Some learn gardening, others art. Most come for the gym facilities and the boxing ring in the center of what used to be the church sanctuary. The space today still serves as a sanctuary. It's a place where kids from some of the region's toughest neighborhoods can be safe and connect with adults whom they trust.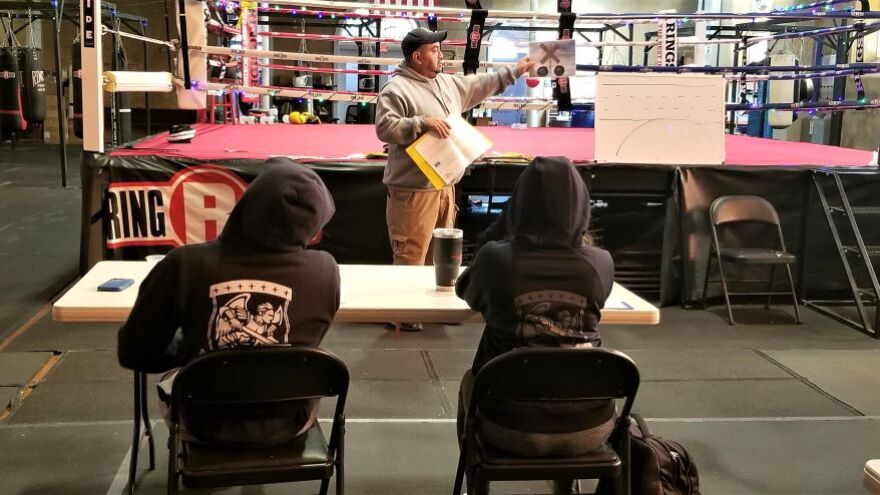 As he talked with the teenagers, Tomasic was struck by how many of them had been ticketed for driving without licenses. Others just hadn't been caught yet. They drive because their parents don't have licenses — and often can't get them because they are undocumented immigrants or don't speak enough English to pass a driving test.
Tomasic knows that the schools in KCK no longer offer driver education. And he is certain that the teenagers at the PAL can't afford the $400-plus cost for private instruction. So he decided to create a course.
Karl Oakman, who in June was sworn in as chief of the Kansas City, Kansas, Police Department, immediately saw the value in Tomasic's idea.
"When you look around the country, a lot of times when you see issues between the police and the community, it all begins with a traffic stop," he said. "So this was a good opportunity for the police department to teach young people the proper way to operate a motor vehicle."
Two KCK police officers are assigned to the PAL. Oakman tagged one of them, officer Joey Reyes, to become a certified driving instructor.
For Reyes, that meant 60 hours of classroom and road training.
"Imagine going to school for something you've done your entire life," he said. But he persevered, and the PAL's first driver training class began in the fall with eight students.
Ulisa Arreola-Campos was among them. But she recognized that she might have a problem. She confided to the PAL's other police officer, P.J. Locke, about the tickets on her record.
Locke ran a computer check and found the tickets. He also found the arrest warrants issued after Ulisa missed court. Until all of those could be erased, she could not obtain a driver's permit.
Locke helped the teenager post bond and secure a new court date. He accompanied Ulisa to court and worked out an agreement with the prosecutor. The insurance charge was dropped after Ulisa provided proof that the car had been insured when she was stopped. With the PAL fronting the money, Ulisa paid a $150 fine for driving without a license.
But that wasn't the end of the matter.
The court clerk informed Ulisa she would need to pay the Kansas Department of Revenue a $125 reinstatement fee for each ticket she'd received — even though the proof of insurance change had been dismissed.
Navigating the bureaucracy took weeks and involved multiple documents, mailings and more costs to obtain state-required liability insurance. Finally, after coughing up more than $500 in fines, bonds and fees, Ulisa received her driver's permit.
"I don't know what I would have done without P.J. and Joey and Matt," Ulisa said. "They have connections and I do not have anything. Without them, I would still not be allowed to drive."
The PAL, which is funded mostly through private donations, helped Ulisa pay the fines. Its staff also helped her get a job at a Walmart so she can help support her family while her mother continues to recover from her leg injury. Tomasic used his connections to get Ulisa enrolled at Bishop Ward High School, where her grades have rebounded.
"The environment that I'm around, cops are the bad people," Ulisa said. "Being around the PAL has completely changed my view of cops. They're human beings, not the person that everybody is scared of."
Though Ulisa's driver permit saga worked out happily, Tomasic said he remains aghast at the difficulties thrown in her path.
"P.J. has been a police officer for 18 years and is familiar with the court system and how it works," Tomasic wrote in an email, which he sent to members of his board and others.
"Everyone he encountered, from the prosecutor to the clerk, understood our objective and wanted to help Ulisa. Despite all that P.J. was left feeling completely frustrated. It is my belief that it is practically impossible for our teenage members to navigate this process without help."
Rules of the road
On a cold Saturday morning in December, thin sunlight slipped through the stained glass windows of the old church that is the Police Athletic League of Kansas City, Kansas, headquarters. Christmas lights blinked on the ropes of the boxing ring.
No one was boxing this morning. Instead, police officer Reyes, in a sweatshirt and ballcap, was teaching driver training class. The subject was lane changes.
"A nephew of mine decided to change lanes on a highway really, really fast," Reyes told the six students seated behind folding tables. "It didn't end well."
For Bianca Carmona, who was visiting the PAL, the material was familiar. She has completed Reyes' classes and progressed to road training — in a car with passenger-side brakes supplied by the Kansas City, Kansas, Police Department.
"I'm getting better at reversing," Bianca said. "I had a little trouble with that."
In reality, driving is not new to the 15-year-old high school student. Like many teenagers she knows, she sometimes drives herself and her siblings places.
"Everything is kind of far so you need to drive," she said. "I would get nervous passing a cop."
Bianca's friend, Yuridia Sanchez, came to Reyes' class with less on-the-road experience.
"I would most likely never have been driving without Joey because my parents didn't trust me driving," she said. "Joey has patience and he trusts me."
Reyes' affection for the PAL teenagers comes across in the form of jokes while he teaches and his willingness to survive a few close encounters, like the day Yuridia "almost killed a mailbox," as he puts it.
"It was the first day of me learning how to drive," she explained, laughing. "I was turning and the mailbox was right there."
Kansas law requires teenage drivers to spend a minimum of 50 supervised hours in the car with a licensed driver at least 21 years old in order to obtain a full license. For PAL teenagers who have no such adult in their family or close circles, that person will be Reyes.
"He was at first a little apprehensive," Oakman said. "But then you realize how much good you actually will be doing, not just for the individual families, but the community of KCK as a whole."
Besides teaching the rules of the road, Reyes' course covers topics such as keeping one's vehicle insured and keeping licenses and car registrations up to date.
"All of these things can help reduce the situation of drivers encountering the police in an unfortunate manner," Oakman said.
The chief said he ultimately hopes to see some of Reyes' student drivers on the KCK police force.
Tomasic said his goal is for at least 100 PAL members to complete Reyes' course and secure their driver's licenses. His research hasn't found any other police department that is proactively training and licensing teenage drivers. But Tomasic hopes that changes.
"I hope every police department looks at this and says, 'we need it,'" Tomasic said. "It just makes sense on so many levels. I don't know of another way we could have as much impact on relationship building as this."
This story was originally published on Flatland.