Third Day Of Kansas City Protests Draws Biggest Crowd Yet To Plaza, With Smaller Protests In Kansas City, Kansas, And Elsewhere
Thousands of Kansas Citians gathered near the Plaza Sunday afternoon to decry racism and police violence after recent deaths of black men and women at the hands of law enforcement. The city's entertainment districts and parks will be under curfew starting at 8 p.m.
10:00 — By two hours after curfew, an estimated 300-400 demonstrators remained in a standoff with police along Main Street between Cleaver Boulevard and 43rd Street.
Some protesters broke windows along Main Street and sprayed graffiti, while other protesters berated them for causing damage.
Meanwhile, a small crowd gathered on the south side of Cleaver and Main with a larger crowd to the north. Police were in the center popping tear gas canisters if either side came too close.
More tear gas. pic.twitter.com/eMYYTDTPwE

— Chris Haxel (@ChrisHaxel) June 1, 2020
8:30 — Citing "items being thrown at officers," the police declared the protest "an unlawful assembly" and began deploying tear gas.
7:55 p.m. — As the 8 p.m. curfew approached, Henry C. Service, who had helped organize the event with Enough is Enough, said he would not advise demonstrators whether or not to leave.
"An artificial 8 o'clock curfew is just a way to spark violence," Service said. "What you're saying is, 'You can only have dissent against the government under these set conditions, and we'll give you until 8, and at 8 is when your dissent stops.' Our dissent stops when the police stop killing people."
Service called for police to have body cameras and for Kansas City to regain local control of the police department.
6:55 p.m. — An hour before a scheduled curfew Sunday night, and people continued to arrive at Mill Creek Park near the Plaza, epicenter of three straight days of protest.
Protesters who had been there on Friday and Saturday nights said the event Sunday appeared more organized.
"More people are bringing supplies for first aid," demonstrator Anastasia Brown said. "The chants are more organized, what we're doing is more organized. I feel like we put a lot more thought into the third day. The first two days were trials. I feel like today we really came together and we're here."
Heading into the 7 o'clock, a larger group of protesters were still massed on the corner of 47th and J.C. Nichols Parkway at the east entrance to the Plaza. And another group of protesters marched down Main Street, headed south towards the Plaza after making a loop north.
6:30 p.m. — A group of protesters marched down Main Street back towards the Plaza after traveling north to near 31st and Southwest Trafficway.
KCPD has closed off several roads in the area around the Plaza and Westport "to accommodate marching protesters."
Near the Plaza, gallons of milk could be seen lined up as protesters said they were anticipating the firing of pepper spray.
A curfew is set to start at 8 p.m. for several areas of the city, including the Plaza.
"They're not going to clear out. It's probably going to get rowdy after 8," said Anastasia Brown, near the Plaza. "We'll stay as long as we can but for safety purposes, we have our lives outside of this to maintain. We have to be safe."
6:15 p.m. — Kansas City Police Capt. David Jackson said they have made three arrests so far on Sunday. All three, he said, were people who "refused to get out of the street."
Overall, he said the day had been "peaceful" so far.
Meanwhile, KCPD officers were dispatched to the area of I-35 and Broadway following reports a group of protesters was nearby and planning to block the highway.
5:50 p.m. — Law enforcement officers have used pepper spray on a small contingent of protesters.
Anton Slobodnick said that he and others were standing off the curb on J.C. Nichols Parkway and were sprayed when they didn't immediately get back on the curb.
Some protesters from Mill Creek Park have left the Plaza area and are headed westbound from 39th and Broadway.
5:40 p.m. — The thousands of demonstrators who gathered Sunday at Mill Creek Park near the Plaza were mostly white.
Victor Sierra, 50, an immigrant from Mexico City who now lives in Kansas City, said he wasn't surprised that few Latinos joined in.
"That is a problem within the Hispanic community. Some of them may be afraid because they have a brother or sister in the immigration process and the last thing they want is to bring problems home," Sierra said.
But Sierra said more Latinos need to stand in solidarity with Black Lives Matter marchers.
"I think we should support, we should join in. It's no longer about us and them, it's about we," Sierra said.
Sierra said he's experienced racism and discrimination since coming to America, such as being laughed at for mispronouncing words while he was learning English.
5:25 p.m. — Rev. Terry Bradshaw addressed about 100 people gathered outside a municipal building in Kansas City, Kansas, Sunday afternoon.
"You came here for a reason, because you're sick and tired … I can't see another black man die, and neither can you," Bradshaw said. "We come here with our knee on the neck of justice. I refuse to let that man die for no reason.
Signs at the protest read "enough is enough" and "no justice, no peace."
Pastor Eric Cobbins of the Worship Center of KC in Lenexa, Kansas, said white pastors in Johnson County need to support the fight against racism.
5:20 p.m. — Yolanda Sanders told a small gathering of protesters at 51st and Prospect that she misses her brother, Donnie, who was shot and killed by Kansas City Police in March.
"He was a pretty funny guy," Yolanda Sanders said. "He liked to be around his family a lot. He's got two daughters. Real lovable. I miss him, man."
According to The Associated Press, an officer attempted to stop Donnie Sanders for a traffic violation on March 12. Police say Sanders fled from his vehicle and that his arms were raised "as though he had a weapon."
An officer shot Sanders near Prospect and Wabash avenues after asking him to drop the weapon. Sanders, who was unarmed, died the next day in the hospital.
"They're still talking about 'everything is under investigation,'" Yolanda Sanders said, "Well, how long is this investigation going to go?"
5:15 p.m. — Police are allowing protesters near the Plaza to walk down J.C. Nichols Parkway.
A day earlier, protesters who entered the street were arrested.
4:50 p.m. — Kansas City Mayor Quinton Lucas addressed the crowd gathered near the Plaza via bullhorn.
"We're here to try to make sure that everybody can walk around in this community not in fear," Lucas said. "And I mean not in fear of somebody shooting them whether they're in blue or whether they're wearing anything else.
"And so that's why we're here today. We're here to talk about how we can get better justice. We're here to talk about how we can change systems. I want y'all to do things like make sure you vote. I want you to do things like make sure you get rid of people that you don't like, and that includes me.
"Things don't need to be same forever. Things won't always be the same forever. And the way we do it is that we make change now."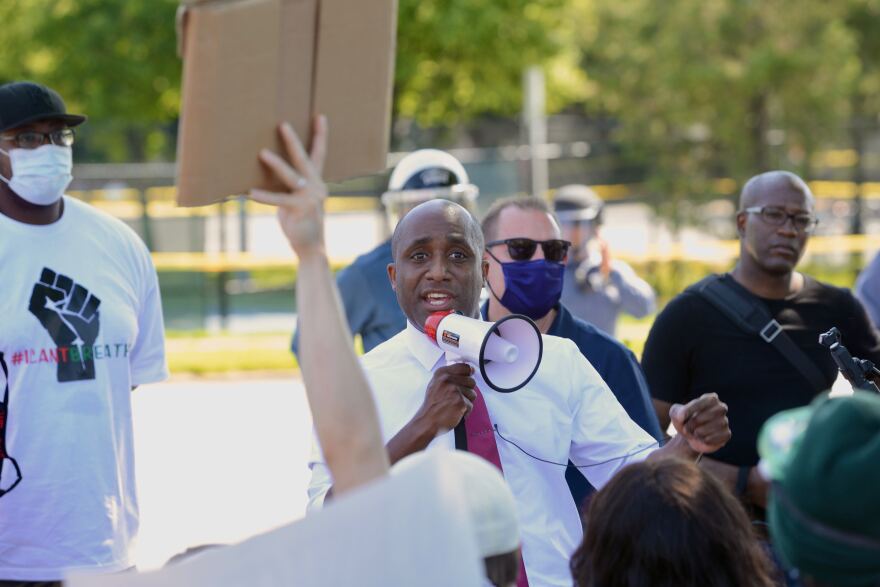 4:45 p.m. — OneStruggle KC organized the protest at 51st and Prospect, the intersection where 47-year-old Donnie Sanders was fatally shot by police in March.
The group didn't want to make an official statement, but told KCUR that a lot of local marches have been planned by white people, so they wanted to make a space for black people.
"Mama" Hakima Payne of Uzazi Village told the 50 or so people at the gathering that the killings must stop.
"We have what we need right here" to make a change, Payne said.
Protesters at the small gathering said that the Kansas City Police Department needs to release the name of the office who shot Sanders.
They plan to plant a memorial garden in Sanders' honor.
4:40 p.m. — Marcell Denmon was taking lots of photos at Sunday's demonstration at Mill Creek Park near the Plaza.
Denmon said his son, Mondez, was killed in police custody in Stockton, California, in 2004. According to Denmon, his son was "shackled down to a metal bed, five-point restraint" and beaten to death by officers for breaking two of those fastenings.
"So I have a certain understanding of a loss of a black male by the authorities. Two (officers) were charged, they went to court, found them not guilty," Denmon said.
Denmon is a Kansas City native who served in Vietnam and worked for the government for 40 years. He said he takes photos and videos at protests because that way, no one can deny what happened.
"My daughter ... doesn't get involved in stuff like this. She doesn't like to be around other folks, and I can appreciate that, but, by documenting what's going on … it's an ability to share with her the experience I'm going through. And she understands it hits home to me, because my son was taken by the authorities."
Denmon said he was glad to see so many white protesters at the park on Sunday.
4:05 p.m. — The Kansas City Police Department tweeted that citizens should call 911 if they see piles of bricks and rocks in any of the city's entertainment districts or parks, all of which are subject to an 8 p.m. curfew Sunday night.
We have learned of & discovered stashes of bricks and rocks in & around the Plaza and Westport to be used during a riot. If you see anything like this, you can text 911 and let us know so we can remove them. This keeps everyone safe and allows your voice to continue to be heard.

— kcpolice (@kcpolice) May 31, 2020
4:00 p.m. — Some of the protesters at Mill Creek Park have lined up about 10 feet from the police line and are chanting on bullhorns.
A large group of protesters started to march north toward Westport, but they turned around on 43rd Street to head back to the Plaza area.
3:55 p.m. — A concurrent demonstration is now underway in Kansas City, Kansas, in front of the Unified Government building.
"We're all George Floyd," said Khadijah Hardaway of the social justice organization More2. "After years of injustice and and police brutality in Wyandotte, black men, women, children, it doesn't matter. All of us, we're all George Floyd."
3:50 p.m. — Arrests have begun on the Plaza. At least two individuals carrying assault-style weapons were taken into police custody.
More police officers were guarding the Plaza, though none were wearing gas masks. Protesters are carrying milk of magnesia, which helps neutralize tear gas, as they move near the line of police along J.C. Nichols with signs, marching north from 46th Street toward Westport.
3:40 p.m. — Representatives from One Struggle KC are again asking Mayor Quinton Lucas for the name of the police officer who shot and killed Donnie Sanders, an unarmed black man, back in March.
Speaking near the intersection of 51st and Prospect where Sanders was shot, his sister said the last time she saw Sanders "was in a body bag."
3:27 p.m. — Protesters at Mill Creek Park surrounded a couple of people with rifles, holding up signs to mute them.
A black man with a rifle was arrested right after.
Kansas City Police Department Captain David Jackson said people who are being arrested will be taken to a mass processing center and dispersed to several detention centers across the city.
Jackson did not provide details about the location of the processing center or detention centers.
3:20 p.m. — Congressman Emanuel Cleaver addressed the crowd at the J.C. Nichols Fountain in Mill Creek Park on Sunday, calling the protest "good and healthy."
Meanwhile, at a Kansas City Police Department briefing, Captain David Jackson said that the protest Saturday night had gotten out of hand.
"For those of us who are Kansas City natives, to see what happened to the Plaza was remarkable," Jackson said. "I do not think (vandalism) does anything to honor anybody or any cause."
Jackson said anyone in any entertainment district or city park after 8 p.m. Sunday night will be subject to arrest. Kansas City Mayor Quinton Lucas announced the curfew earlier in the day.
3:15 p.m. — A small group of people wearing face masks has convened near the intersection of 51st and Prospect, where Donnie Sanders, a 47-year-old unarmed black man, was fatally shot by police in March.
3:10 p.m. — Kya Crocker, 20, from Derby, Kansas, said it was nice to see so many people at Mill Creek Park to support racial equality.
"I believe that if you're a member of the black race, this should be your fight, too," Crocker said. "We have been fighting for equality, we have been fighting against injustice, we've been fighting for the right to live in America still. It's 2020, you know, things aren't changing."
Crocker said she hadn't seen anyone trying to be violent, adding that it was up to demonstrators to set the tone for the rest of the fight. She'd driven up from the Wichita area with her friend, Nicky Inthirath, 21.
Inthirath, who is Asian American, said he had also been to a demonstration in Manhattan, Kansas, earlier this weekend.
"As a minority in America, I've been taught … what you do when a cop stops you … and it's really scary that I have to know procedures like that to stay safe," Inthirath said. "There's so many people in my family that have been mistreated by cops and people in power."
2:55 p.m. — Sunday's protest at Mill Creek Park was the first this weekend for Blue Springs resident Karissa Genesse, 21.
"I'm just here to help, just kind of be an ally for the black people that have been hurting around the country right now," Genesse said. "It's important for people to know that this stuff is not OK, and it's been happening for so long that we're just tired of it. And we have to put a stop to it somehow."
2:43 p.m. — Jackson County Executive Frank White Jr. issued a statement as the demonstration was getting underway at Mill Creek Park near the Plaza.
"As members of our community come together to protest the tragic death of George Floyd and the undeniable injustices that men, women, and children of color still face in our country, I encourage them to do so loudly, passionately, and peacefully," he said. "We cannot allow the desires of a few, who are more interested in causing damage, to overshadow the vast majority who are demanding their voices be heard about legitimate and long-overdue reforms that are needed in our social and criminal justice systems. If allowed, their message will be lost and our community will suffer."
White also said police have a "tough job" in maintaining public safety, but that "law enforcement must work with the community, not against the community."
2:40 p.m. — On a breezy, sunny Sunday afternoon, hundreds of people gathered in Mill Creek Park near the Plaza and the J.C. Nichols Fountain for a third day of protests against racism and police violence, newly spurred by the deaths of George Floyd in Minneapolis, Breonna Taylor in Louisville, Kentucky, and Ahmaud Arbery in Georgia.
Lots of people were wearing masks and black clothing, some had coolers with them. People were speaking to the early crowd, which was overwhelmingly white.
1:45 p.m. — At a press conference Sunday outside City Hall, Kansas City Mayor Quinton Lucas urged protesters to remain peaceful and defended the police department's response to Saturday's protests on the Plaza, which at times were met with pepper spray and tear gas.
"What this is about is making sure that we can find justice and find a way to build justice in our community," Lucas said. "Not just today, not just this weekend."
Lucas described "significant injury to property" on Saturday, "though it was certainly not as bad as we saw in other areas."
"It was more than we want to tolerate in this region. None of that needed to happen. And we don't want to see any of that happen today or tonight," he said.
Lucas was joined at the press conference by Kansas City Police Chief Rick Smith, who said KCPD had a "history of facilitating those demonstrations for the 30 years I've been on the job."
"We want to be involved and we want to people's voice to be heard," Smith said. "We're happy to do it. It's part of our job."
The news conference occasionally turned testy as Smith and Lucas sought to respond to reporters' questions, including ones about officers deploying tear gas multiple times Saturday.
Smith said officers only used tear gas after protesters failed to disperse after being asked to do so.
"Yesterday we told the entire crowd that it was an unlawful assembly and they must disperse. No one moved. At that point everyone was violating the law. When we deem the crowd to be throwing bottles and rocks at officers, that's when we deem it whether it's a peaceful protest or whether it's moving into civil unrest," Smith said.
Smith said two officers had been hospitalized — one with a lacerated liver and another who'd been hit in the temple — and that "every single officer on the line" had been hit by an object.
Lucas said he saw frozen water bottles and rocks being thrown at police on Saturday.
"I'm not going to stand here and say right now that everything's perfect about the response," Lucas said. "But I'm not going to stand here right now and say everything was terrible about it either. What we're going to do is make sure we have a smart review, and if there's a problem with anything that happened, we're going to have a conversation with the chief."
He defended the department's history of dealing with peaceful protests, saying it was a challenge for police to pull a person throwing rocks or bottles out of a crowd.
"So if there's an 8-year-old who's just sitting there holding a sign saying 'Black Lives Matter' or something like that, no, they should have not pepper sprayed in their eyes, they should not get tear gassed," Lucas said. "And so the question is, how do we get to a place where can get whatever bad apples there are out of the crowd?"
From earlier:
In anticipation of a third day of planned demonstrations organized in the aftermath of the death of George Floyd, Kansas City Mayor Quinton Lucas has instituted a curfew for parts of the city, starting at 8 p.m. Sunday night.
The curfew will cover the Country Club Plaza, Westport, the downtown business district and all city parks. Under Lucas's order, the curfew will lift at 6 a.m. Monday morning.
Lucas said there were a total of 85 arrests and "significant injuries" to both protesters and police officers. Numerous businesses on the Plaza suffered damage, including broken windows and graffiti.
In preparation for a third day of demonstrations, the Missouri National Guard was deployed Sunday morning to parts of the city, including downtown and near the Plaza.
"It's very tense, it's very charged right now, "Kansas City Police Chief Rick Smith said.
From earlier Sunday:
Kansas City Police and surrounding agencies, including the Missouri Highway Patrol, worked into the night to disperse crowds who had gathered for a second straight night to express anger, grief and a need for justice after the latest high-profile incident of a police officer killing a black man.
Read KCUR's "Kansas Citians Take To The Streets For A Second Night Of Protest Over The Death Of George Floyd"
By Sunday morning, KCPD said at least 50 people had been arrested and 10 had suffered injuries, though none of those were listed as serious.
The protests began near the Country Club Plaza at about 4 p.m. Saturday, but felt more tense from the outset than Friday's demonstrations.
"We need to come together and fix this and talk about it and have a safe space and talk about our injustices," said Keji Akinmoladun, a 2019 graduate of Northwest Missouri State University, who organized Saturday's event on Twitter.
But by 9 p.m., several people had been arrested and police had used tear gas multiple times to disperse the crowd. Before midnight, windows at several plaza buildings had been broken, a police cruiser had been burned and Missouri Gov. Mike Parson had issued a state of emergency "due to civil unrest" in Kansas City and St. Louis.
"We had all expected a peaceful protest," said Mayor Quinton Lucas, who was on scene earlier in the evening Saturday. "We certainly are disappointed to see our focus turned away from what we are trying to talk about: justice, trying to do better in our community of Kansas City and our state and our country."
On Sunday morning, police were restricting access to the Plaza so business owners could assess damage and begin to clean up.
Some people were out along the Plaza's streets and in nearby Mill Creek Park, where the demonstrations began, carrying trash bags, picking up garbage.
Another event is planned for Sunday, called "Black Lives Matter. Enough is Enough." The event, started on Facebook had amassed 2,200 likely participants as of Saturday afternoon. More than 7,000 additional Facebook users indicated they were interested in attending. That protest is scheduled for 2 p.m. at the J.C. Nichols Memorial Fountain on the Plaza.