Kansas City's Gamers Eagerly Return To Playing Esports In Person
Gamers can get together any time they have an internet connection, but they say it hasn't been the same as playing in person.
On a recent Friday night at LEVELUP Arena in Overland Park, a few dozen people are beating each other up.
It's a tournament for Super Smash Bros., one of the first for the classic Nintendo fighting game in the esports arena since it opened in April. A crowd of people is gathered in front of a stage with TVs showing the game. A few are wearing masks, but most aren't.
"It's kind of a relief. I'm a very social butterfly. I love being around people," said Deveneux Hill. "It's really refreshing to me because we've been inside for so long."
On the night of the Super Smash Bros. tournament, Hill would rather be playing — but instead, they're working, helping customers at the register and wiping down the rows of computers, keyboards and headphones next to the stage. For Hill, competing in Smash has been a way to make extra cash and find new friends over the years. They've already befriended other players in the few weeks since LEVELUP started hosting tournaments.
The event, and other recent in-person competitions around the Kansas City area, is a sign that maybe, things are getting back to normal for the local gaming community. Many gamers relied on playing by themselves or online to get through pandemic lockdowns. But it wasn't the same as seeing friends and competing in person. Now that vaccines are more widely available and restrictions have been lifted, they're eager to get back to the sense of competition — and community — cultivated by in-person play.
A connection to campus life
Athletes on Park University's esports team, meanwhile, have been playing together in person for two semesters now. When their campus shut down in the spring of 2020, their remaining competitions were cancelled. In the fall of that year, they returned to campus wearing masks, keeping their computers six feet apart and cleaning multiple times a day. This spring, they had to get tested for COVID once a week, like every other athlete on campus.
Now, the masks can come off and the desks in their campus practice space are back to their usual places. Competitions were mostly virtual before the pandemic, so that didn't change much, said Ashley "AJ" Jones, who coaches the team. But the team no longer traveled to at least one in-person tournament each semester, a requirement she created so her players could interact with fans and get to know players from other schools.
"The opportunity for them to compete in person, it's really special for esports, especially since it's not something that happens very often," Jones said. "It's not exactly the same when the team and the fans are separated."
Some players, she said, felt isolated during the pandemic shutdown of spring 2020. For some, the team is their primary social connection at the university. Jones tried to keep players connected by meeting with them weekly and running casual tournaments of games they didn't have to take seriously, like Apex Legends or Brawlhalla.
"It was a way for them to still feel connected to their teammates," she said, "and to the university."
Brennan Myers-Keeling is the captain of the League of Legends team at Park. He usually plays the game for about 25 to 30 hours a week, either at practice or for fun. Being surrounded by other people who play to improve — not just for fun — pushes him to be better, he said. Playing in person isn't strictly necessary but it does change the nature of the game.
"I just find people respond better and pay more attention," Myers-Keeling said. "The space of our esports room encourages honing in on the gameplay and making sure that you aren't distracted."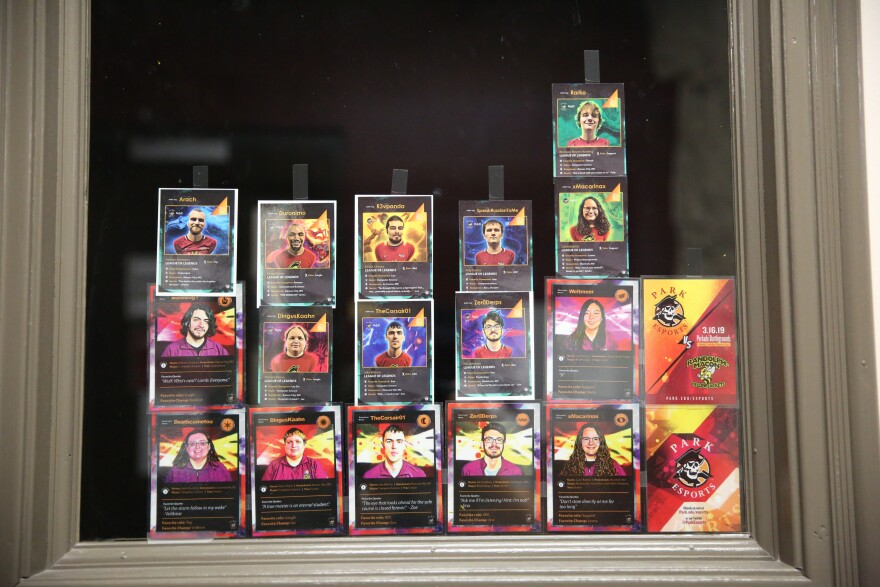 Can gaming events make a comeback?
For Nick Engstrom, chief operating officer and co-founder of gaming event series KCGameOn, competition isn't the main goal. Instead, it's a sense of community. Before the pandemic, he used to spend about 20 hours a week planning events that were scheduled for every two or three months.
Last spring, everything was cancelled. Engstrom no longer had event planning to keep himself busy. He and his wife struggled to keep their children occupied while they worked from home. But thinking of his community helped keep Engstrom motivated.
"The reality is, I still enjoyed my time doing this for people," he said. "The joy, the happiness, the epic wins and things that people get out of playing. In general, seeing the social side of things really prompted me to be like, 'okay, well I'm not going to let this go, so let's get back in the seat.'"
Earlier this year, KCGameOn organized the Kansas City Corporate Esports Cup, a virtual tournament whose final rounds turned into KCGameOn's first in-person event in a year. Most people wore masks and many brought their own controllers, Engstrom said. He has a few more events planned for the summer.
Now, he has to figure out whether future events should require masks, or if that would drive away so many players that KCGameOn can no longer stay financially afloat. They used to provide buffet meals — now, that's probably also a thing of the past. One of their biggest events took place at Hy-Vee Arena in November 2019, but he's not sure if or how they can safely return.
"You're worrying about perception of what people want. Do you want to sit by somebody you don't know?" he said. "The reality is, if we don't sell all of our seats, we don't make enough money to do this again."