Lavender Is A Tough Crop For 'Muggy' Missouri. Meet The Couple Giving It A Go
Katie Lockwood and her husband both work for the University of Missouri System's IT department but have also been hobby farmers for 20 years.
So, when they moved to Centralia in 2011 and had a small plot of land beside their house, they weren't sure what to do.
Katie said, for her — it was simple. She had always wanted to try and grow lavender. But, as they quickly realized, it was a different kind of crop than they were used to.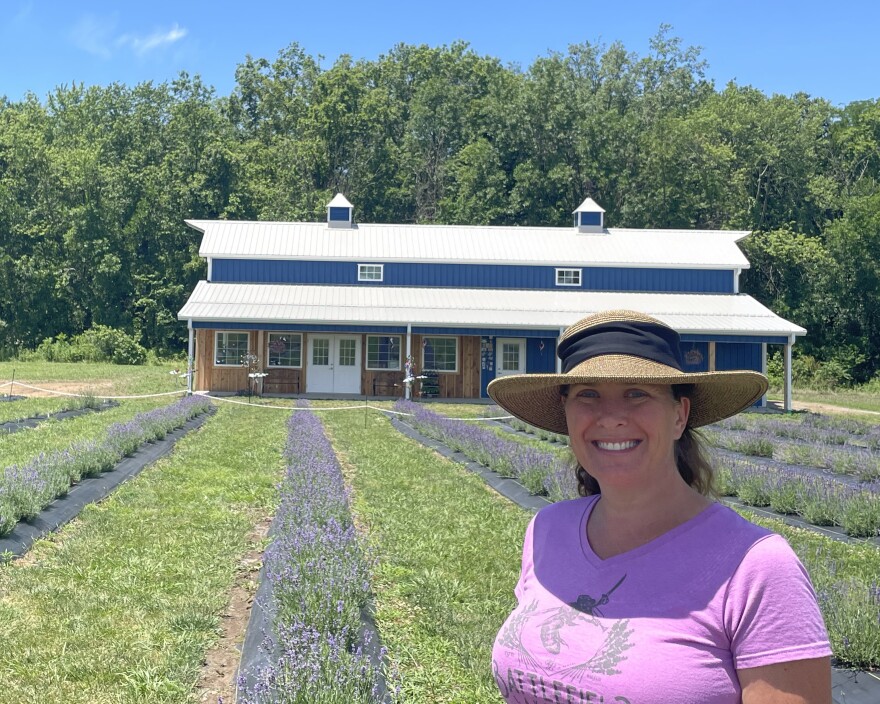 "Here in Missouri, it is rather difficult to grow lavender," Katie Lockwood said. "So, we did a lot of research before we planted our first plant, worked very closely with MU extension because they do soil analysis and make recommendations around how you can improve your pH levels and texture and so on, to make it more suitable for growing lavender."
Katie said the idea for the lavender farm was born in 2016 and their first planting was in 2018. She added that they got help from people outside of the state before planting, as they realized lavender is not a native Missouri crop.
Kelly McGowan is a field specialist in horticulture for MU extension, and she said there isn't a lot of data about what it takes to grow the crop in Missouri successfully.
McGowan said that lavender plants grow to about 1-2 feet tall, and its flowers are light purple and arranged in spikes.
McGowan added that, in a lot of ways, Missouri couldn't be more different from the plant's Mediterranean origins. Instead of an arid, dry climate - Missouri is wet, muggy, and sometimes has harsh winters.
So, she started a series of small lavender farms around the state - in Springfield, Ste. Genevieve and Kirksville - with a $39,274 grant from the Missouri Department of Agriculture and the U.S. Department of Agriculture's Specialty Crop Block Grant Program.
Through these farms and conversations with active lavender farmers like the Lockwoods, McGowan hopes to gather data and standardize growing practices over the next few years.
According to a press release from MU Extension, they will focus on "growing practices such as plant establishment and soil preparation, winter protection, cultivar selection, plant phenology, insect and disease issues, optimal flower and oil production parameters, and fertilization."
And by standardizing these practices, she hopes lavender will become a more attractive and viable crop option - especially for small farmers.
"Diversifying, growing lots of different things is sometimes helpful, and, you know, including lavender is really my goal. I want people to not be afraid of growing it," McGowan said. "Because you can make pretty good money off of it — it isn't cheap to go to a lavender farm and pick lavender or buy products or essential oils. I just want to see our farmers be successful with it."
McGowan said the great thing about lavender is the variety — both in products and in the crop itself, which creates opportunities in agritourism.
Back at Lockwood's farm, all the rows of lavender look exactly the same. As you get closer, you realize they're different scents and colors. While there are 14 varieties at the farm, there are more than 450 in the world. Lockwood said there's more than that, but those are the ones that have names.
"So, we actually don't grow from seed because lavender cross-pollinates really easily, and it's hard to get the true strain," Lockwood said. "You're not necessarily going to get the same plant with the same scent or the same oil content with the same color, and so on."
She said they planned to open up a "You-Pick'' season for customers in 2020, but because of the COVID-19 pandemic, they had to adjust their plans. This year, once COVID-19 restrictions were lifted, they were able to offer the opportunity to the community.
Katie said bringing people to rural Missouri was one of the reasons they started the business in the first place.
"They could learn more about the battlefield nearby and see some of the historical places even in town and just introduce people to an area they might not normally come," she said.
While their you-pick season ends with the summer, Katie said their business doesn't stop there. They plan to be at the Columbia Farmer's Market and sell their lavender merchandise all year long.
This year's season began at the beginning of April, and the farm is now open daily from 10:00 a.m. to 6:00 p.m., as well as 10:00 a.m. to 8:30 p.m. on Fridays.

Copyright 2021 Harvest Public Media.