The Nelson-Atkins' Bloch Galleries Feature Old Masterworks And New Technology
A view of the new Bloch Galleries, including a new acquisition (at right) 'Stammer Mill with Streaked Sky' by Piet Mondrian.
Julie Denesha / KCUR 89.3
Works by Pissaro, Manet and Boudin adorn the walls. The light on each painting can be adjusted to enhance the viewer's experience.
Julie Denesha / KCUR 89.3
Henry Bloch says that 'The Lock of Saint-Mammes' by Alfred Sisley is one of his favorite paintings in his collection.
Julie Denesha / KCUR 89.3
'Grande Arabesque,' a bronze by Edgar Degas in the Pastel Gallery.
Julie Denesha / KCUR 89.3
The new Bloch Galleries at The Nelson-Atkins Museum of Art showcase European art from the 18th, 19th and 20th centuries. This includes masterpieces of Impressionism and post-Impressionism collected by Marion and Henry Bloch — artists such as Edgar Degas, Claude Monet, and Vincent van Gogh.
But visitors to the galleries might also be dazzled by some of the technological upgrades from sound to lighting.
Related: Live From The Nelson-Atkins Museum Of Art: First Impressions Of The New Bloch Galleries
At a preview for museum members, Denise Dowd and Jill Burton sit on a bench with an iPad in front of Claude Monet's large painting Water Lilies. They are trying out a new app called Gallery+.
"You can figure out which artist you would be, it's just this interactive thing," says Dowd. "We've been mostly really fascinated with playing around with the light on this Monet that's in front of us here. Different lights emphasize the purples or the greens. It's just amazing how it changes."
Dowd and Burton live nearby, and they've been monitoring the progress from outside the Nelson's original 1933 building — just waiting until they could take a look inside.
Museum officials have also been waiting. In 2007, the Bloch Building opened with a temporary exhibition of Marion and Henry Bloch's collection of Impressionist and post-Impressionist artists — with works like Paul Cézanne's Man with a Pipe, Edgar Degas's pastel Dancer Making Points, and Édouard Manet's The Croquet Party. The Blochs promised the 29 works to the museum. But questions remained: How and where would the museum display them all?
In 2015, a $12 million gift from the Marion and Henry Bloch Family Foundation funded a new suite of galleries, merging the Blochs' collection with the museum's.
"What was important for us was that his [Henry Bloch's] collection would marry literally the collection and the DNA of the Nelson-Atkins," says director and CEO Julián Zugazagoitia.
The design team wanted to create a dynamic new installation for the Bloch Galleries. Eric Heitman, project architect and project manager with BNIM Architects, says a narrow corridor used to connect about 12 small rooms. They opened the space to create seven galleries with the latest in lighting, Wi-Fi and sound tucked into walls and ceilings.
"Not only was it important to have this technology, but it was also important to have this technology be seamlessly integrated in to the space," says Heitman. "Mr. Bloch loves technology, but he doesn't like to see it."
When it comes to technology, audio guides are not new to museums. But The Nelson-Atkins is only the second museum in the country, after the San Francisco Museum of Modern Art, to offer a walking tour app called Detour. Chief Information Officer Doug Allen says visitors will no longer have to check a number on the wall.
"They simply walk into a new space and the objects magically appear on their phone," says Allen.
Director of curatorial affairs Catherine Futter says these immersive walks will help guide visitors through the galleries.
"One of the things that we hope is that by freeing your hands you really start engaging with the artwork," says Futter, "and that the object in your hand — your phone or an iPad — is not distracting. And so you're listening and you're able to really look."
"It's like the galleries are beginning to recognize that people are in them. The galleries are beginning to animate for people," says Steve Waterman, the museum's director of presentation and experience.
The museum installed a new LED lighting system that's tunable; the light on each painting can be adjusted to enhance the viewer's experience.
Waterman demonstrates this with Claude Monet's iconic painting Water Lilies. The blue of the lily pond became more vivid. He made a few more tweaks to bring out the light purple, and then returned the lighting to the original setting.
"And we basically did that as we worked through all of these paintings to try to tune each one," Waterman says, "not to its extreme, but just to the right place."
Dana Castro of Overland Park is taking an early look around the galleries with her six-year-old son, Isaac. He looks small, standing next to a large painting that he declared was his favorite.
"Claude Monet," he pipes up.
"He likes the water lilies, the water and the green colors and stuff," his mom adds. "That's his favorite artist."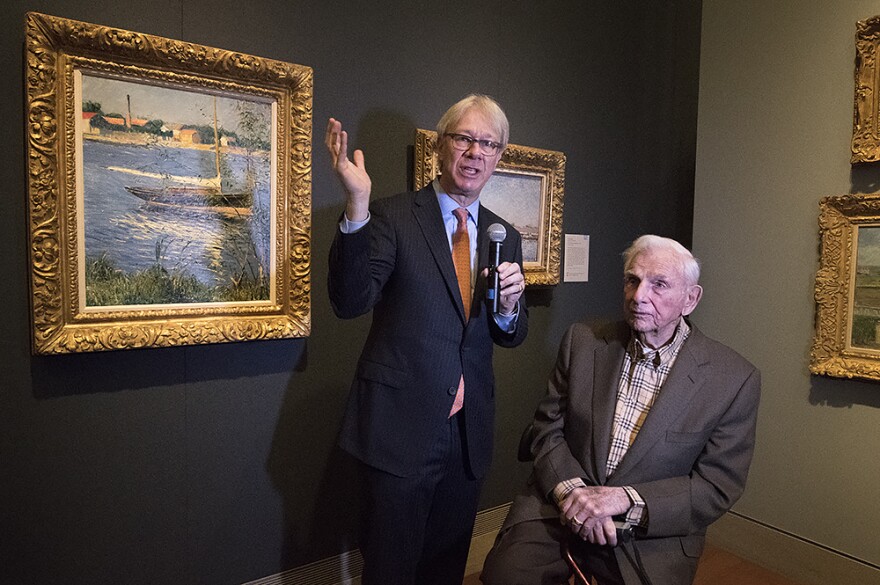 What's most important for director Julián Zugazagoitia is that people visit and discover the museum. And he says there's really not just one way to do that.
"I think each of us individually have works that we are moved to, that vibrate with us, what we want to encourage is that each visitor come with their own feelings and sensitivity," he says. "Because each one discovers not only the works of art, but, by doing so, they discover one's self."
The Nelson-Atkins Museum of Art, 4525 Oak Street in Kansas City, Missouri, opens the Bloch Galleries to the public on March 11. Admission is free but timed tickets are required for March 11 - 12. 816-751-1ART.
Laura Spencer is an arts reporter at KCUR 89.3. You can reach her on Twitter @lauraspencer.