Law Enforcement Officials Urge Members Of Islamic Community In Kansas To Report Hate Speech
Hate speech directed at the Islamic community should not be ignored, FBI and other federal officials told about 50 members of the Islamic Center of Johnson County at a forum Saturday.
Special Agent Heith Janke , who heads the FBI hate crime squad, said first and foremost if someone ever feels unsafe, they should leave.
Then, he said, immediately call local police and the FBI.
"While our numbers from the FBI hate crimes report here in Kansas may not show an increase (in hate crime directed specifically at religious groups,) it does not mean that they may not be increasing," Janke said.
In Kansas, he said, there were the same number of religiously motivated hate crimes in both 2014 and 2015 - eight.
Janke said he realizes many people distrust or are scared of the FBI, which leads to underreporting.
"I'm a farm boy from South Dakota," he told the men, women and children. "Nothing to fear. I want you to feel like you can trust us."
But Harpreet Singh Mokha, who is the national program manager for the U. S. Department of Justice's Muslim, Arab, Sikh and South Asian Communities said national numbers are more sobering.
Mokha said all categories of hate crime increased 67 percent between 2014 and 2015. They include bias crime motivated by religion, race, sexual orientation or gender.
The largest increase nationwide involved Muslims.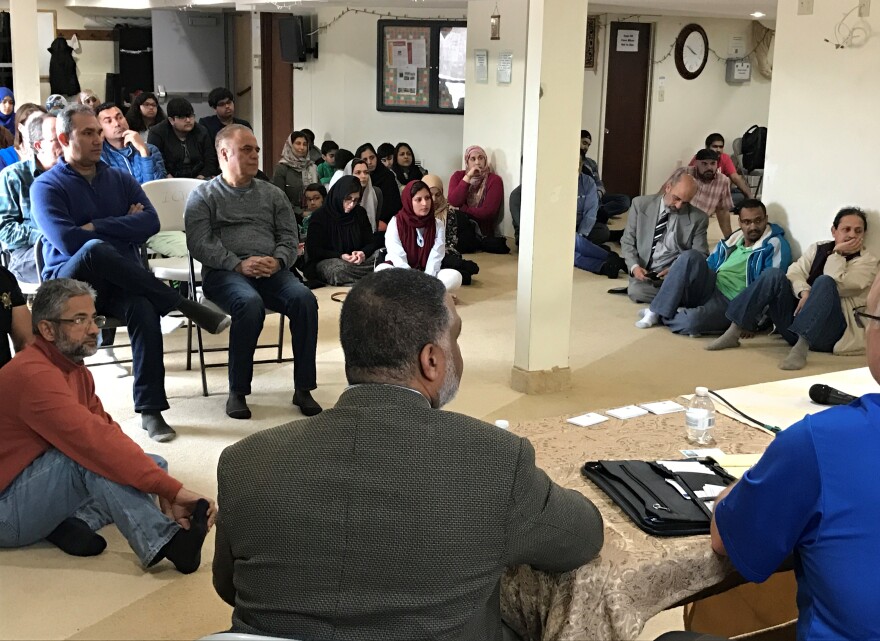 Incidents in Islamic communities grew from 154 in 2014 to 257 in 2015, according to the DOJ.
"This is alarming," he said, "but we know the problem is worse because many cases are not reported."
Raouf Baha, who was sitting against a beam on the floor with his restless young son, wondered about when to go to school officials.
"We feel safe in our communities and kids, they say things," Baha said. "We don't always want to be going to (school officials) with complaints."
Janke emphasized it's important to report even the smallest concern.
"I know it can be embarrassing for the kids," he told the parents. "But school officers need to know this is happening. And kids have to feel it's OK to come forward."
The panel also included a representative from the U.S. Attorney's office and the Department of Homeland Security.
Laura Ziegler is a community engagement reporter and producer. Reach her at lauraz@kcur.org or on twitter @laurazig.