Alexx Abreu no longer feels protected as a trans man in Kansas City, so he's moved to Colorado
Legislators in Missouri and Kansas this session have introduced some 50 of the most restrictive anti-trans bills in the country. Missouri legislators have sent bills limiting gender-affirming care and trans sports participation to Gov. Mike Parson to be signed, and more are still waiting to be heard. The political environment and accompanying rhetoric have some in the transgender community moving to safer states. Or seriously considering it.
Alexx Abreu loves Kansas City. He says the city raised him, a transgender man, and taught him what it meant to be proud of his identity. Abreu has spent over a decade building a community here. To him, Kansas City used to feel like a sanctuary, a small, progressive piece of the Bible belt where he could be himself. But now, that has changed.
"I truly just don't feel safe here. I don't feel like, if I were to be in a situation where I could be harmed, I would have the support of my law enforcement and my government," says Abreu.
In recent years on both sides of the state line, extreme legislation targeting transgender people has become the latest face of a national anti-LGBTQIA movement.
Current legislation
In Missouri, healthcare for trans youth and adults is under attack. In April, Attorney General Andrew Bailey issued an emergency order, which applies to children and adults. The order would require providers to ensure new patients had resolved mental health issues, been screened for autism, and had three consecutive years of medically documented gender dysphoria before receiving care, among other requirements.
The emergency rules were set to go into effect on April 27, but the Missouri Chapter of the American Civil Liberties Union, Lambda Legal and their plaintiffs sued the state and a St. Louis County judge put the ruling on hold until July 24.
Republican legislators in Missouri sent bills restricting gender-affirming healthcare for minors and trans girls' participation in sports to Gov. Mike Parson on Wednesday. He's expected to sign them both into law.
In Kansas, transgender and intersex women are now barred from women's bathrooms, locker rooms, and other gender-specific areas after lawmakers narrowly overruled the veto of Governor Laura Kelly, a Democrat. Legislators also overrode Kelly's veto and passed a law banning transgender athletes from girls' and women's sports. The sweeping laws are currently some of the strictest in the nation.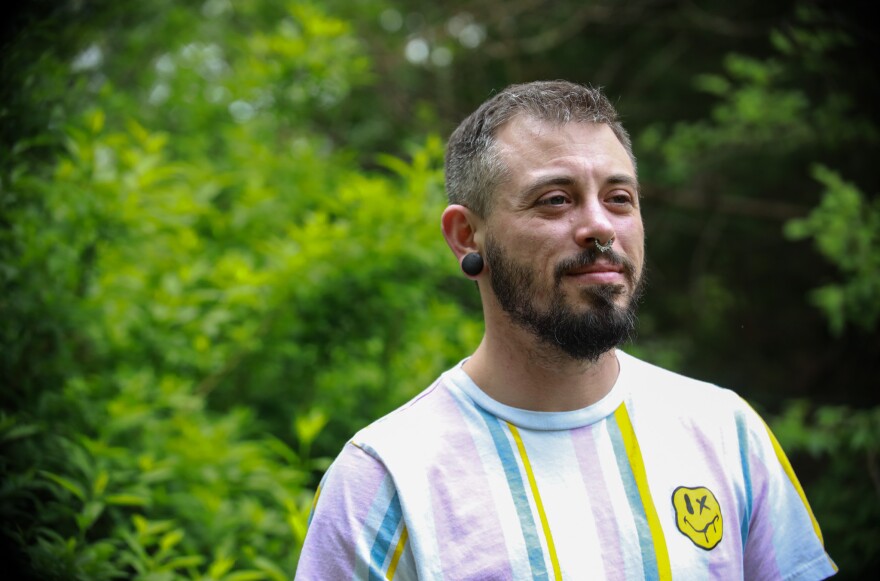 The last straw
Alexx Abreu says as he watched one anti-trans bill after another get closer to passing, he decided he had to leave Kansas City.
"I am not going to sit and play games because even if it doesn't work it's just a matter of time that they continue to try and throw out alternate bills to, you know, oppress the queer in other communities," says Abreu. "I don't want to live my life in fear. I don't want to be making arrangements to go and get my hormones out of state."
Other than a brief move during COVID, Abreu has spent the majority of his life in the region. He moved with his family from California to Overland Park when he was 8, and later into Midtown Kansas City.
In 2020, during the pandemic, Abreu moved to Denver, Colorado, for a change of scenery.
"I was going through a whole lot of life. I was working from home for the first time and I needed to kind of just get a refresher," he says.
The move was meant to be temporary and during the two years that he lived in Denver, Abreu made frequent trips to and from Kansas City to visit friends and his
"chosen family."
"The people who helped raise me, the people who taught me how to be queer and how to be proud, all of that is based out of Kansas City," he says. "So ultimately my heart does continue to drive me back here, even though there's a lot of things now that continue to drive me away."
In December of last year, after complications from a series of gender-affirming surgeries, Abreu returned to the Kansas City area. He moved into a house in Overland Park with a former classmate to save money while he recuperated. After six months, Abreu's goal was to re-evaluate his living situation. He wanted to move back to the Kansas City metro on the Missouri side, which he calls his "happy place."
Late last week, Abreu found himself trying to get as many of his belongings into his black Chevy Malibu. But he wasn't packing to move into an urban apartment. He was packing to move back to Denver, Colorado.
Abreu says he doesn't want to spend tax money in a state that doesn't support him. He says now, with the exception of work trips or for protests, he doesn't plan on coming back to Kansas City. He no longer feels safe here.
"It's hard. Like I said, in the past, I felt like I wanted to come back every couple of months. I needed to eat KC barbecue," says Abreu. "I wanted to have game night with my brother and, you know, see my nephew play baseball . . . And I don't want to continue to do that, so that does make me sad."
Abreu isn't alone
Abreu isn't the only one leaving town. Lee Zuvanich, a transgender man living in Kansas City, says he is seeing countless posts online from trans people afraid of losing their healthcare and wanting to move away.
This led him to create a GoFundMe page for transgender refugees and found an organization called Transitional Justice with his colleague, Sarah Jane Ron, to help secure temporary housing in sanctuary states.
Zuvanich says LGBTQIA families like his have been having conversations about moving for years, but this moment feels different.
"Every spring there are legislative sessions where people propose anti-trans bills that would limit our access to healthcare. So every time that happens, everyone in the community has to talk about what they would do if it passes," says Zuvanich. "Every other year they got struck down," he continues. "But now families that I know all over the country are having to scramble to figure out what to do."
The ability to move is a privilege
While some are on their way out of town or have already packed up and left, others don't have this option. Nyla Foster is a Kansas City activist, creative, and Black trans woman. She says the ability to move is a privilege not available to many trans people.
"I know there are a lot of trans people of color who are trying to get it out of survival mode and get more so into thriving mode," says Foster. "And if they can't go to the bathroom or get gender-affirming care, if they can't get the medication that they need to affirm themselves, how are they able to do anything?"
In Foster's view, people were more comfortable when trans people were hiding in plain sight. Just doing what everyone else was doing, living their lives.
"Basically you want trannies and you want lesbians and gay people and LGBTQ people to entertain you and beautify you," says Foster. "But when it comes to them just trying to be themselves or get a job, play a sport, go get a license, it's an issue. But it wasn't an issue when they were combing your hair and doing your makeup."
For the first time ever, Foster says she's afraid. Her work in the non-profit sector and as an activist has made her easy to Google. People who may have never noticed her before can now go online, and find out she's transgender.
"At first we just kind of shrugged it off, but now it's getting serious. It started with trans sports, but now it's, it's gender-affirming care. It's bathroom usage," says Foster. "These are not the things we need to be focusing on. Trans people have been using the bathroom for a long time."
Foster, who has lived in Kansas City her entire life, says she has always wanted to move from the Midwest.
"And I've never done it," she says. "So maybe this little s- - - that's going on in Missouri will gimme the push I need."
She says her name speaks to her dreams.
"Nyla is a reminder for me to move away. And the reason why I say that is because 'Nyla' means New York, Los Angeles, which were the two places I always wanted to move to growing up as a trans child."
Foster says her lease in Kansas City is up in August. She plans to move as soon as it expires.
Advocating and organizing
Foster and others in the trans community feel now more than ever they need to stand up, advocate and celebrate their community.
"But folks have to leverage their privilege. They really do. And if you can speak and go into a place that I can't, please do that," she says.
For Abreu, speaking out takes the form of membership in the Sisters of Perpetual Indulgence, a non-profit group of queer and trans people who dress as nuns in drag. He also helps protect kids at protests with the Parasol Patrol.
He says he will keep fighting for the rights of trans people in Kansas City from his new home hundreds of miles away in Denver. And if necessary, Abreu says he will fly back to support his community in protests.
Abreu says while he's leaving behind a lot of people he loves and a community he will miss, it's not a hard decision.
"I don't feel like I'm pulling teeth," he says. "I'm driving away from something at this point that I love (but that doesn't) love me back," he says.
Updated: May 10, 2023 at 12:01 PM CDT
This story has been updated to reflect that Missouri lawmakers have now passed bills restricting gender-affirming care and trans women and girls' participation in sports.