New Citizens From 30 Countries Are Sworn In At The Kansas City Library
Arem Mohammed's white tuxedo flashed as bright as his smile while he sang the national anthem for the first time as a U.S. citizen Wednesday at a naturalization ceremony at the central branch of the Kansas City Public Library in downtown Kansas City, Missouri.
Mohammed, 33, first arrived from Northern Iraq about five years ago after working as a translator for the U.S. government.
The work was difficult and dangerous, he said, but the reward is worth it.
"The government (has) done very good stuff for me here. I'll never forget it. Now I'm a U.S. citizen — I think all the world is mine right now."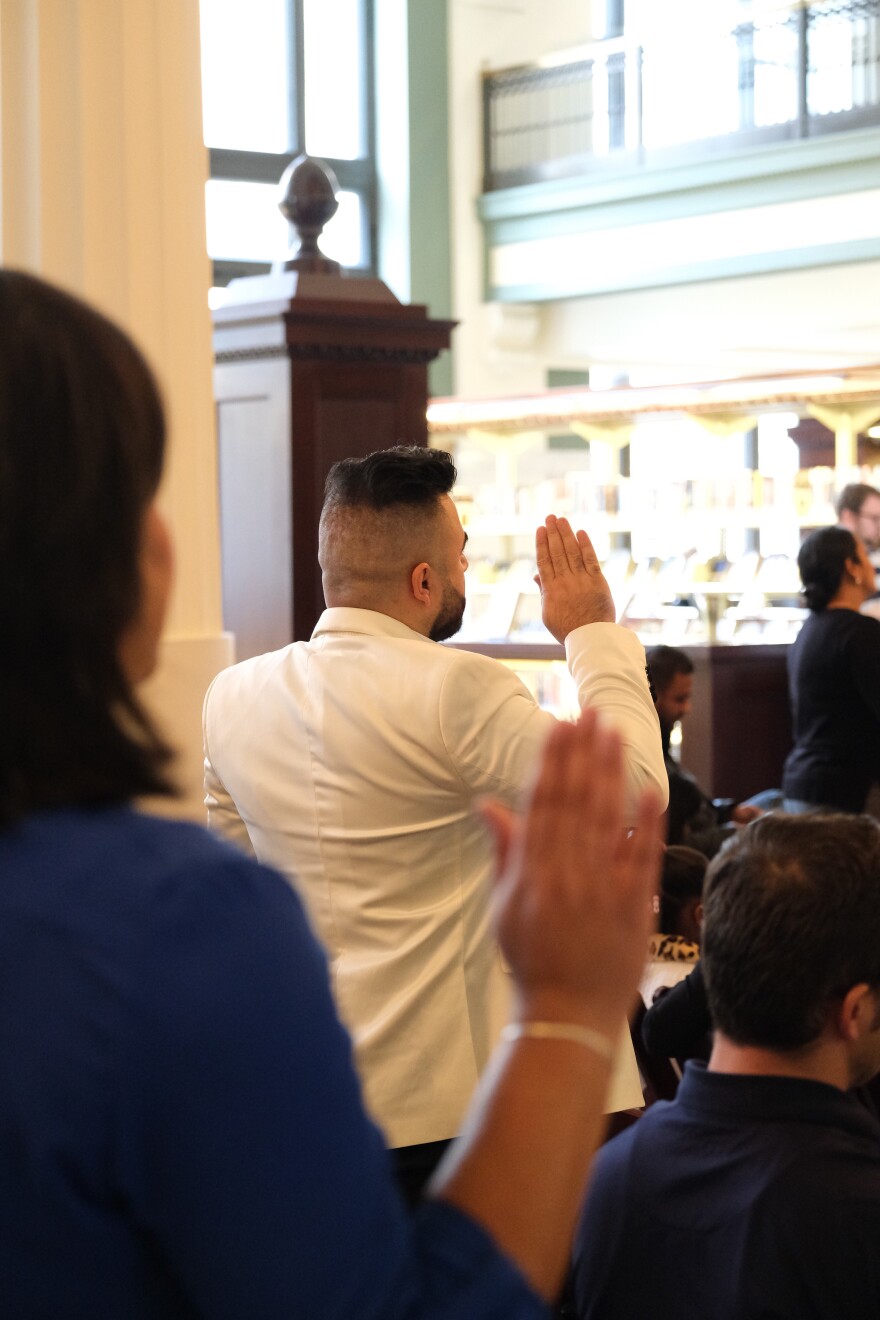 Mohammed lives in North Kansas City with his wife and three children. He's been working as an Uber driver but said next week he starts training to become a commercial truck driver.
He joined 48 other immigrants hailing from 30 countries taking the Oath of Allegiance. Brian Wimes, a U.S. District judge in the Western District of Missouri, presided over the ceremony and afterward posed for pictures with new citizens and their families.
Leo Prieto, a consultant and attorney who was naturalized in college after immigrating from Mexico, spoke to the crowd about the entreprenurial spirit of immigrants and the "beauty of diversity."
He also referenced the surge in voter turnout during Tuesday's election, and encouraged his new fellow Americans to participate in their democarcy.
"What you're gonna have after today — your power to vote — that is going to give you a sense of ownership of this country," Prieto said. "So you can exercise that vote and you can speak. Not only for yourselves but for others that can't speak."
Chris Haxel is a reporter for KCUR 89.3. Email him at chaxel@kcur.org, and follow him on Twitter @ChrisHaxel.