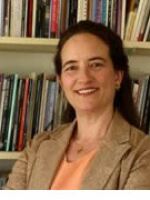 Angela Elam
Producer for New Letters on the Air
Angela Elam, producer/host of UMKC's literary radio show New Letters on the Air has worked in public radio since 1988, but she got her start as a reader for Radio Deutsche Welle in Cologne, Germany in 1981.
Elam received a Master of Fine Arts degree from the University of Georgia in dramatic writing. Immediately upon graduation, she was seduced into public radio at WUGA-FM in Athens, Georgia where she produced literary programs and later served as host and technical producer of the Public Radio News Directors (PRNDI) award-winning local magazine show, Centerlines. She has also produced radio dramas and special features, including some freelance stories for NPR, one of which "Train Whistles or Horns?" won the PRNDI Award for best used of sound in 1994.
She has served as producer and host of New Letters on the Air since 1996, and enjoys using her playwriting skills to shape the dialogue within her interviews.
Kansas City's BkMk Press has a new collection of poetry by Native American writers about the Middle East.The book's title — The World Is One Place: Native…

Poet Nikki Giovanni's career spans five decades. A writer, activist and teacher, she's published more than 30 books of poetry and non-fiction as well as…

Long before Tracy K. Smith was a poet, she was a young girl fascinated by the stars. That fascination was part of what inspired her book Life on Mars,…

The 19th-century English novelist George Eliot was reportedly no great beauty. One contemporary called the author of Middlemarch "exceedingly plain, with…

On June 30, Governor Jay Nixon appointed Aliki Barnstone as Missouri's fourth Poet Laureate.A creative writing professor at the University of…

Kansas City author and teacher Whitney Terrell embedded with the U.S. military in Iraq about a decade ago — writing for publications such as Slate…

Many teenagers seek out jobs, often for the first time, in the summer. Writer and novelist Thomas Fox Averill was 16 when he started his first job at…

Storms in the Midwest can be dangerous, but there's often beauty to be found in a streak of lightning or a billowing supercell."Chasing Weather," an…

Walter Bargen served as the first poet laureate of Missouri, in 2008 and 2009. His poems, essays, and stories have been published in more than 300…

As a novelist, Thomas Fox Averill has explored country music, southwestern cuisine, Scotch whisky and the poetry of Robert Burns. Averill's fourth novel,…