Full Circle: Acclaimed Playwright Paul Stephen Lim
In 1975, Paul Stephen Lim, a KU student, was struggling to write a short story.
One night, at a party, he was chatting with a theater professor about his writing problem.
"Maybe it doesn't want to be a short story," the professor suggested. "Maybe it wants to be a play."
And, with that advice, Lim forged a new path.
He turned that short story into Conpersonas, a play about identical twins: an ad man in New York City and a Jesuit priest. The following year, it won a national college playwriting award and it was performed at the Kennedy Center.
By then, he said, he was "absolutely hooked" on playwriting.
Some of the elements in Conpersonas echo Lim's life. In his native Philippines, he attended Jesuit schools and he had also worked as an advertising copywriter.
"It was a world that I knew and I could write about," Lim told guest host Brian Ellison on KCUR's Central Standard.
Lim, an acclaimed playwright and a retired KU professor, was born to Chinese parents in Manila. His mother was a child bride who came from China at age 14 to the Philippines, and his family belonged to the Chinese community there.
He dropped out of college, he said, because he was incredibly bored and very arrogant; he thought he knew more than his teachers. He drifted into journalism — he wrote feature stories for newspapers and magazines in the Philippines — then he drifted into advertising.
"You know the show Mad Men? That was the period I was working in," he said.
During his time as a copywriter at J. Walter Thompson, he had a claim to fame.
The ad agency had the 7 Up account, and the soda company gave the copywriters huge marketing books. In the books, Coke and Pepsi — the main competitors — were described as the "non-colas."
Lim saw a play on words.
"For me, it was just natural to go from 'non-cola' to 'un-cola,'" he said. "So, the 'un-cola' campaign was, in fact, mine, although I was never credited with it because the call for advertising ideas went out to fifty different countries in which J. Walter Thompson was operating."
He left advertising because of an incident on public transportation.
He had been working, day and night, on campaign for a bank in the Philippines. The client was difficult to please, he said.
One night, during his commute, he saw that the man across from him was reading the Manila Times. That man flipped by the double-page ad for that bank.
"He just turned those pages right over, and my heart sank at that point," Lim said. "And I thought, 'I spent six months of my life working on this, and that's it. I'm gone.'
"So I went home and told my mother I was leaving for the States. And I was, in fact, on the plane a week later."
He made his way to Lawrence because his older brother had a scholarship to KU. Also, while he was in the Philippines, he had helped Grant Goodman, a KU history professor, with some research, and the two had kept in touch.
Goodman helped him get a student visa. Lim arrived in Lawrence and enrolled at KU in 1969.
After Conpersonas, his first play, won the Kennedy Center's American College Theater Festival's playwriting award, Lim was offered a half-time teaching position at KU's English department. Later, he was hired to teach playwriting full-time.
In addition to a cash prize, the award included representation from the William Morris Agency.
The agent, he said, urged him to move to New York.
"He said, 'Don't stay in Kansas because there's no way I can get work for you,'" Lim recalled.
According to Lim, the agent also told him that if he stayed in Kansas, he should capitalize on his heritage and write Asian and Asian-American material. This was around the time that Maxine Hong Kingston's The Woman Warrior was published, and while she had written other stuff, he said, the public just wanted more from her about China.
Lim wasn't interested in drawing on his background. He wanted to cover other subjects. Plus, his mother and family were still alive, and he was afraid he'd hurt their feelings if he wrote about them.
"I didn't feel I was ready to write about Asian-American or my Asian background until mid-career," he said.
That's when he wrote a one-act play about his mother (she didn't recognize herself in the play, he said). He also asked her to tape her life story, about her childhood and her early marriage, which turned into his play, Mother Tongue.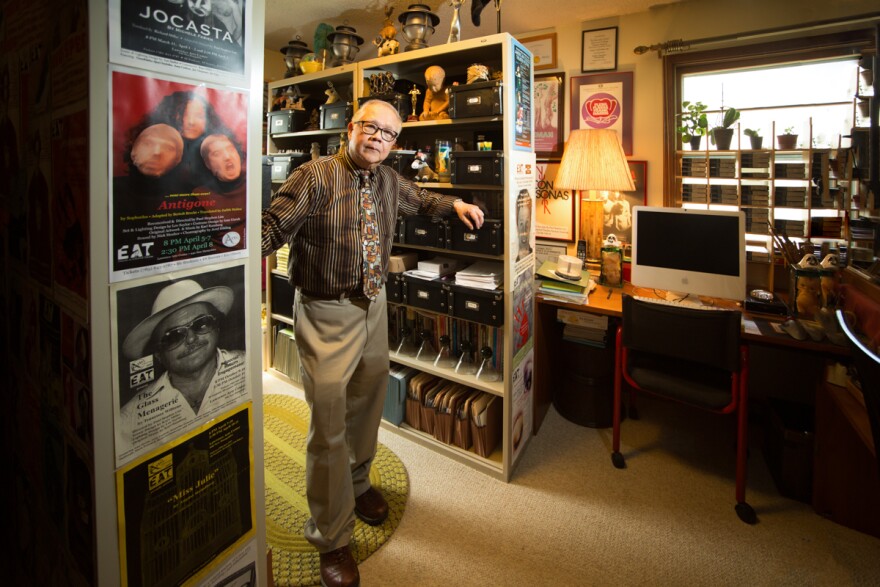 Lim's legacy lives on at the Kennedy Center's American College Theater Festival, where there's an Asian-American playwriting award named after him. There have been 20 to 30 submissions a year, he said, and they've award two prizes a year for the last five years.
"It's been wonderful to see the kinds of plays that the younger Asian-Americans are writing," he said.
The plays have changed, he said. In the old days, up until even five years ago, they would be about the problems of integration or discrimination. Now, the plays are more mainstream; they focus more on the similarities of the Asian-American experience rather than the differences.
Lim remembers one moment as a teacher that made an impact on him, just as that theater professor did for him long ago.
He had a student who was writing a 10-minute play that was based on a Japanese creation myth. The play featured a man and woman who were having a fight. To Lim, the couple was sitting and arguing, and it seemed very static.
He asked his student, "How do you envision this play? How would it look on stage?" His student had no idea.
So, he suggested that perhaps the woman in the play should be sitting at a vanity table, putting on makeup to get ready to go out for the evening. And, he said, what if she were to put on white makeup, put her hair in a bun with chopsticks and dress up as a geisha because of this retelling of the Japanese creation myth?
"That sparked something in (his student)," he said. She re-wrote the play. They staged it and entered it in the same Kennedy Center competition. It won; it was judged the best 10-minute play of the year.
"And, in so many ways, I felt like it had come full circle, that I had helped a student get to the Kennedy Center," he said.
Portrait Sessionsare intimate conversations with some of the most interesting people in Kansas City. Each conversational portrait is paired with photographic portraits by Paul Andrews.
Jen Chen is associate producer for KCUR's Central Standard. Reach out to her at jen@kcur.org.