Living Lush & Ludicrously With 'The Queen Of Versailles'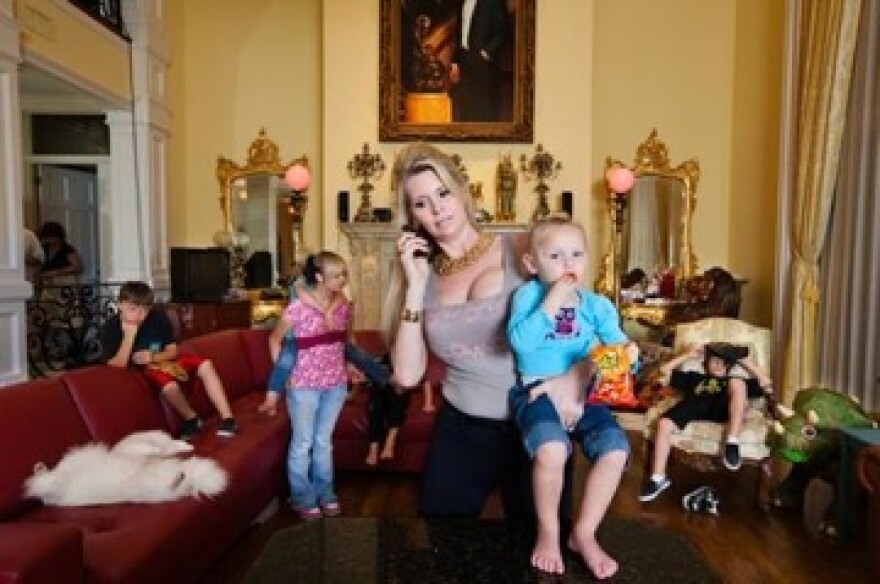 There have been several informative documentaries about the United States' ongoing economic woes - for instance 2010's Oscar-winning The Inside Job.
But none have been as entertaining, funny and downright cuckoo as Lauren Greenfield's The Queen of Versailles.
The ultimately transparent act of striking poses while swathed in mortgaged luxury takes wildly unpredictable zig-zags in this scabs-and-all peek behind the curtain of what it might be like to be too rich. Greenfield's subjects are David Siegel, a crusty, short-tempered time-share resort magnate, and his physically cartoonish but inarguably likable (and third) wife, Jackie, plus their eight children and a menagerie of nannies and yappy dogs. It's like Lifestyles of the Rich and Fatuous.
When we first meet them, they're in the process of building the largest single family home in the United States. And, as designed to approximate the former crib of such doomed figureheads as Marie Antoinette, probably destined to be the most garish and ill-advised.
The source of the Siegel's wealth were the thousands of gullible dreamers who'd signed on the dotted line for that week where they envision themselves in their own plush condo. However, they've clearly been persuaded to agree to deals beyond their means and watching the sales staff sink their talons into their customers is like watching a time bomb you're helpless to disengage.
It's not news to anyone - except perhaps the Siegels - that these vacation properties are houses of cards. When their own fortune begins to evaporate, Jackie's instructed to rein it in, a skill best left to those who've had to follow a budget. There are scenes so dripping with irony they couldn't be faked - as when she asks the clerk at a rental car kiosk what her driver's name will be. (And that after suffering the indignity of flying coach.)
It would all be mean and snarky if not for Jackie's warmth and humor (and the realization later in the film that she's from a normal middle-class suburb) and Greenfield's obvious goodwill toward her subjects. You will not be able to fight the urge to laugh at their bombastic behavior even though it may get caught in your throat.