How A Growing Kansas City Cricket Scene Is Helping Immigrants Feel Connected
Muhammad Aadil left Pakistan at ten years old.
"I wasn't very big on cricket," he told KCUR's Central Standard host Gina Kaufmann. "My older brother and my cousins used to play it a lot. I would go over to their house and play it with them, but I'd never played it in an actual field, or played it competitively."
When he immigrated to Kansas City in 2007, though, he found himself longing to play again. Now he plays in the Midwest Cricket League.
"I'd been asking my dad if we could start playing cricket again," he recalled. "Finally one of his friend's brothers brought a cricket bat and a ball, and told me to come play with them."
At that time, participation in the local cricket scene was low. But the sport's popularity has grown over the past decade. In June, the Midwest Cricket League worked with the Liberty Parks & Recreation Department to open Kansas City's first dedicated cricket pitch located at Stocksdale Park.
"Back in 2003 there were barely two or three teams in the KC area," KC Lions Team Captain Bhargav Patel says during a Saturday game in Olathe.
"We were always short of players."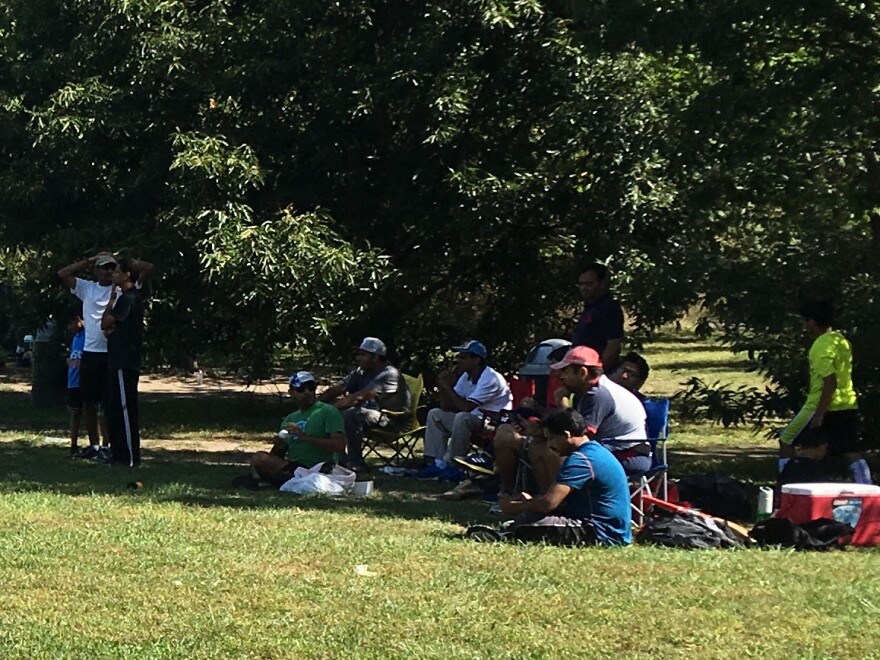 There is no shortage today, though. Watching the game is a group of eleven people — nine men and two boys. They lounge about in foldable lawn chairs, chit-chatting and commenting on the game. It's an atmosphere reminiscent of a baseball game with periods of idle conversation being punctuated by cheers and claps.
Patel immigrated to Kansas City from Mumbai, India. He says playing in Mumbai was difficult because they were forced to play in backyards due to a lack of space. Now, they have access to parks and fields that offer considerably more space to enjoy the game.
The KC Lions play in a different league, the Cricket Premier League of Kansas City, which has 350 players on 24 teams. CPLKC splits games between two pitches in Olathe.
Cricket leagues like the CPLKC and MCL are made possible because of a platform called CricClubs. Accessible through an app and website, CricClubs provides the tools required to start and run your own cricket leagues.
"Cricket is going to be the next big thing in the sports arena in the U.S." CricClubs co-founder Vissu Kottapalli says. "It's the second most popular sport in the world, after soccer."
Kottapalli immigrated to America to pursue a master's degree at the University of Nebraska-Lincoln.
"When I arrived, I saw people playing cricket and it really caught my attention." Kottapalli says. "You land in this new place and you see people playing cricket, you can speak the same sports language."
"It was a way for community to connect together where you don't have to be in the same school, same class, same apartment complex. You just show up at the ground and you suddenly have a bunch of friends to make and have fun," he says.
This sentiment rings true for Aadil, as well.
"It's literally like you're connecting with your own hometown," Aadil says.
Aadil is Pakistani and Kottapalli is Indian; the two countries have had historically tense international relations and are major cricket rivals. But here in the United States, Indians and Pakistanis play side by side on the same teams.
"I personally feel it brings the countries together," says Kottapalli. "If we meet somewhere in the ground and we are speaking the same cricket language, we'll be very good friends for sure."
Patel's mind is on the next generation of Kansas City cricket players.
"Those are our kids. They come with us to the games almost religiously," Patel says. "Hopefully we'll have a player representing Kansas at the [Olympics on] Team U.S.A. someday."
Tom Taylor is an intern on Central Standard. Reach him by e-mail at centralstandard@kcur.org.