Kansas City Fringe Festival Turns 13, And Shines A Spotlight On Teen Talent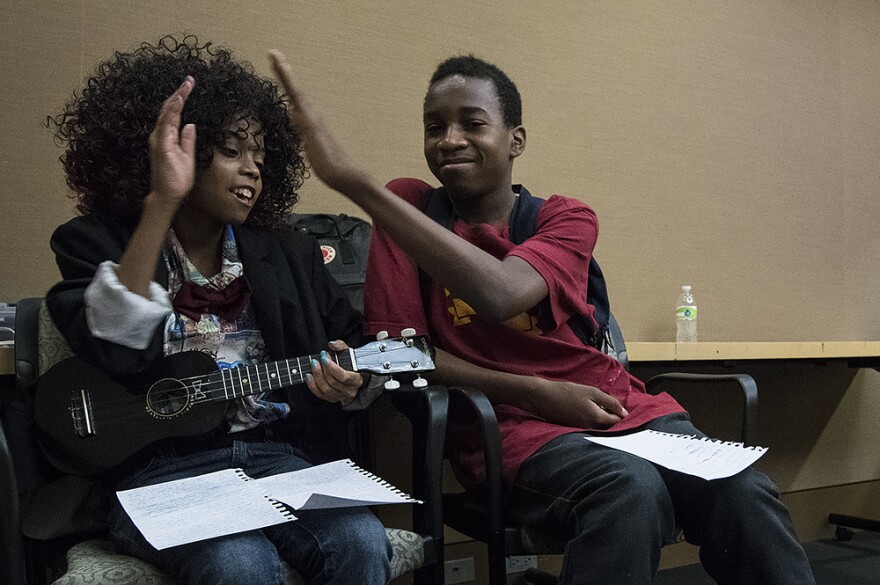 The Kansas City Fringe Festival is now officially a teenager. Organizers this year are making a push to reach performers and audiences about that same age, or a little older.
The 13th annual festival kicked off on July 20, and runs for 11 days — more than 400 performances across 16 venues. The KC Fringe is teaming up with Kansas City Young Audiences to provide more opportunities for teenage actors, singers and dancers.
The Plaza Branch of the Kansas City Public Library on Saturday hosted an Open Mic Night. The downstairs hallway, on the way to the Truman Forum Auditorium, was buzzing with teenagers. This event kicked off a week of eclectic Teen Fringe performances.
Talaiha Johnson, 19, and Sebastian Smith, 15, found a quiet corner backstage to test out lyrics from different pop songs to the tune of 'Riptide' by Vance Joy.
Johnson is a culinary arts student at Johnson County Community College, and she's played the ukulele for almost two years. Pop music mashups are one way she likes to express herself.
Smith, a University Academy student, was both thrilled and terrified to be onstage for the first time. Having Johnson by his side, he said, calmed him down.
"She likes singing as much as I do," Smith said. "Only problem is I'm still finding my voice, so if I get applause onstage, that'd be something. It really would."
KC Fringe presents a range of performances, including cutting edge theater, dance, and comedy. But not all of it is for kids. This year, there's a big push for more family-friendly events — and more performances and workshops for teenagers.
Sandy Woodson, who coordinates Teen Fringe, said they've tripled their efforts to boost teen involvement.
"Fringe itself is just such a great place for anybody to experiment, to try new ideas," Woodson said.
"So I'm really hoping that once they get into Teen Fringe, and see that we're not there to say what you can and cannot do, you can do whatever it is you want to do. And then that will lead you right into regular Fringe where you can do longer productions, hopefully, in the future."

On a recent Friday, inside the new Midtown home of Kansas City Young Audiences, a Teen Fringe theater workshop was underway. Three girls huddled around a classroom table, hard at work on a rough draft of their new play, "Bullying Shmullying."
"Some of the stuff that kids our age are dealing with is really heavy," said Teagan Townsend, a freshman at Olathe East High School, "and we're trying to figure a way around that that won't make people shut off and make them more engaged and more aware of the situation."
Drama teacher Erika Baker said she encouraged students to find their own voice through the writing process.
"I was like I can write the play myself but it's going to be so much more exciting if you do it," she said. "If you we can get those ideas to come from you guys and I'll help cultivate them but this is going to be your brains, your hearts on the paper."
Baker, who's also an actor and improv artist (her group is performing a show at the Fringe), said the girls came up with fantastical elements that fit the spirit of the festival.
"We have scenes where the characters are rats and we have a boxing match with our brain and those types of things," she said. "And those are ideas that came from their heads."
Teen Fringe organizer Sandy Woodson says she's been impressed by the talent of the young performers.
"I got to see a girl who had choreographed her own piece and she was such an amazing dancer and I thought, this is why we do this," said Woodson. "We do it so someone who has talent like that has a place to show it off."
She added, "We also do it for the kids that got up on stage during Open Mic Night so scared you could barely hear them with the microphone. But they got up there. And they did it. We do it for them as well."

The 13th annual Kansas City Fringe Festival continues through July 30 at multiple venues. Festival goers must purchase a $5 Fringe button, and tickets cost $5 (for most Teen events) to $10.
Julie Denesha is a freelance photographer and reporter for KCUR. Follow her @juliedenesha.