Retiring Kansas City Symphony Musicians Say '36 Years Went By Pretty Fast'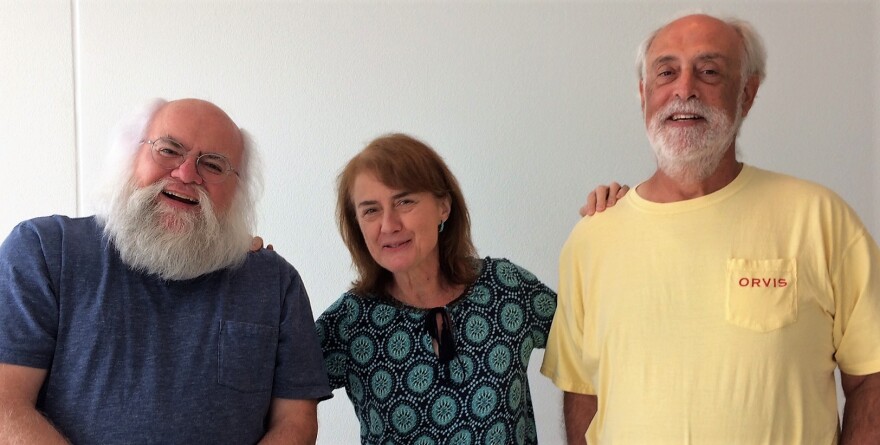 Three Kansas City Symphony musicians recently performed their final concerts with an arts organization they've been with since its inception.
Principal tuba player Steve Seward, bassoonist Marita Abner and oboe and English horn player Ken Lawrence retired after the Symphony's season ended last weekend. All three were hired by the Symphony in 1982, when the orchestra was founded by R. Crosby Kemper, Jr.
"Thirty-six years went pretty fast," said Seward.
Over more than three decades, Seward, Abner and Lawrence worked with visiting and resident conductors Russell Patterson, William McGlaughlin, Anne Manson, and current music director Michael Stern. They've played with countless soloists, such as cellist Yo-Yo Ma, mezzo-soprano (and Prairie Village, Kansas, native) Joyce DiDonato, singer-songwriter Ben Folds, and, most recently, violinist Augustin Hadelich.
These musicians also watched and waited for the Kauffman Center for the Performing Arts to open in 2011.
During a rehearsal break last week, Abner, Lawrence and Seward shared how they started playing their instruments, how the Symphony has changed over the years, and what's next for them in retirement.
On choosing an instrument
Seward: "I started (in) sixth grade. My dad was the band director and I started on trumpet. And the tuba player quit in 7th grade band; (my dad) brings the tuba home and the rest is history."
Lawrence: "I was basically told I had to play either the oboe or the bassoon because I could get a job easier, so I played the oboe. And the case was much smaller to carry, so that's why I did it. I started playing when I was 11 years old." (Lawrence also plays the English horn.)
Abner: "I, too, started playing when I was 11. I grew up in a very small town in Indiana. And the school did not own a bassoon, but the band director was my best friend's father. And he said, 'Gee, it'd be nice to have a bassoon in the band.' And I said, 'I'll play it. What is it?' ... I got hooked and here I am. I'm teaching others now, too."
On the opening of the Kauffman Center for the Performing Arts
Lawrence: "We took the orchestra from basically nothing and a salary of $10,000 a year, and we worked until we got into the Kauffman Center and we saw the whole thing progress to the very top."
Seward: "We were at the Lyric Theatre, and probably two or three weeks before the end of the season, we would rehearse here (Kauffman Center). And then the Friday morning, we would have to go back to the Lyric and play the concerts. And that was just horrible. And then the opening of the hall (Helzberg Hall), I'll never forget that. It was just amazing, truly amazing."
Abner: "When we got here to the Kauffman Center, it was just stunning. The first concert we played, when the four bassoons were playing by themselves, I just got this resonant feedback. And I was like, 'Oh my gosh, oh my gosh. This is amazing.' So that's a great memory."
On growing older
Seward: "(The) tuba is very physical, and I've noticed the last few years, you know, I can't hold a note out quite as long as I'd like to. Everything else was working, but just the lung capacity, and how physical it is. It weighs 42 pounds, that's a lot of metal to haul around.
"And I just noticed last year, with the Rachmaninoff Symphony, and I couldn't do what I used to be able to do 10 years earlier. And I'd rather go out early than have people ask me to leave."
Lawrence: "I, too, have some endurance problems now that I've gotten older. And the oboe and English horn are very physical instruments."
On reflecting back
Abner: "There have been so many — we've had various conductors and guest conductors and amazing soloists and amazing pieces, and doing all the recordings. Just being in the culture of the workplace with other musicians, it's particular to itself. It's been amazing to have this opportunity."
Seward: "It's funny, 36 years went pretty fast. It's amazing — I didn't even think about it until it physically started getting harder, and then you go, 'How long have I been doing this?' It's been a great career. I'm just very grateful. I lived the dream."
"It's a very, very tough occupation, and so you don't think you'll ever make it. And then when you do make it, and you've played 36 years, you look back and you can't believe you did it." - Ken Lawrence, oboe and English horn
Lawrence: "I think only 1/10 of one percent of all people who start as musicians actually get a job in a professional orchestra. It's a very, very tough occupation, and so you don't think you'll ever make it. And then when you do make it, and you've played 36 years, you look back and you can't believe you did it.
"I hope the audience was happy. And that's who I always played to."
On looking ahead
Abner: "I've been teaching at UMKC (Conservatory of Music and Dance), along with playing in the orchestra, for many years, and I've thrived on it. But every part of it has gotten more intense. And it's a lot and I decided that it's time not to be quite that busy and to have more flexibility in my schedule. And my husband is already retired, so we'll be able to attend things and go places a lot easier, without the schedule. And it felt like the right time."
Lawrence: "My wife bought a beautiful house down at the lake. And she said to retire, so I have to retire. I'm going to hang out at the lake and fish everyday, yes."
Seward: "I'm going to enjoy Friday, Saturday and Sundays. Because we work every Friday, Saturday and Sunday. I've got some old cars, a couple of old Cadillacs, I want to get back on the road. I just want to play, have a good time and enjoy life. Camp, I have an RV, Upper Michigan and things like that. And then I'm going to Santa Claus School."
Laura Spencer is an arts reporter at KCUR 89.3. You can reach her on Twitter at @lauraspencer.