Kansas City Ballet Says It Will Phase Out Racist Stereotypes In 'The Nutcracker'
"The Nutcracker" is a December tradition for audiences big and small, at elaborate productions by professional dance companies as well as small dance studios. In recent years, however, more people have expressed discomfort with stereotypes of Asians in the Chinese Dance in the Land of the Sweets.
On Friday, the Kansas City Ballet announced the company has signed on to a national campaign called Final Bow for Yellowface, a pledge to remove outdated caricatures.
"We have long been committed to diversity and inclusiveness in all elements of the Company," the Ballet's artistic director, Devon Carney — who created new choreography for the company's production of "The Nutcracker" in 2015 — said in a news release.
"New York City Ballet [in 2017] made changes to its second act Chinese Tea variation, removing racial caricature from the costumes, makeup and choreography," he said. "This has spurred a national effort, and we are pleased that Kansas City Ballet has joined the conversation along with the ranks of other companies to make these needed changes."
For this year's Kansas City Ballet production of "The Nutcracker," visitors will see changes in costumes, makeup and choreography in the Chinese Dance, or the Tea Dance. Carney said he anticipates making additional changes and seeking feedback from dancers and the community, in what he describes as "an evolutionary process."
In Kansas City, a change.org petition posted on Wednesday by Kerri Voyles urged the Ballet to sign on to Final Bow for Yellowface.
"As a lover of the arts and dance in particular, this issue hits home for me," wrote Voyles, the marketing and communications director at Central Exchange.
Voyles, who is Asian American, told KCUR in an email that she grew up dancing in "The Nutcracker" in her hometown of Lincoln, Nebraska.
"Notably, I was even in the Chinese background one year," Voyles wrote. "I always felt off about the variation but didn't have the vocabulary to describe why."
Not long after she and her husband, Ethan, moved to Kansas City in 2016, Voyles said, they attended the Ballet's production of "The Nutcracker," which included Carney's new choreography.
"I was surprised to see the choreography and costumes were still perpetuating stereotypes (no longer could you blame decades-old choreography)," she wrote. "We hadn't been back to the Nutracker since (though we did attend other dances) and know some community members who chose not to support it because of that section."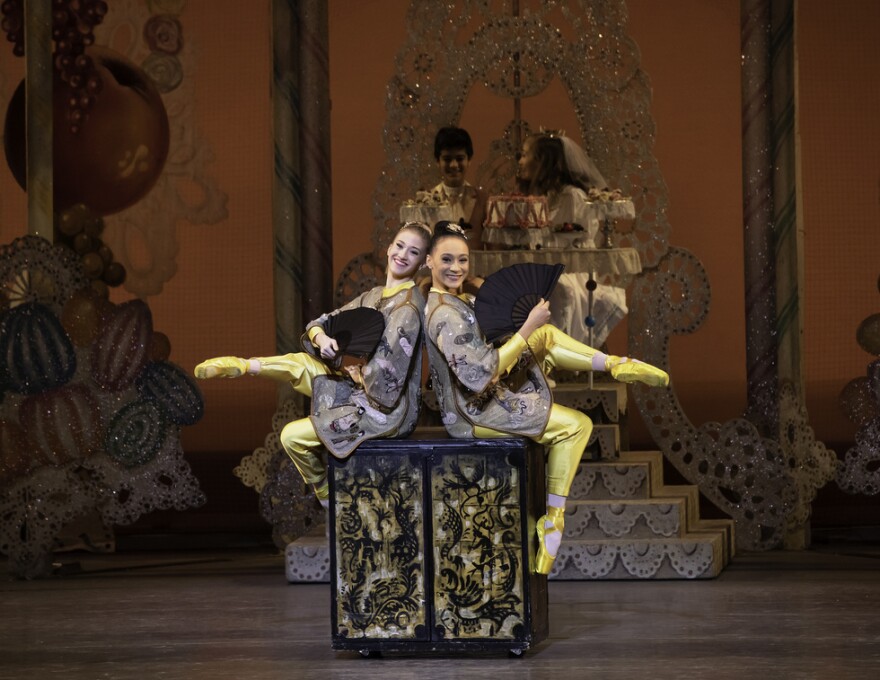 Voyles said she was prompted to speak out this year when the Kansas City Ballet released a promo video for the production that included last year's costumes and makeup from the Chinese Dance.
When he was working to create his own version of "The Nutcracker," Carney told KCUR, "I made a lot of different updates there, and I really believed at that time that I was being very sensitive to the current understanding of what would be appropriate representation of Asian culture."
But since the New York City Ballet provided an updated version of George Balanchine's "The Nutcracker," he said, he's been "taking a very hard look at it and doing a lot of my own research."
New York City Ballet soloist Georgina Pazcoguin and arts administrator, educator and former dancer Phil Chan founded Final Bow for Yellowface in 2017. The initiative asks dance leaders to sign a pledge to support removing yellowface from stages and "to create more positive and nuanced representations of Asians in ballet."
"In the same way that Blackface is limiting and degrading to African Americans, continuing to present an 19th century view of Asians does not allow for character nuance for Asian American dancers today," they write on the company's website. "If all audiences see is the bobbing and shuffling coolie from a bygone era as the only representation of Asians on stage, what message does that send."
"I think it's really important to be very sensitive to the implications of every type of culture that's represented on our stages," said Carney. "I'm thrilled to be a part of this national dialogue. And it's only for the better."
To date, 34 artistic leaders with ballet companies and 18 arts leaders across North America have signed the pledge.
Laura Spencer is an arts reporter at KCUR 89.3. You can follow her on Twitter at @lauraspencer.