Kansas City Mayor Lucas Lashes Out At Missouri Attorney General Schmitt Over Mask Lawsuit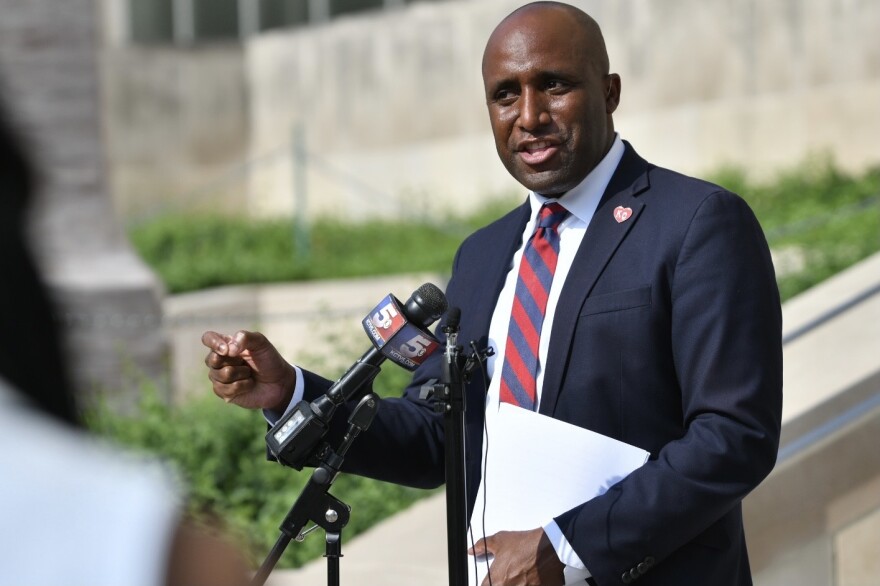 Lucas grew impassioned as he cited a passage in Schmitt's lawsuit stating that the risk of severe COVID-19 illness in children is low.

Missouri Attorney General Eric Schmitt on Tuesday made good on his threat to sue Kansas City over its new mask mandate, drawing a swift rebuke from Kansas City Mayor Quinton Lucas, who lashed out at him for politicizing the issue.
Schmitt's lawsuit, filed in Jackson County Circuit Court, is virtually identical to a suit he filed to overturn a similar mask mandate in St. Louis County.
A St. Louis judge on Tuesday temporarily blocked that mandate after the St. Louis County Council voted to rescind it last week. The judge scheduled a hearing on Aug. 17 to determine whether to issue a preliminary injunction.
In both lawsuits, Schmitt argues the mandates are unconstitutional, arbitrary and capricious, and examples of government overreach.
"This continued unconstitutional and unreasonable government overreach must stop, especially in the face of a widely available vaccine," Schmitt said in a statement announcing the Kansas City lawsuit.
Schmitt, who is seeking the Republican nomination for the U.S. Senate seat being vacated by Sen. Roy Blunt, said that "requiring children to mask all day in school is not based in science and is completely ridiculous. I will always stand up for the liberties of the people of Kansas City and Missouri."
Lucas announced last week that he planned to issue a mask order, which took effect on Monday, after the Centers for Disease Control and Prevention recommended that fully vaccinated people wear masks indoors in areas with high rates of COVID-19 transmission. More than 1,000 COVID cases and more than 150 hospitalizations were reported in the Kansas City area on Friday.
"This for us is not about politics," Lucas said on the steps of Kansas City Police Department headquarters Tuesday shortly after Schmitt announced his lawsuit. "This is not about power. This is not about control. It's about how can we save lives in Kansas City, in western Missouri, and in our region. And the way we can do that is by listening to health experts, it's by listening to medical advice."
Lucas grew impassioned, even angry at times, as he cited a passage in Schmitt's lawsuit stating that the risk of severe COVID-19 illness in children is low.
"He claims that COVID-19 isn't a serious risk to children," Lucas said. "If he actually believes that, I ask every parent in Kansas City, in Missouri and in Kansas, do you want your kid to fall sick with COVID-19? Do you want to just roll the dice? Because the Attorney General thinks it's a decent idea."
Lucas said he had the support of the City Council and expected the city to prevail in the lawsuit. Unlike St. Louis County, Kansas City issued its mask order after the CDC issued its guidance.
As the delta variant of COVID-19 rages in Missouri, making it one of the nation's COVID-19 hot spots, some hospitals, particularly in the Springfield area, have seen their ICU beds fill to capacity. Gov. Mike Parson has declined to issue statewide mask mandate.
In a wide-ranging interview with St. Louis Public Radio this week, Parson said it was strictly up to Missourians whether they wanted to wear masks. He also said that he's not going to issue any state-level mandates requiring vaccinations.
If a "business decides they want to do that, we're going to allow them to do that in the state unless something changes to show us differently," Parson said.
More than 9,000 Missourians have died of COVID-19. As of Tuesday, the state reported 574,125 cases, up 1,863 from the day before. Over the last seven days, the state has averaged 1,789 cases per day.
Just over 41.5% of the state's adult population is fully vaccinated, according to the Missouri Department of Health and Senior Services. Recent days have seen more people getting vaccinated but not nearly enough to reach herd immunity.
Lucas said he offered to sit down with Schmitt and discuss the mask mandate but Schmitt never took him up on it.
"We created an opportunity for him to talk to us. It's time for everybody involved to grow up, have that conversation and care more about public safety than public political perceptions and polling," Lucas said.