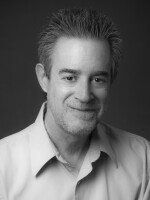 Dan Margolies
Health and Legal Affairs Editor
Co-hosts Dan Margolies and Michael Stern are joined by Jonathan Leshnoff, who composed three of the works on this week's program, and pianist Joyce Yang, who was the soloist in one of those pieces as well as in Rachmaninov's Variations on a Theme of Paganini.

The ruling came in a lawsuit filed by a tenants rights group against the presiding judge of Jackson County Circuit Court, David Byrn.

"At the end of the day, it's about what's best for our fans, what's best for the community and what's best for the ball club."

At issue is the severance agreement the city entered into with police officer Clayton Jenison nearly four weeks after Jenison shot Albers, a 17-year-old high school student.

Co-hosts Dan Margolies and Michael Stern converse with Associate Principal Flutist Shannon Finney about a diverse program of works, each of which holds a special significance for her in one way or another. One such work features Joyce DiDonato in a glorious 2012 homecoming performance.

The university purchased the building for student housing in 2012 for nearly $41 million.

Shawn Parcells gained notoriety in 2014 when he made numerous appearances on cable news as a supposed expert in the investigation of the fatal police shooting of Michael Brown in Ferguson, Missouri.

The lawsuit continues against the architects and other designers of the Oak Place Apartments, which was plagued with pipe failures, mold and sagging floors, requiring the displacement of 464 students.

Despite taking recommended federal precautions to address COVID-19, the skilled nursing facility had a surge in cases, mirroring the surge in metropolitan Kansas City.

Missouri's parole board revokes the parole of thousands of individuals every year, often without providing an attorney or informing parolees of their right to counsel.