This Kansas City, Kansas, High School Student Is One Of The Nation's Best Debaters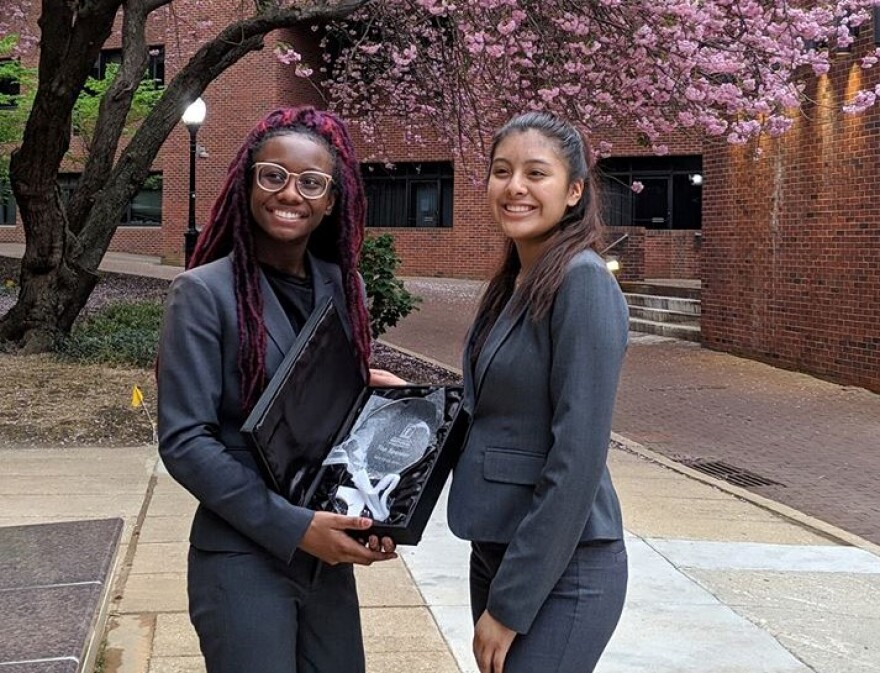 Neymara Freeman, a sophomore at Sumner Academy in Kansas City, Kansas, won top speaker at the Urban Debate National Championships in Washington, D.C., last month.
The theme of this year's competition was immigration. Students researched every aspect of the issue and had to be poised and ready to represent each angle.
"There are immigrants all around me who are constantly sharing their story with me that hit me in the heart every time," Freeman says. "This is the perfect opportunity for me to share these stories."
She's with DEBATE-Kansas City, a group that allows students in urban schools access to competitions on par with wealthier suburban districts.
Freeman and her teammates use an "evidence first, stories later" debate style. That approach took them to the final round, where they lost. But during each round, Freeman had racked up enough personal points to put her in the top spot.
"She gives passion. She has emotion in what she's saying," her teammate, junior Gabriela Perez-Garcia, says of Freeman.
"So it's not just reading something and giving a speech, but she connects with the judges, and I always see that."
For both students, the topic of immigration was personal. Perez-Garcia is an English as a Second Language student; she and her parents are from Mexico. Freeman is not an immigrant, but she says Wyandotte County has many students who are.
One of the aspects the two enjoy about the Urban Debate League is the opportunity to debate other minority students whose life experiences put them on a more equal footing. Often, when the team debates in the metro area, they go up against predominantly white schools.
One time, she says, a student at a marjority-white school argued against DACA (Deferred Action for Childhood Arrivals), so she asked him to explain what it was. He didn't know.
"We have gone against some racist students. They don't even know what they're talking about sometimes. They were just there to compete and win, which to me is not the point of debate; it's about learning something new," Perez-Garcia says.
"The greatest value of debate, especially for high school students, is to encounter these complex questions that our own leaders of our nation are struggling with and start to craft responses and answers and solutions for some of these issues," says Corey Fisher, DEBATE-Kansas City's program director.
Fisher started with DEBATE-Kansas City as an 8th grader, moved through the ranks, debated while he was a student at the University of Missouri-Kansas City, and is now an assistant debate coach at Harvard University in addition to being the local program director.
He says access to debate leads to opportunities and growth. When people express surprise that inner city schools can have champion debate teams, he says the compliments come off as back-handed.
As far as he's concerned, these students show that they're the best of the best as soon as they have a platform.
"It isn't an issue of whether or not these students are capable or have the ability or are intelligent enough to compete in these different arenas. The talent, the know-how, the smarts, the ingenuity is all there," he says. "It's really a question of the larger resource disparity we have throughout society and especially in cities such as Kansas City."
Freeman and Garcia-Perez plan to continue their careers in debate. And they're both interested in law school, where, they say, they'll learn even more ways to speak up for others who sometimes feel voiceless.
Garcia-Perez says that as an immigrant, debate, because it's allowed her to effectively speak her mind, has really given her a role in her community.
"It's important to me to let people know we are here," she says. "I want other ESL students to see that debate does give you a voice and you can represent us."
Neymara Freeman, Gabriela Perez-Garcia and Corey Fisher spoke with KCUR on a recent episode of Central Standard. Listen to the conversation here.
Follow KCUR contributor Anne Kniggendorf on Twitter, @annekniggendorf.