Each week, KCUR's Adventure! newsletter brings you a new way to explore the Kansas City region.
Road Trip: Your Guide To Summer Adventures In Minneapolis
For Kansas Citians looking for a slightly more involved summer destination, Minneapolis offers an expansive display of public art, a diverse and creative food scene, and lush outdoor spaces.
This story was first published in KCUR's Creative Adventure newsletter. You can sign up to receive stories like this in your inbox every Tuesday.
Minneapolis, Minnesota, located about six hours north of Kansas City, offers an abundance of places to explore. It's a destination for public art, multicultural excursions and scenic outdoor activities at lakes and parks.
This Upper Midwest city is also flush with cultural diversity and vibrant neighborhoods. Adventurers will find hip shops and boutiques, nearby day trip jaunts and lively sections of the city to eat, drink and even enjoy a ballgame at the downtown stadium.
A quick travel note: Contact restaurants and bars in advance to make reservations and confirm current COVID-19 policies. Many establishments automatically include a service charge to the bill in lieu of tipping in order to pay staff livable wages.
Eye-Popping Public Art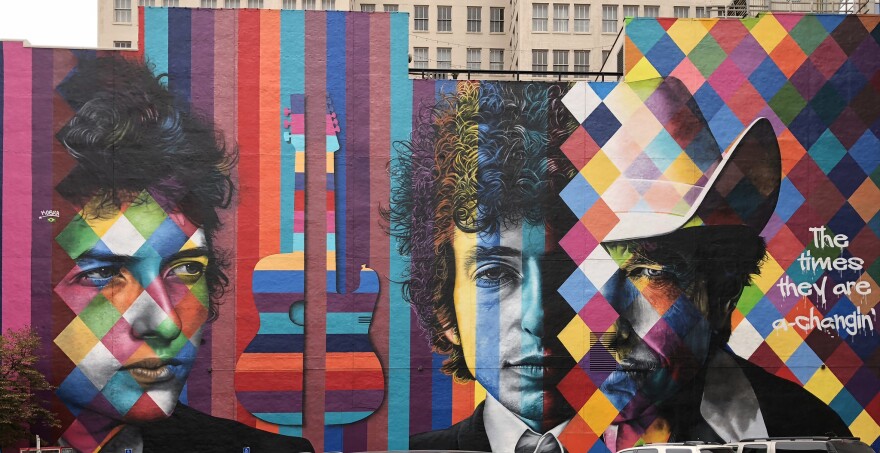 Bob Dylan's song "The Times They Are A-Changin'" is an iconic reminder that the world around us continues to evolve with each generation. The song title appears in Brazilian artist Eduardo Kobra's mural and tribute to Bob Dylan—located at 5th and Hennepin Avenue.
Kobra, who grew up as a young street artist in a low-income neighborhood in São Paulo, has emerged as an acclaimed artist with projects located worldwide. This mural covers a building facade spanning 160 feet and five stories, capturing Dylan's countenance across three stages of his career.
Fans of Prince can view two murals of the singular artist, whose career originated in Minneapolis. Located in the dynamic North Loop, a mural painted by Los Angeles artist Jonas Never captures Prince's "Purple Rain" vibe. You can find it at Floyd's 99 Barbershop , located at 424 N. Washington Avenue.
A one-story mural created by artist Rock "Cyfi" Martinez also depicts The Prince of Funk at 26th Street and Hennepin Avenue. Devoted fans can indulge in an entire self-guided tour itinerary and visit touchstones of Prince's life located throughout the city.
The Minneapolis Sculpture Garden assembles a bounty of public art as a free outdoor experience that's open year-round from 6 a.m. to midnight. Check out the map and web app, then stroll among large-scale sculptures including Claes Oldenburg and Coosje van Bruggen's "Spoonbridge and Cherry"; Robert Indiana's "Love"; Katharina Fritsch ultramarine blue-colored "Hahn (Cock)"; and Henry Moore's "Reclining Mother and Child." Arts enthusiasts can also explore the nearby Walker Art Center's exhibitions.
The Loring Park Arts Festival (July 31-August 1) is an opportunity to promenade among artist booths while surrounded by picturesque ponds and formal gardens. Created by artists, for artists, the festival offers work from 140 artists, music, food, a beer garden by Lake & Legends Brewing and entertainment. Nosh on kabobs, Tibetan momos, ice cream, rib tips, tacos and more while savoring a feast for the eyes.
Neighborhoods To Nosh, Drink And Shop
The Northeast neighborhood in Minneapolis is home to wildly creative spots like Betty Danger's Animal Farm, a restaurant and cocktail lounge that marries a carnival vibe with the tongue-in-cheek influences of George Orwell's novels "Animal Farm" and "1984." It's weird, delightful and original, and features an outdoor patio replete with a working Ferris wheel and open-air dining cars, full-size animal figurines and pro-animal propaganda.
Hai Hai is a popular spot for Southeast Asian street food. The name translates to "two two" in Vietnamese, a reference to the building's former history as a dive bar and strip club. Hai Hai chef Christina Nguyen (James Beard finalist for Best Chef 2019 and 2020) prepares a range of dishes such as pork ribs adobo, water fern cakes, chicken banana blossom salad and Hanoi sticky rice.
Perk up with a cuppa at Spyhouse Coffee, which has multiple locations around town. The Northeast Cafe, built in a restored brick-and-timber warehouse, is home to their roasting facility and tucked in the area's Arts District.
Dangerous Man Brewing is found in the former NE Bank Building, giving the space a sturdy feel.The interior, which is still home to a bank vault, displays local artwork that infuses the space with a community-minded creative atmosphere. Craft beer fans flock to this destination brewery and taproom, where the fresh small-batch beers are on point. Reservations recommended.
Pop into I Like You for indie arts and crafts made by Minneapolis and St. Paul makers. Pick up cool T-shirts, candles, soaps, jewelry, stickers and more for a hip and authentic memento with local flair.
Elsewhere, the North Loop AKA Warehouse District features contemporary shops and restaurants. Fashion-forward trendsetters will find their way to D.Nolo, a retail co-op for womenswear, home furnishings and brand candy from bumbershute, Jaxon Grey and kindred. MartinPatrick3 is a boutique for stylish clothing and home furnishings.
Sports fans can catch a ballgame at Target Field, where the Minnesota Twins play Major League Baseball, or at Target Center, home to the Minnesota Timberwolves and Lynx basketball teams.
Before the game or between sightseeing and shopping, grab a bite, beer or hard seltzer at Fulton Brewing Taproom. Don't overlook the exquisite suds at progressive Modist Brewing, unbound by traditional beer styles.
Dive into coastal eats at food truck-turned-casual restaurant Smack Shack where lobster and shellfish reign supreme. End the evening with a cocktail at downstairs bar Parlour or the luxe Rooftop Lounge at Hewing Hotel for an urban vista while sipping on a hand-crafted cocktail.
Parks And Recreation
Lush greenery, spacious parks, waterways and miles of well-designed paths shape the soul of Minneapolis as much as its urban architecture.
The Mississippi River cleaves through Downtown Minneapolis, and 22 lakes within city limits present ample ways to enjoy the water. Residents and tourists alike can easily hop on a bike, take a walk, jog or mosey along the trails that connect the city's various districts and neighborhoods.
Use the Nice Ride Bike Share program to rent a bike and roll through the city's trails. Paddle Share makes it simple to rent a kayak so you can paddle downstream on 3- to 8-mile routes. Lake of the Isles Park, part of the Chain of Lakes, offers paths for walking and biking, a dog park, a fishing pier and more. Take a walk along the river and then grab pizza and beer at Prye's Brewery's dog-friendly outdoor beer garden or spacious taproom.
Check out a 53-foot waterfall and limestone bluffs at Minnehaha Regional Park. History buffs can investigate the John H. Stevens House Museum, the birthplace of Minneapolis and Hennepin County, located within the park.
After a long day of adventuring, treat yourself to a bite at Sea Salt Eatery. This seafood joint serves up fried fish, fish tacos, crab cakes, ceviche, po' boys, craft beer and other drinks to quench your thirst.
Want more adventures like this? Sign up for KCUR's Creative Adventure Email below.