Each week, KCUR's Adventure! newsletter brings you a new way to explore the Kansas City region.
Want to go fishing around Kansas City? Here's a reel-y fun guide to get you started
Both sides of the Kansas-Missouri border offer ample opportunities and locations for fishing, from rivers to lakes, and your new hobby doesn't need to break the bank — although you will need a license. KCUR's guide to fishing in the Kansas City area will have you catching catfish in no time.
This story was first published in KCUR's Adventure newsletter. You can sign up to receive stories like this in your inbox every Tuesday.
Fishing is a year-round activity for people around Kansas City. For regulars, the change in seasons just means a change in methods: spring can mean light rod and panfish or medium rod and Walleye; summer can mean bass and catfish; and fall and winter is trout time.
Yes, all of those fish can be found right around this city! It's actually much easier to learn to fish and to make it a regular activity than you might realize.
Both sides of the Kansas-Missouri border offer ample opportunities and locations for fishing, and it doesn't need to break the bank — it's even possible to get your hands on free gear if you're not fully convinced yet. And remember: A basic, pre-rigged rod from Walmart and a carton of worms will get you started just fine.
We put together this guide to fishing in the Kansas City area that will have you setting hooks in short order.
It all starts with a license
Unless your fishing adventure starts on a friend's private pond or lake, you'll need a license. Note that in Missouri, the rules are pretty cut and dry, but in Kansas, you may need a license even on private land.
To obtain a license in either state, just about any bait and tackle shop is a safe bet. The Kansas Department of Wildlife and Parks maintains a vendor information page, but you can also buy your license online. The process is easy and saves time and travel.
Missouri too operates an online portal and does not appear to maintain a vendor page.
Both states also maintain license apps. Kansas' is Go Outdoors KS, and Missouri's is MO Fishing.
Now, one very important thing to remember: If you live in one state and plan to fish in the other, you'll still need to purchase a license for that other state, and you'll be charged a non-resident rate.
Lastly, both Kansas and Missouri hold annual free fishing days. Both typically advertise the first full weekend in June as license-free fishing days.
Don't know how to fish? Here's how to start, quick and free
If the Walmart rod-and-worm scenario doesn't sound like where you want to start, there are an array of less messy methods, and plenty of educational resources and opportunities all around you.
Travel Kansas' Learn to Fish page links out to how-to videos and fishing clinic information pages.
On the Missouri side, the Missouri Department of Conservation (MDC) hosts a multi-session fishing clinic for youth called "Discover Nature – Fishing." Parents can tag along, of course, and are sure to pick up tips, too.
Note that MDC's courses taper off in late August and early September. Courses are held in Cape Girardeau, Jefferson City, Kansas City, the Ozarks, St. Louis, and other locations.

Next up, gear up
You don't have to spend a lot of money to go — and to keep going — fishing. Once you buy a rod and license, you're most of the way there. Many stores sell rod-and-reel combos (with the reel already spooled) and worms, too (again with the worms!).
Kansas City is lucky in that there are numerous locally owned bait and tackle shops to choose from, in addition to the usual big box stores like Cabella's and Bass Pro Shops. Here are some of the better-known:
Rogers Sporting Goods in Liberty has been helping folks gear up since 1980. This writer's father-in-law swears by the retailer and tries to stop there before his Canada and Dakotas walleye trips whenever possible.
For that classic bait shop experience, there's Forty Woods in Blue Springs. Here you can get all the creepy crawlies you could need in addition to rods, reels, tools, and more.
On the Kansas side, and for the trout fans out there, consider K&K Flyfishers in Overland Park. This fine shop offers courses on fly-tying and other important skills in addition to tackle and gear.
Lastly, also on the Kansas side — in Kansas City, Kansas, to be exact — is Minnesota Bait & Fly. Per the name, they run the gamut and are a generalist's shop offering just about everything you could need for your outing.
What price range should you expect? The Fishing Costs page from mega-site takemefishing.org breaks it down pretty well, noting that "freshwater rod and reel combos can be purchased for about $30 or $40, and kids' fishing combos can run as little as $15 to $20."

You can get free fishing gear in Kansas City, too
But before you make a purchase, consider that some Kansas City-area libraries will let you check out basic fishing gear, including poles and tackle boxes. Some branches allow a library card holder to keep the gear for two weeks.
As of now, four Mid-Continent Library branches offer this service. Always call a branch beforehand to see if they have gear available.
Additionally, many Missouri Department of Conservation areas will loan out tackle for free. As with the libraries, call around to learn about your options.
On the Kansas side, while individuals in our area can't check out gear, groups can. According to Kansas Department of Wildlife & Parks Sportfishing education coordinator David Breph, chances are your local state park office's fisheries biologist can outfit your scout troop, church party, etc. These individuals usually maintain collections of spincast rods and reels, tackle boxes, and even pliers.
It bears repeating: Always call beforehand, and give your biologist plenty of lead time.
If you want to become a resource for your community and train to be a fishing instructor, you might consider the state's Certified Angler Instruction Program. You could end up taking loaner tackle out to a group of future anglers and showing them how to use it, changing lives in the process.

What gear you should bring fishing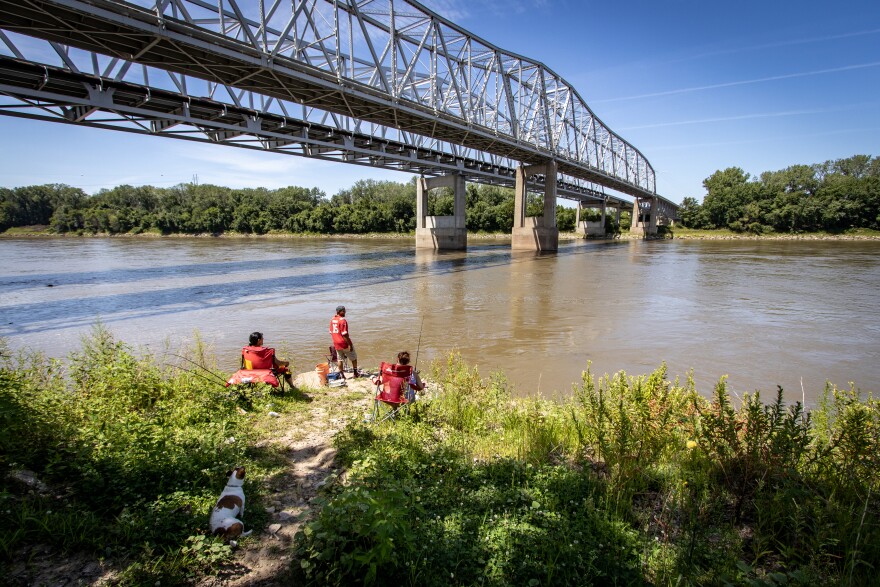 If you're a list kind of person, here's one to consider as you outfit a trip to the lake:

A simple tackle box. Even if you're going the live-bait route – worms, of course, or larva, minnows, etc. – you'll need a place to keep other tools, extra line, weights, bobbers, and more.
A multitool. Something like a Leatherman is ideal. Amazon, REI, and many local retailers sell generic versions of this classic essential. Look for one that includes pliers, a knife, phillips- and flathead screwdrivers, something with which to pry, and maybe a ruler etched on the side.
A fishing-specific multitool, if inclined. Some anglers go the extra mile and buy a multitool with hook extractor, small scissors, a tape measure, and even a scale.
Folding ruler or tape measure. Many lakes on both sides of the Kansas-Missouri border have length limits on certain favored fish species. For instance, Clinton Lake west of Lawrence, Kansas, has a 10-inch limit on crappie. This means you can't keep any crappie that is less than that length. (Also, you may encounter the phrase "creel limit." A Clinton, for crappie, it's 20. That means you can't be in possession of more than 20 10-inch crappie at any one time.)
The outdoor activity usuals: Hat, sunscreen, water and snacks, gloves, etc. You'll be out there a while, so be prepared!
Your license! If you use a state's license app, you're covered (so long as your phone is with you). If not, make sure you have a hard-copy license with you any time you're fishing public waters.
Fish you may encounter in the Kansas City region
There are far more fish in our area waters than you might realize. From ancient beasties like paddlefish and sturgeon, to invasives like silver carp, to natives like bass, bluegill, and catfish, there are a lot of fish to pursue and as many methods with which to pursue them.
For those beginning their life as a fisher, you'll probably first catch "dock classics" like bluegill, crappie, and bass. Bluegill and crappie like to hang around near structures – docks, fallen trees, logs, rocks, etc. – as they are one of the primary food sources for bass, catfish, and other larger, predatory fish.
Catfish are also fairly common around docks, and fishers have a decent chance of catching a channel catfish on just a simple bobber and hooked worm.
For all the creatures – fish or otherwise – plants and fungi you might encounter out there in the regional wild, consider reviewing the Missouri Department of Conservation's Field Guide.

Kansas City-area lakes you can fish at
For someone new to fishing, smaller lakes offer easier access to the different terrain fish inhabit at different times of the year. But if you don't have a boat, and you're willing to combine some hiking with your fishing, larger reservoirs can be a lot of fun (though you may spend more time walking than reeling).
You don't need to travel far: Around Kansas City, there are urban lakes that are stocked with fish, too (and the fishing in them can be surprisingly good). In winter months, trout are stocked in some Kansas-side lakes.
Here are some popular Kansas City area fishing ponds to try:

For reservoirs, here are the ones to start with:
Lake Jacomo in Blue Springs. Nearly 1,000 acres, this lake is known for some of the best largemouth bass fishing in the metro area as well as good channel catfish and crappie fishing.
Blue Springs Lake in Lee's Summit. Noted as a "secret" hotspot for wipers, this 700-plus acre lake also has good populations of largemouth bass and crappie.
Longview Lake in Lee's Summit. A 900-plus acre lake that has been heavily stocked with walleye. The stockings are paying off, and there is now a good population of this fish here. Crappie and white bass are also here in good numbers.
Lastly, you can't talk about fishing in this part of the country without mentioning the Missouri River. This landmark waterway is one of the nation's best for catfish, and Kansas Citians have multiple points of access. LaBenite Park on the Missouri side is one, and Kaw Point Park on the Kansas side is another.
Just remember that if you're fishing a big river, you may hook a big fish. If you do, you'll wish you'd brought a heavy pole and line — upwards of 40-pound test — because fish as big as 100 pounds (and maybe larger) can be caught in our area.

Remember: Just a worm will work too
At the end of the day, fishing is an ancient, straightforward affair. Pole, line, bait, water. And, it should be fun, so if you find yourself getting frustrated, go back to the basics. Get a light pole and some worms, find a dock, and go catch some bluegill.
Frankly, that's some of the most fun fishing there is.