A New Affordable Housing Complex Will Help Families Escaping Domestic Violence In Kansas City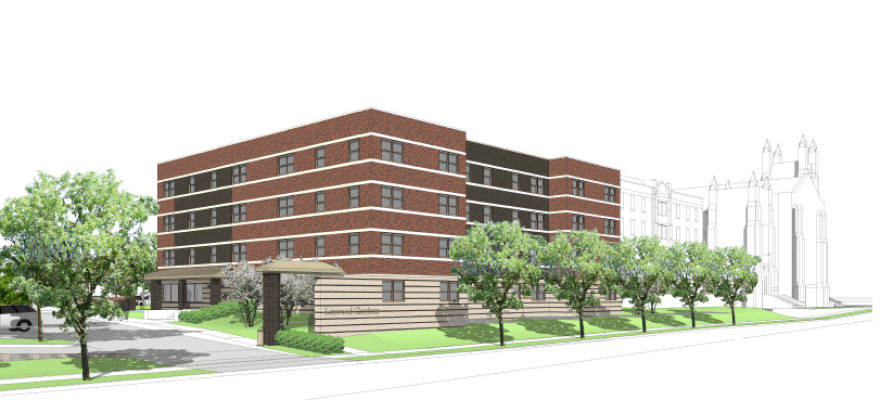 Addressing Kansas City's shortage of affordable housing options was a main tenet of Kansas City, Missouri, Mayor Quinton Lucas' campaign. On Monday, Lucas is set to announce a new affordable housing project geared specifically toward families who have survived domestic violence.
Community nonprofit Linwood Property Inc. and Prairie Fire Development Group are collaborating to build the Linwood Gardens supportive housing project, with social services from ReStart Inc.
"It's going to be filled as soon as it opens. That's a guarantee ... that's how great that need is," says Roach "Ms. E" Ellington, founder of GYRL -Giving Yourself Real Love, an advocacy group for victims of domestic abuse.
Even though her organization is not affiliated with this project, Ellington says it will have no problem finding tenants. Families escaping domestic violence in Kansas City face a shortage of housing options.
The 32-unit property will be adjacent to the old Linwood Presbyterian Church on Linwood Boulevard and Michigan Avenue, which is currently the headquarters for the Linwood Area Ministry Place, or LAMP.
Kelley Hrabe, with developer Prairie Fire, says they're taking a holistic approach to getting families out of homelessness. They'll provide a safe and supportive place to live and nonprofit ReStart will help families with other needs.
"They'll bring in the services like employment, working with the school districts on education. As a developer, we're going to be contributing some funds to a reserve account that can help with clothing and food and all that kind of thing," Hrabe says.
Linwood Gardens will have 11 one-bedroom units, 12 two-bedroom units, 8 three-bedroom units and 1 four-bedroom unit, ranging from about $400 a month for a one-bedroom to $800 for a four-bedroom. Financial assistance will also be available.
Ellington says the variety of apartment sizes is unique.
"Normally shelters separate the families, either you have your daughters with you and your sons go somewhere else. So I think it's really good that they're bringing families together and keeping that unit together," Ellington says.
While some overnight shelters may group similarly aged men for privacy, many shelters, including some in the Kansas City area, allow families to stay together.
Hrabe says the majority of the financing for the project comes from Missouri Low Income Housing Tax Credits.
The LAMP Campus, which will be right next door, is home to Ivanhoe Neighborhood Council sustainable health programs, ReStart administrative offices, Connecting for Good, Front Porch Alliance, Heartland Presbytery offices and ReDiscover behavioral health clinics.
Construction will start in September and the Linwood Gardens will be open for residents in the fall of 2020.
Correction: In a previous version of this story, we used the wrong firstname for the developer. It is Kelley Hrabe with the Prairie Fire Development Group. This story was also updated to clarify that not all shelters separate families based on gender.
Lisa Rodriguez is a reporter and the afternoon newscaster for KCUR 89.3. Follow her on twitter @larodrig.