Departing Planned Parenthood CEO: 'We Are Committed To Mobilizing The Silent Majority'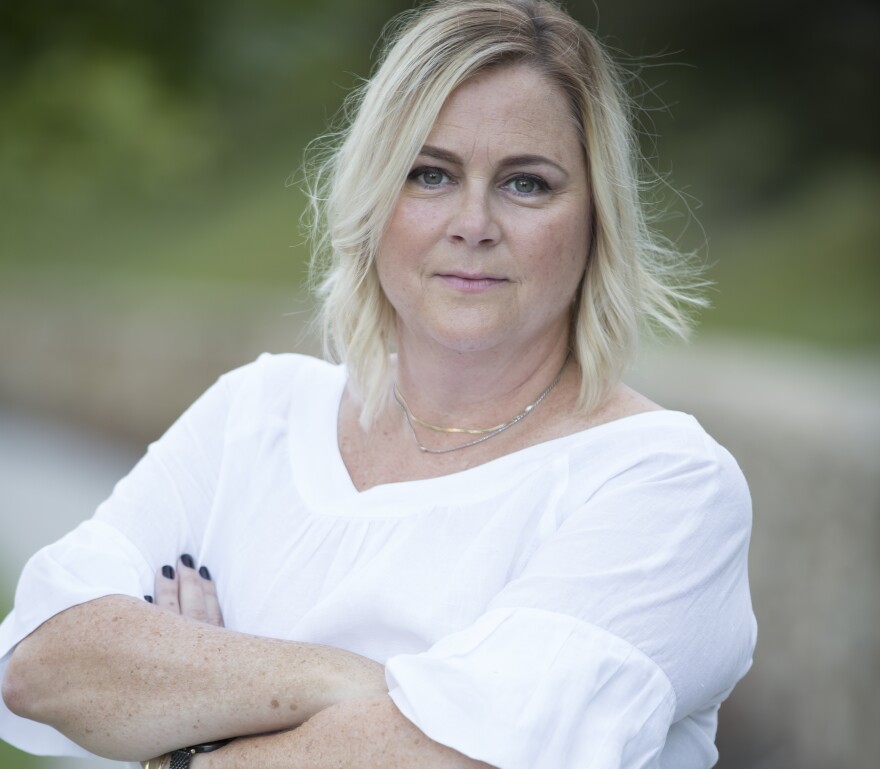 Friday is Laura McQuade's last day as president and CEO of Planned Parenthood Great Plains, based in Overland Park, Kansas.
She's leaving to become head of Planned Parenthood of New York City. In her three years in the region, she has overseen Planned Parenthood's geographic expansion – it now operates 12 clinics in Kansas, Missouri, Arkansas and Oklahoma – and the expansion of its health and reproductive services.
But she may be best remembered for her fierce defense of Planned Parenthood as state governments sought to defund it and make abortion services more difficult to obtain. I recently spoke to McQuade about those battles and what she's learned from them.
Interview Highlights:
Missouri already has some of the most restrictive abortion regulations in the country. Now, after a special session called by Gov. Eric Greitens, it has enacted some more. Among the new provisions: Doctors must meet with women seeking abortions three days before the procedure. The state will make annual unannounced inspections. And the attorney general can overrule local prosecutors in connection with abortion laws. The governor and opponents of abortion say these protect the health and safety of women. What do you say?
I say that again and again, the courts, the American Medical Association and the American College of Obstetricians and Gynecologists say that not only do these restrictions not protect the health and safety of patients, they promote unsafe activity by barring access to a necessary, needed, safe procedure. And this goes for Missouri and across the country. And so they keep trying the same old song. If these are restrictions that were necessary for high quality medical care, wouldn't you expect the highest authorities -- the American Medical Association, the American College of Obstetricians and Gynecologists – to support them? They are not politicians. They are clinical experts. And again and again, they say that these policies are harmful for women, harmful for patients. I think that's all that needs to be said.
A federal judge in Missouri recently struck down the state's requirements that abortion providers have admitting privileges at nearby hospitals and that abortion clinics meet hospital style standards for outpatient surgery. After that, Planned Parenthood Great Plains, your organization, and its St. Louis counterpart announced plans to offer abortion services in Kansas City, Columbia, Springfield and Joplin. Where do those plans stand right now?
So we continue to fight that legal battle, as you know. We received a preliminary injunction from that federal judge. Then the state petitioned the Eighth Circuit to stay that preliminary injunction, meaning not to allow the preliminary injunction to go into effect. The Eighth Circuit declined to do so. That again is reinforcement that the health and safety of women and patients across the state of Missouri are not at stake here, that this continues to be a political battle.
We have just recently gone through the inspection process with the state at both our Columbia and Kansas City centers. And we are moving forward with the licensing process. However, with the recent restrictions passed, we are looking at both our legal options to challenge what just was passed out of the Missouri legislature and, in the worst case scenario, what it would take to implement those restrictions in order to ensure expanded access to safe and legal abortion in the state.
So do you anticipate filing a lawsuit challenging these new restrictions?
We really need to make sure that we are looking at all the angles of these new restrictions, both on their face and as they are applied specifically to this affiliate. So as I said, we are looking at all of our legal options. Of course, filing a lawsuit is one of them. But we're not in a position at this time to say one way or the other whether we will file. But I can assure you that we are looking at all legal avenues open to Planned Parenthood to ensure the expansion of services in the state.
Let's move from Missouri to Kansas. Kansas Gov. Sam Brownback, who will soon be departing the governorship for a role in the Trump administration, says one of his points of pride has been the enactment of 19 pro-life bills under his watch. The most recent one specifies the size, color and type of font that must be used in giving women written information before they undergo an abortion. Any comment on that?
For the most part each and every one of those 19 restrictions was struck down as unconstitutional. So I don't know what source of pride the governor finds in not promoting the rule of law, not promoting what is constitutional. Second, in that same tenure, Gov. Brownback ensured that the state of Kansas received an F rating for access to sexual and reproductive health care compared to its counterparts in the other 49 states. If that's a record that he wants to stand on, and a failure to provide the care needed for the safety and well-being of the constituents of the state of Kansas, well, I'm deeply sorry that that Gov. Brownback sees that as his mandate as the governor.
You have been the public face of Planned Parenthood Great Plains for the last three years as it's expanded its geographical reach. It now operates in Kansas, Missouri, Oklahoma and Arkansas. During that time, it's been under regular assault by at least Kansas, Missouri and Arkansas, which have attempted to cut off Medicaid funding or deny Planned Parenthood an abortion license. You've aggressively fought back. Do you see these legal battles ever coming to an end?
I do not see these legal battles coming to an end in the immediate future. The commitment of Planned Parenthood to partner with our community and with our patients to ensure a change in thinking in Jeff City, Topeka, Oklahoma City and Little Rock will remain one of the cornerstones of our work going forward, in addition to ensuring that we are providing the highest quality sexual and reproductive health care. So I don't, but we are committed to mobilizing the silent majority to put issues of sexual and reproductive health at the forefront of their decision making when it comes time to vote at our next opportunity in November of 2018.
And we hope that in the medium term, the extreme, outsized voice of a minority group of people in all four states will no longer govern the health care that women, men and youth receive, whether that be sexual and reproductive health care or basic primary and pediatric care that is also being blocked in many of the states through a failure to expand Medicaid. We hope to do all the work that we can to both provide care, but also to work to change the political and legal landscape to make access to these services more readily available and to de-stigmatize health care as something that everyone has the right to access, regardless of their race, gender, orientation, socioeconomic status and many other categories.
Last question. You grew up on the East Coast and moved to Kansas City about three years ago. What memories of Kansas City will you take with you now that you're moving back to the East Coast?
Well, first and foremost I will take the memories of an incredibly supportive community and staff. The people that work at Planned Parenthood are the most passionate and committed professionals. Many of us could find work elsewhere. But we could never find as fulfilling work as we find here within the walls of Planned Parenthood. And we couldn't be doing that without our donors, our volunteers and other activists in the community who have welcomed and embraced Planned Parenthood in the last three years in ways that they have not in recent decades. And so I'm thankful for that community support.
I will also take a sense of resiliency with me to New York. I won't lie to you. I think that certain circumstances on a daily basis will be a little bit easier – to move to a community that not only values Planned Parenthood and sexual and reproductive health care, but a community that understands its importance in larger social-justice conversations. But having the resiliency of having fought the fight that we have fought here will make me a stronger leader, even in that somewhat easier political landscape. And I think that there are a lot of lessons that we have been forced to learn here that could greatly benefit the New York City community that I will be joining in just the next several weeks.
Dan Margolies is KCUR's health editor. You can reach him on Twitter @DanMargolies.