Three Kansas City Police Officers Shot, Suspect In Killing of UMKC Student Dead
Updated Sunday 10:04 p.m.
Three Kansas City police officers were shot Sunday afternoon during a hunt for a man they suspected of killing a UMKC student. The suspect was killed, according to the Kansas City Police Department.
The three wounded officers are expected to survive, KCPD Chief Rick Smith said in a news conference Sunday afternoon.
Smith said detectives were surveilling several locations in east Kansas City.
"We'd been looking for him all week," Smith said. "This is the first time we laid eyes on him."
An initial gun battle broke out around noon when detectives followed the unidentified suspect to the Sky-Vu Motel on East 40 Highway near I-435.
"Our officers then became engaged with the person we were trying to surveille and there was gunfire. At that point two of our officers were shot," Smith said.
An hour later near 30th and Topping another gun battle wounded another KCPD detective, and the suspect was killed.
"We didn't know he was there, he just popped up all of a sudden and engaged the officer," Smith said.
Sunday evening, Kansas City police tweeted crime scene photos showing an undercover police car riddled with gunshots. Two of the wounded detectives were inside. The bullets were fired from an AK-47 style semi-automatic rifle, according to a KCPD spokesman.
Crime Scene processing will continue through the night and likely into tomorrow. These photos are from the original scene on 40 hwy. Officers were inside this car when they were fired upon by the suspect pic.twitter.com/6zzt1yGkF1

— kcpolice (@kcpolice) July 16, 2018
The law enforcement response was massive. In addition to dozens of KCPD officers, Jackson County Sheriff deputies, Missouri Highway Patrol troopers and ATF agents were on the scene. Streets around 31st and Van Brunt were sealed off for hours.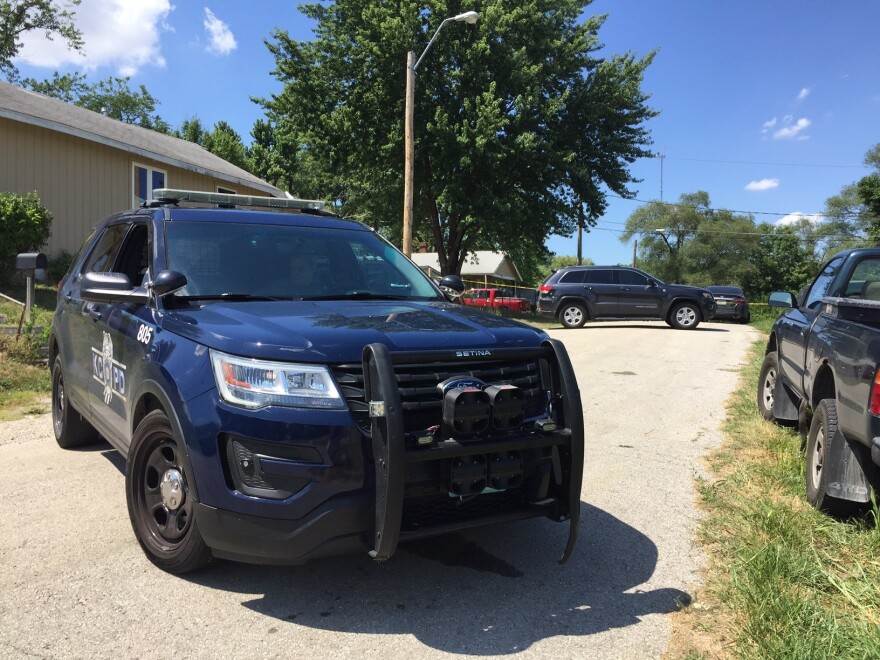 The murder of 25-year old Sharath Koppu, who is from India, led to Sunday's police action. Koppu was shot and killed July 6 during an attempted robbery at J's Chicken and Fish Market near 54th and Prospect. Koppu was a graduate student from India who arrived in the United States in January to pursue a master's degree in computer science.
Less than a day later, surveillence video from the store was broadcast and a $10,000 reward offered. Police have not said whether a tip led them to the locations Sunday.
Sam Zeff is KCUR's metro reporter. You can follow Sam on Twitter @samzeff