'I Was Terrified': Kansas City Lawyer Was In The Capitol When Rampaging Mob Breached The Building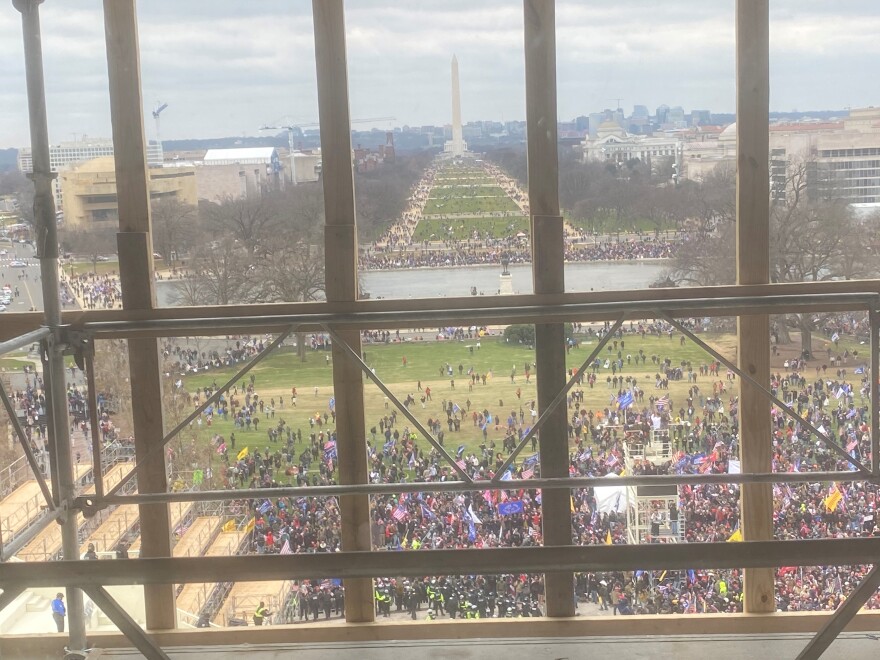 "It was clear the mob had approached our doors and started screaming and was trying to crash through the doors," said Adam Sachs, a Kansas City attorney, who was at the nation's Capitol for his son's first day as a congressional intern.

It was Phinney Sachs' first day on the job as an intern in the office of Rep. James E. Clyburn of South Carolina, the third ranking Democrat in the House.
Little did Sachs realize it would turn out to be the most momentous day of his life.
The 19-year-old Pembroke Hill graduate and his father, Kansas City lawyer Adam Sachs, were in Clyburn's office last Wednesday when a crowd of supporters of President Trump approached the Capitol.
Adam Sachs, a partner with Husch Blackwell whose lobbying and regulatory work frequently takes him to Washington, was there both for business and to see the youngest of his four children.
"I probably naively believed we were in the safest place we could possibly be, given that every leading member of the government, other than the president, was in the building," Sachs tells KCUR, recalling the events of that day.
Sachs and his son were among 20 or 30 people in Clyburn's suite of offices watching the gathering crowd though the windows of Clyburn's office on the west end of the Capitol. Sachs says he assumed Capitol Police had everything under control.
He and Clyburn's chief of staff had gone to the basement to grab a bite to eat. Emerging from the elevator, he says they saw people running "and it did not look good."
Hurrying back up to the office, they watched on TV monitors as a menacing mob breached the building. A voice on the office intercom ordered them to shelter in place.
"And that's when it became serious," Sachs says.
Phinney Sachs, the youngest person there, led the effort to barricade the office's big wooden doors, his father says, rounding up some leather chairs and the conference room table.
They turned off the office lights and waited.
"We were in silence for a God-awful period of time," Sachs says. "Everybody with the lights off, just the one TV set on without the volume, and we hoped for somebody to help us."
Sachs isn't sure how much time elapsed – 45 minutes, he thinks – before they began hearing boisterous shouting and yelling in the hall outside.
"It was clear the mob had approached our doors and started screaming and was trying to crash through the doors."
Sachs and the others debated whether to stay clear of the doors or push back. About 10 of them decided to push back, Sachs recalls, and the marauders, unable to breach the office, moved on after a minute or so.
"I was terrified and I was most concerned about my son," Sachs says. "He was right in front of the door and I had no idea what kind of weapons they would have, whether they would shoot through the doors."
After the rampaging mob moved on, Sachs says everyone remained still for another 30 minutes, some frantically texting for help, others trying to reach their families.
As the Majority Whip, Clyburn is typically protected by armed police. But Sachs says no police were in the office as the mob rampaged through the building.
Clyburn himself was not in the office; he was in the House chamber to certify the results of the presidential election.
About half an hour after the menacing crowd had moved on, there was more yelling outside the office. People shouting "Capitol Police!" pounded on the doors, Sachs says. He and the others weren't sure they were police or rioters pretending to be police.
The shouters began pushing against the doors of another office in the suite. They eventually crashed through, ordering everyone to put up their hands.
"We had this period of about a minute where the Capitol Police were trying to determine whether or not we were being held captive by some of the Trump people," Sachs says.
It turned out to be the FBI and Capitol Police, who lined everyone up and then led them past what Sachs recalls as "a sneering group of handcuffed Trump protesters who were in the hallway." Taken to a secure location underground, they remained there for about four hours.
It was only then that Sachs was able to reassure his wife back in Kansas City that he and their son were okay.
"It was probably more difficult for them back in Kansas City to listen to the news than it was for Phinney and me," he says.
Phinney, a freshman at the University of Virginia, had been eager to start his first day as an intern in Clyburn's office, where his father served as a
chief Democratic counsel and staff director of Clyburn's Veterans Oversight subcommittee more than two decades earlier. Like so many other high school students during the pandemic-stricken year of 2020, he had seen his dreams dashed, his father says.
Phinney was class president during his junior and senior years at Pembroke Hill and was selected to give his class' graduation speech.
"And he didn't get to experience all of the great things that he had worked so hard to achieve," his father says. " … So I'm hoping it will get better. But this was, this will be, a seminal moment in his life for sure."
Sachs, who is senior counsel at Husch Blackwell, says he brags a lot about his three daughters and son but is especially proud of Phinney for how he handled himself on Wednesday.
"I overheard some of the staff members afterwards saying in the holding area, 'Thank God for the new staff assistant, once he started taking charge of barricading the doors, I felt like we were going to be okay.' And I heard that more than once."
Sachs says he remains dumbfounded at how unprepared the Capitol Police were, especially after Trump supporters had telegraphed their intentions for months on social media.
"Never in my wildest dreams did I imagine the police would be taken over by this group," he says. "That's why I felt like I was incredibly safe being right where we were and that my son was in a safe spot."
"It is so raw to me right now that it's difficult for me to put on a tolerant hat and try to get in the minds of these people who were – talk about an appropriate use of the word – thugs, and they were thugs," Sachs adds.
"So right now I'm having a little difficulty being empathetic for anybody who is trying to be an apologist for the comportment of this group. Plus, frankly, the members of Congress and the senators who voted against certifying the election. I'm just dumbfounded by how unpatriotic those acts were, given the facts surrounding the election, which demonstrated there was certainly no widespread fraud."
Sachs, a Missouri resident, says he was "incredibly disappointed" with Sen. Josh Hawley, R-Mo., who was the first senator to say he would oppose the certification of the election results.
"I feel his ambition overrode any sense of patriotism or statesmanship or any sort of regard for the facts," Sachs says.
Sachs returned to Kansas City on Sunday. Because he was stuck for hours in the same holding area as other members of Congress and staff members, some of whom were not wearing masks, he was advised to get tested for COVID-19. A rapid COVID test he received on Monday came back positive.
On Tuesday morning he got tested again using a more reliable procedure. This time it came back negative.
"I'm breathing a sigh of relief," he says.
To hear more from Adam Sachs, please join Steve Kraske for an extended interview on KCUR's Up-To-Date on Thursday, January 14, at 9:00 a.m.