People left 'chaos' at Kansas City housing office without promised vouchers — or an explanation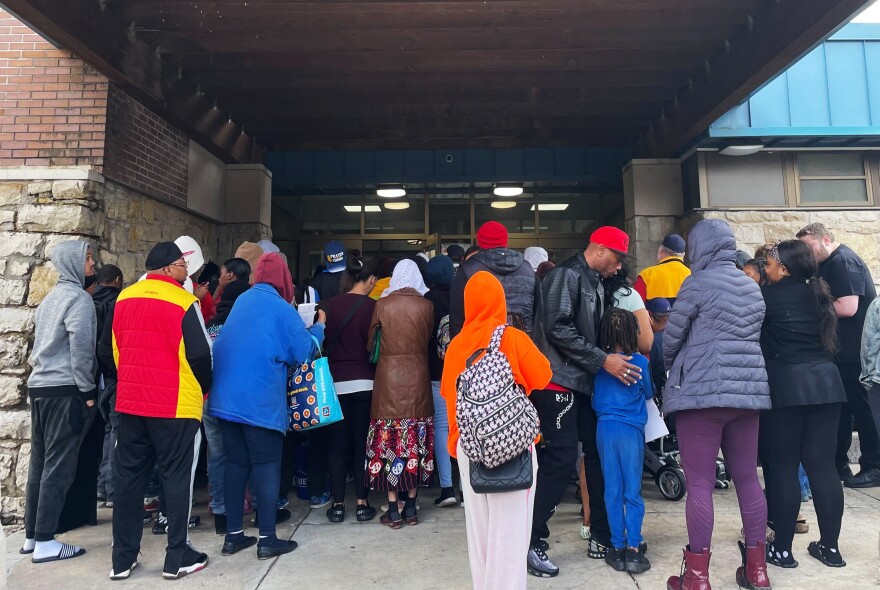 People who showed up to the Clymer Community Center Saturday expected a three- or four-hour wait for a voucher from the Kansas City Housing Authority. Instead, some waited upwards of six hours and still walked away empty-handed.
Hundreds of people expecting to receive Section 8 vouchers from the Housing Authority of Kansas City endured a long and chaotic wait Saturday, only to leave frustrated and empty handed.
The Kansas City Housing authority sent letters to thousands of people earlier this month telling them to arrive at the Clymer Community Center at either 9 a.m. or 1 p.m. to be screened and then receive housing choice vouchers (often called Section 8) to help secure low-income housing.
But many who showed up said they were confused and upset that they were scheduled to show up at an appointed time but still had to wait upwards of six hours. Some left without even getting a screening.
The Housing Authority so far has not provided an explanation for why people were sent home without vouchers or why wait times were so long. Officials did not respond to KCUR's request for an interview.
Chaos, hours-long waits for people promised vouchers
From the start, the event seemed overwhelming says Ci Ci Hodges, who arrived at 8:30 a.m. with one of her five children. She said the line was hundreds of people long.
"I had to drive around 10 different times to find a parking spot," she said. "And we still had to walk a whole mile just to get to the end of the line."
Hodges said officials there told her they were overwhelmed by the sheer number of people who turned out.
She and others waiting in line said officials came out around 10 a.m. and told people they were not handing out any more vouchers, which upset St. Louis resident Philandus Phillips-Bass.
She had a letter from the Housing Authority of Kansas City telling her to show up at 9 a.m. and to expect a three- to four- hour wait. She said she left St. Louis at 4 a.m. to drive to Kansas City and showed up at 8:50 a.m. After five hours, she had not made it in the door to be screened.
"It should have been more organized than this," she said.
Phillips-Bass said at one point, officials from the Housing Authority handed out applications for people to fill out while they waited in line. But she said it was an application she had already filled out online.
"You gave us the letter saying we gonna get a voucher," Phillips-Bass said. "Why are we filling out an application again?"
Independence resident Shanail Kleihauer said she waited six hours without getting screened.
"And then we get here and we find out the vouchers are not even being given out to people," Kleihauer said. "On our letters it says that the vouchers are gonna be given out to the people that are eligible for it."
Kleihauer said she was relying on the voucher to help her find housing for her and her two children.
"It's tiring. I'm hungry. I'm ready to go," she said. "I did not expect to be here six hours and still standing here waiting to be even seen."
Frustration boiled over at several points throughout the day. Hodges says things turned chaotic late in the morning when a man in line started waving a gun and threatening people until security chased him away. Police later subdued and removed him, she said.
"There were newborns, there were toddlers running around," she said. "It was a housing event. People didn't expect a gun to be pulled so they brought their kids, like they needed to because they obviously didn't have babysitters probably."
Hodges said the delay from the gun incident added time to everyone's wait. It took her eight hours to get through the line. She left with only the promise of getting called back for a voucher within a week.
A years-long waiting list for housing aid
Housing Choice Vouchers (HCV) come from the U.S. Department of Housing and Urban Development. They are meant to allow low-income individuals and families to rent a unit in housing complexes that participate in the federal program. The vouchers are administered through local housing agencies.
Kansas City's Houseless Prevention Coordinator Josh Henges said he couldn't comment on specifics of the event but did say he understood peoples' frustrations.
"The waitlist is years long," Henges said.
He added there are 14,000 people on that list in Jackson County and the county is 40,000 units short on affordable housing units.
"We're desperate for (housing)," he said.
He also said he understood why people's anger boiled over. He was told one woman had been hit in the head with a sign. Others standing in line said people turned over tables and had shouting matches with security personnel.
"That thing is in the hearts of everyone who is scared they're going to be homeless," he said. "This is the result of that fear and anxiety not being alleviated and we've got to find a way to do it. It's heartbreaking what happened."