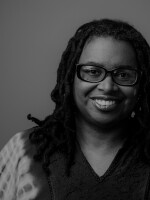 Michelle Tyrene Johnson
Race, Identity, & Culture Reporter
Michelle is a reporter covering race, identity and culture and is an assistant talk show producer.
As a fourth-generation Kansas City, Kansas native and resident, Michelle has been a newspaper reporter, an employment attorney, a diversity and inclusion speaker, a columnist and is a local and national playwright. She is an author of three books about diversity and one book about her grandmother.
Michelle received her degree in journalism from the University of Kansas and her law degree from the University of Missouri-Columbia, but bleeds red and blue all day, every day.
As Kansas City deals with nightly protests over the killing of George Floyd, a black man who died last week at the hands of Minneapolis police officers, many white folks are wondering what they can do to help.

Ameerah Sanders' jokes are based on things that happen to her in real life, which includes racism, even though she doesn't explicitly try and make jokes about it.

Experts give advice on how white people can be good allies during racial unrest, and how a black female comedian finds humor during trying times.

The COVID-19 pandemic has introduced a slate of concerns for nurses and health care professionals. The physical danger posed by virus is just one of them.

A check-in on the the well-being of nurses working through the pandemic, incarcerated folks say health and safety recommendations are being ignored in Kansas prisons, and how a smartphone app could ease the labor of tracking positive COVID-19 cases.

A sociologist explores the considerations behind why large of groups of revelers would choose to gather during the Memorial Day weekend without social distancing.

A sociological perspective on large gatherings over Memorial Day weekend at the Lake of the Ozarks and elsewhere, and the pandemic's impact on summer sports for children and student athletes.

Both Missouri and Kansas now allow theaters to be open, but a number of indoor film houses are not yet operating. With social distancing somewhat built-in, drive-in movie theaters could see a resurgence in popularity.

The status of COVID-19 testing in Clay County, Missouri, a primer on antibodies and if they protect against coronavirus, how the pandemic could renew a classic movie-viewing experience, and the last two in our series of high school valedictorian speeches.

A new report from the Kansas City Star and the Wichita Eagle has raised concerns about how and why the Kansas Department of Health and Environment loosened quarantine guidelines for employees in the meatpacking industry.