Case Challenging Kansas Voter Proof Of Citizenship Law To Go To Trial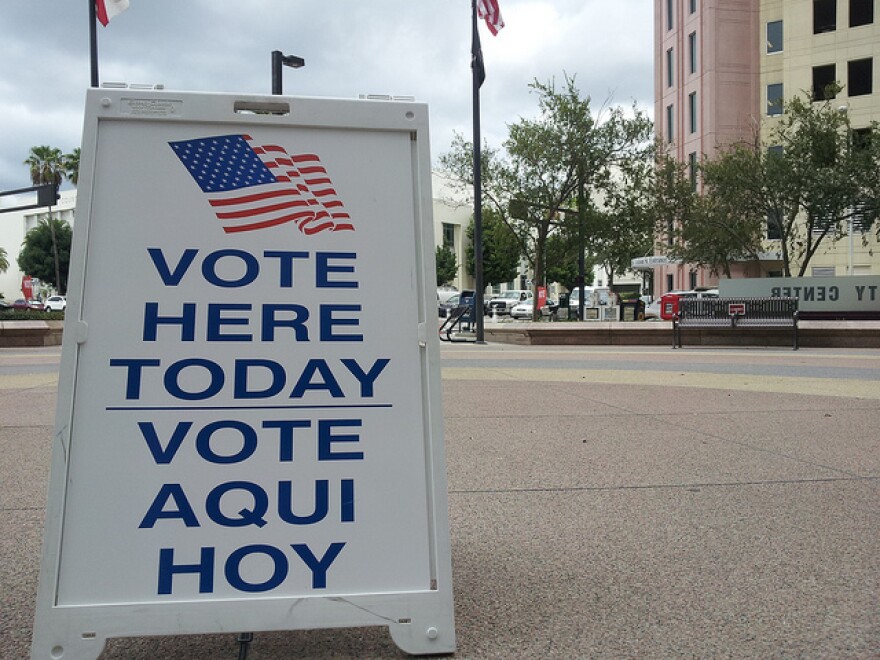 A challenge to Kansas' law requiring residents to provide documentary proof of citizenship when registering to vote may proceed to trial, a federal judge ruled on Thursday.
U.S. District Judge Julie Robinson denied Kansas Secretary of State Kris Kobach's motion seeking to throw out the challenger's main claim.
That claim asserts that the law unconstitutionally burdens residents' right to vote.
"We live to fight on," says Mark P. Johnson, an attorney for the plaintiff, Parker Bednaske. "She now gives us the opportunity to prove our case, which we think we'll be able to do."
A spokesperson for Kobach's office did not return calls seeking comment.
The lawsuit argues that Kobach has not been able to produce evidence to back up his claim that a substantial number of noncitizens have registered to vote in Kansas.
Kobach this week announced that he had secured his ninth voter fraud conviction, this time of a man who voted in both Texas and Kansas.
"This conviction demonstrates once again how prevalent the crime of double voting is," Kobach said in a statement announcing the misdemeanor conviction. "In Kansas, we are making it clear that people who willfully vote twice will be prosecuted."
In her ruling Thursday, Robinson said that Kobach's evidence of voter fraud in Kansas "suggests a total of 29 individuals who successfully registered to vote before January 1, 2013, despite being noncitizens, nine of whom actually voted."
Jan. 1, 2013, is when the documentary proof of citizenship law took effect. Kobach later was given the power to prosecute voter fraud, the only secretary of state in the nation with that authority.
Kobach did notch a small win in the case, as well as in a separate but related one brought by the American Civil Liberties Union of Kansas on behalf of the League of Women Voters. Robinson granted Kobach's requests in both cases to dismiss the plaintiffs' claims that the Kansas law discriminated against people not born in Kansas. That claim was always something of a legal long shot.
"We're disappointed, but honestly we knew that was a stretch," Johnson said. "We knew we were asking for something that, let's just say, was innovative."
The case was originally scheduled to go to trial on June 5, but Robinson moved it to an unspecified date.
Dan Margolies is KCUR's health editor. You can reach him on Twitter @DanMargolies.