Kansas City-Area Lawmakers, Party Leaders React To Greitens' Resignation
As elected officials processed Tuesday's news that Missouri Gov. Eric Greitens had resigned, effective June 1, and that Lt. Gov. Mike Parson would become governor, Kansas City-area lawmakers and party leaders' responses ranged from sober to slightly salty.
Rep. Kevin Corlew, R-Kansas City
"Today we turn our attention back to the sober task of governing," said Corlew, whose district includes Clay and Platte counties. "Issues like growing our economy, building a vibrant workforce, investing in world-class schools, and overhauling our transportation infrastructure must sit front-and-center as we look towards the future. I am ready to work with Governor Mike Parson, and my legislative colleagues, to continue to advance an agenda that will bring peace and prosperity to the Northland."
Rep. Lauren Arthur, D-Kansas City
"I am relieved that Eric Greitens resigned. He should have done so back in January when his misconduct became public. He owes Missourians an apology for dragging our state through this ordeal," said Arthur, who is running against Corlew in a June 5 special election for an open state Senate seat. She later told KCUR: "From Day One, when I heard that woman tearfully recount her experience, I thought that it was immediately disqualifying for him to hold our state's highest office. So I am a little disappointed these things take so long, and that other sorts of examples of misconduct had to be cited in order for him to finally resign."
House Minority Leader Rep. Gail McCann Beatty, D-Kansas City
"I think this was the right thing for him to do. I wish it had come sooner." McCann Beatty said she looks forward to working with Mike Parson and hopes he restores trust in the Missouri political system. "Yes, we're from opposing parties but I think he will be reasonable. I think he will work with people where he can. ... There will absolutely be more civility."
Rep. T.J. Berry, R-Kearney
"Absolutely it's the best thing for the state of Missouri. I think the impact will be short-lived, but it will make people question whether they should go into public service or not. It's difficult — when you are a servant of the people, everything in your life is fair game. That's what's happened to our governor. He had something in his private life come out, he had something dealing with campaign finance that came under an intense magnifying glass, and I think together the two things have brought us to this point."
Sen. Rob Schaaf, R-St. Joseph
"Looks to me this is all about dark money," he said, referencing the Greitens-aligned political nonprofit that doesn't have to reveal its donors. Schaaf also told KCUR he hopes Greitens' resignation is the beginning of the end of dark money in Missouri politics, though he also said he thinks that will come through a citizen initiative rather than the General Assembly. Greitens' resignation will change Missouri politics, he said. "This will drive reform."
Rep. Brandon Ellington, D-Kansas City
I am glad that the governor decided to finally do the right thing. I believe that the cost of a special session to deal with the accusations would've been fiscally irresponsible and an undue burden to the citizens of Missouri. #bellington #moleg #wethepeople #kcmo #whatzreal

— Brandon Ellington (@ellington_b) May 29, 2018
Mark Anthony Jones, Jackson County Republican Party chairman
"I'm shocked and very sad that Missouri has lost their governor today. It absolutely was getting in the way of the business of the people. There's a lot of damage done by this scandal to the party. There are people on both sides within the party now that have to figure out how to begin to be much more civil to each other and get past this. There will be a backlash, I believe, against some Republicans for pushing for his resignation."
Stephen Webber, Missouri Democratic Party chair
"While corruption ended Eric Greitens' career as a politician, his schemes to slash workers' pay and rip health care away from vulnerable seniors continue to hurt Missourians. Republicans in Jefferson City were wrong to follow Greitens' lead and actively assist his attacks on the middle class. Missouri Democrats will continue to work to undo the damage done by Eric Greitens and his Republican cronies."
Rep. DaRon McGee, D-Kansas City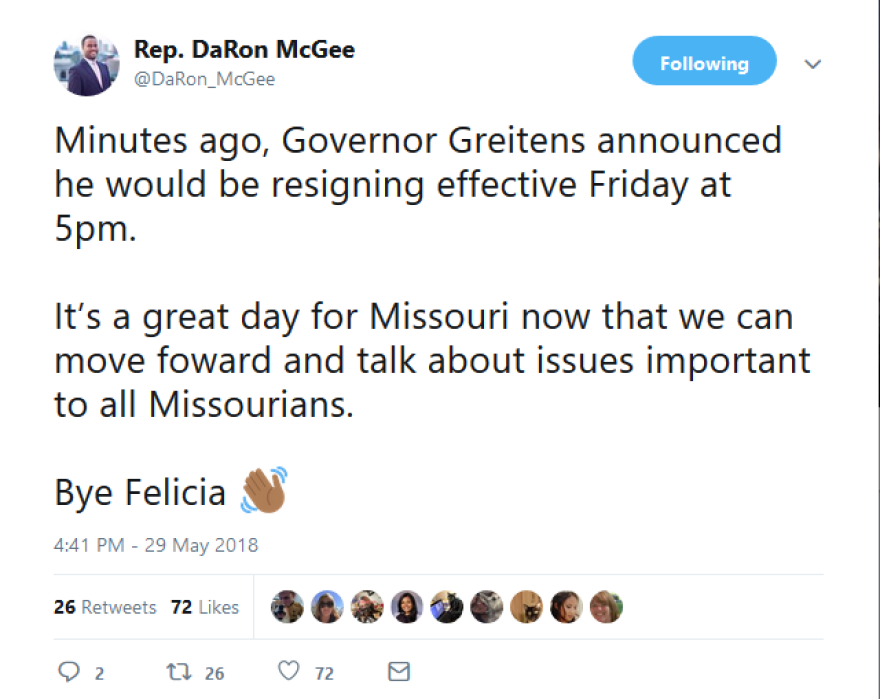 The state's two U.S. senators, Republican Roy Blunt and Democrat Claire McCaskill, were more succinct.
"I wish Lt. Governor Parson the best. I look forward to working with him," McCaskill said in an emailed statement.
Blunt told The Associated Press that he also looked forward to working with Parson, and that Greitens' resignation was "the best decision for his family and the state."
C.J. Janovy is KCUR 89.3's digital content editor. You can find her on Twitter, @cjjanovy.