A Brief History Of Missouri Gov. Eric Greitens' Troubled Few Months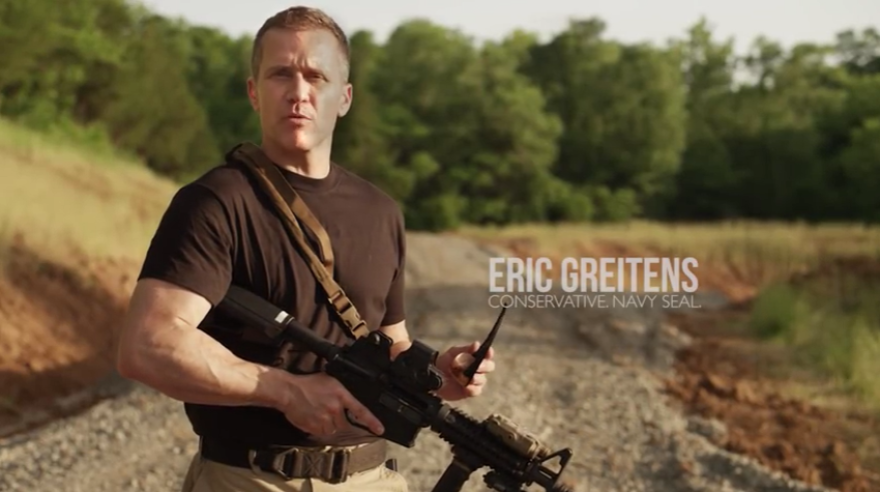 Updated May 30, 2018 — Missouri Republican Gov. Eric Greitens has resigned after coming under intense scrutiny over allegations of breaking campaign finance rules and participating in sexually coercive behavior and blackmail.
Him stepping down may not be the end of his legal troubles, as the investigation into whether to refile the felony invasion of privacy charge continues. Here's a list of significant dates in the scandal that led to his political downfall.
DECEMBER
1 — Greitens' appointees to the state Board of Education, including one person who was sworn earlier in the day, oust Education Commissioner Margie Vandeven. He is criticized for engaging in political maneuvering on what has often been seen as a non-political board.
20 — Attorney General Josh Hawley says he's going to investigate the use of a secretive texting app by Greitens and others in his office, saying there's a possibility that they're skirting the state's Sunshine Laws.
JANUARY
10 — About an hour after Greitens' second State of the State address, KMOV TV in St. Louis publishes/airs a story about Greitens' 2015 affair with his former hairdresser, which he admits to publicly. But it also includes an allegation of blackmail, with the woman's ex-husband providing secretly recorded conversations in which she tells him that Greitens took a nude or semi-nude photo without her consent.
11 — St. Louis Circuit Attorney Kim Gardner announces her office, which has jurisdiction, will investigate the allegations. Greitens' lawyers will eventually say the investigation by Gardner, a former Democratic legislator, is politically motivated.
12 — The woman with whom Greitens had an affair asks for privacy, saying she did not consent to the tapes being released.
16 — A handful of Republicans call on the governor to resign, including Sen. Rob Schaaf of St. Joseph.
19 — Greitens unveils the principles guiding his tax proposals a couple days after delaying a previously announced statewide tour to promote them. It will be weeks before any more details are revealed.
20 — Greitens gives his most extensive interview about the affair to The Associated Press, denying allegations of blackmail or sex violence. He repeatedly refuses to comment on other details, calling it a private matter, and does not directly answer questions about whether he took a photograph of the woman.
FEBRUARY
5 — The attorney for the ex-husband of the woman with whom Greitens had an affair says a grand jury has been empaneled; Gardner's office says it can neither confirm nor deny.
6 — Democratic candidates win one of four GOP-held legislative seats in special elections; some attribute it in part to the governor's ongoing troubles.
22 — Greitens becomes the first sitting governor of Missouri to be indicted; he faces a felony charge of invasion of privacy.
23 — More Republican state lawmakers, including some early Greitens supporters, call for the governor to resign. Greitens says he won't.
26 — Missouri House leaders announce who will sit on the committee to investigate the governor, the first step in the process of considering impeachment. Another dozen Republicans say they've sent a letter to the governor asking him to resign.
28 — In the same hearing where Greitens' trial date is set for May 14, prosecutors say they don't have the alleged nude photo but are trying to get it.
MARCH
1 — The Missouri House unanimously votes to formally create the special committee to investigate the governor.
1 — Greitens' office announces that Hawley's investigation into the secretive app is over. The report says there was no evidence of wrongdoing, in part because the app deleted messages after they were read.
1 — But the Republican AG, who is running for U.S. Senate, follows that up by announcing he's looking into The Mission Continues, a nonprofit that Greitens started. Greitens was fined by the Missouri Ethics Commission in 2017 for not reporting that he obtained an email list from the charity during his gubernatorial campaign. Earlier in the day, The Associated Press reported Greitens used an email for The Mission Continues to arrange political meetings not too long before creating an exploratory committee, which would be a federal offense.
5 — The Kansas City Star reports Greitens' backers start a nonprofit to help pay for his personal legal defense — and expenses of his staffers — against the felony charge.
6 — The first House committee meeting is held; other ones will be at a Jefferson City police station to provide witnesses more privacy than they would have in the Capitol.
6 — The Springfield News-Leader publishes a report about strict nondisclosure agreements that Greitens' staffers have had to sign as far back as 2015, before he established an exploratory committee for the governor's office and about the time he was having an affair.
19 — Greitens' lawyers file a motion to dismiss the felony charge, accusing the prosecutor's office of misleading the grand jury. They also want a bench trial to start in early April — days before the state legislators' special committee April 9 deadline for a report on the charge.
21 — Judge denies request for earlier trial date.
23 — Hawley says he's filed 15 subpoenas in the investigation into The Mission Continues' donor list that Greitens' campaign used in 2016. Also, the St. Louis Circuit Attorney's Office files a motion in Greitens' case to disqualify one of his attorneys due to his involvement defending the governor in the state's secretive app investigation.
26 — The judge denies Greitens' request for a bench trial, meaning the governor will go in front of a jury on the felony invasion of privacy charge. That trial is scheduled to begin May 14.
APRIL
5 — Hawley's office announces it has subpoenaed Greitens so it can ask him questions about the ties between his gubernatorial campaign and The Mission Continues.
11 — The Missouri House's special committee releases its report, saying the woman from the affair is a "credible witness." It shows she testified about unwanted sexual contact and the threat of blackmail. Calls for him to resign escalate, including from a conservative GOP congresswoman, and state legislative leadership say they plan to call a special session so lawmakers can weigh whether to impeach Greitens. Greitens calls the report "a political witch hunt."
17 — Hawley says his investigation into The Mission Continues nonprofit has "uncovered evidence of wrongdoing" and "potentially criminal acts" by the governor when it comes to obtaining a donor list. Hawley does not have the jurisdiction to charge Greitens. That would fall to the St. Louis Circuit Court, which is where Greitens is charged with a felony connected to the 2015 affair. After several Republican leaders call on Greitens to resign, the governor tweets that he will not.
20 — Greitens is charged with felony computer tampering. The St. Louis Circuit Attorney's office says Greitens illegally took a fundraising list from The Mission Continues, the veterans' charity he co-founded.
MAY
2 — The special House committee releases a second report, alleging that Greitens lied to the Missouri Ethics Commission about how and when his campaign obtained a donor list from The Mission Continues to use in fundraising. The charity never gave Greitens permission to use the list.
14 — The St. Louis Circuit Attorney drops the felony invasion of privacy charge against Greitens three days into jury selection. The judge had agreed to let his defense team question the prosecutor. Greitens said in a news conference that it was a "great victory and it has been a long time coming."
18 — The special session begins to decide whether to start impeachment proceedings against Greitens.
21 — Jackson County Prosecutor Jean Peters Baker is appointed to decide whether to refile the invasion of privacy charge against Greitens.
29 — Greitens resigns, effective 5 p.m. Friday. It happened just hours after a judge said Greitens' campaign and the nonprofit that advocates for his agenda, A New Missouri, must comply with the House committee's subpoena for documents related to campaign donations. Greitens said everything was "designed" to hurt him and his family and friends.
30 — The St. Louis Circuit Attorney says she'll dismiss the felony computer-tampering charge connected to Greitens' gubernatorial campaign after coming to an agreement with his attorneys. Jackson County Baker's investigation into whether to refile the other felony charge will continue.
Erica Hunzinger is the editor of Harvest Public Media and a contributor to KCUR 89.3. You can reach her on Twitter @ehunzinger.
Brian Ellison is host of KCUR's Statehouse Blend Missouri podcast and reports on Missouri politics and government. Follow him on Twitter @ptsbrian.