KCUR follows the Kansas City athletes competing in the 2021 Tokyo Olympics.
Kansas City's Olympians Include The Women's Soccer Coach, A Trapshooter And Two Pole Vaulters
After a yearlong postponement, the Tokyo Olympics start today, placing Kansas Citian Vlatko Andonovski on the international stage as he leads the USA Women's Soccer team into competition.
Perhaps the most widely known of the Olympians from Kansas City is Vlatko Andonovski, but he is only one of the many to cheer for in Tokyo in the coming days. Here's a look at 21 of the athletes from the area competing in the Summer Games.

Women's Soccer
Vlatko Andonovski has an impressive 22-0-1 record since taking over as the head coach of the U.S. Women's National Team in soccer. It's the best start for a head coach in USWNT history and he leads a team that collectively has targeted an Olympic gold medal.
Before the USA's final pre-Olympic tuneup in early July, which was a 4-0 win over Mexico, Andonovski said, "I'm just honored and blessed, not just to represent, but also to have the opportunity to work with some of the best athletes in the world."
Adrianna Franch who's from Salina, Kansas, has been an outstanding goalkeeper ever since Oklahoma State successfully recruited her and has solidified her spot on the USWNT. Franch is in her sixth season with the Thorns FC in Portland in the NWSL when not playing on the national team. She is also a two-time NWSL Goalkeeper of the Year.
Midfielders Chloe Logarzo (Australia) and Desiree Scott (Canada), along with defender Katie Bowen (New Zealand), are teammates on KC NWSL this season. During the Olympics, the three teammates will play for their respective national teams.
Track And Field
Chris Nilsen graduated from Park Hill High School, but has lived in Vermillion, South Dakota, since his collegiate career at the University of South Dakota. Nilsen, 23, trains under Derek Miles, who won Olympic bronze in the pole vault for his performance at the 2008 Games in Beijing.
After winning the pole vault in this year's Olympic trials, Nilsen was asked to reflect on his first trials in 2016 and responded, "If you told him (Nilsen as an 18-year old in 2016) you were going to win the Olympic trials in 2021, he would've slapped you in the face and (said), 'That's stupid. Don't ever tell me that again.'"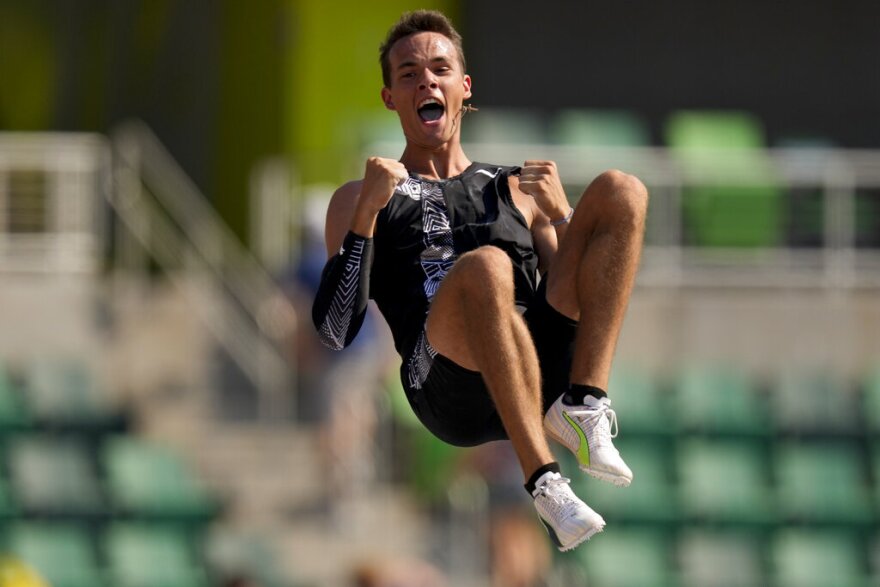 KC Lightfoot of Lee's Summit finished runner-up to Nilsen in the Olympic trials. Lightfoot attended Baylor and left school early after winning the NCAA indoor championship in the pole vault last March to turn his attention on training for the Olympic trials.
"It was a big decision," he said after the trials. "It was a lot of praying and a lot of thinking about whether or not it was the right decision, but in my heart it felt like it was right."
Mason Finley of Overland Park is returning to the Olympic games for the second time and, at the age of 30, his last shot at an Olympic medal. He became only the third American discus thrower in history (joining Mac Wilkins and Anthony Washington) to win back-to-back Olympic trials.
"It's huge," Finley said when asked about his achievement.
Because of back issues, Finley was uncertain on whether or not he was going to be able to compete. But a chiropractor got him in shape to compete, which only reinforces Finley's desire to enter the same field once his athletic career is over.
Courtney Frerichs, who's from Nixa, Missouri, had a standout career at UMKC, and at the age of 28 feels like she's peaking at the right time in the 3000-meter steeplechase. She's making her second trip to the Olympics.
"My first Olympics games (in Rio de Janeiro) was my first senior international experience and I raced like that," she said from her training base in Park City, Utah. "I was young. I was just a college kid, 23 years old. Big eyes like, 'Omigosh!' Everybody was on this pedestal."
Bryce Hoppel is a middle-distance runner who has trained in Lawrence, Kansas, since leaving KU early to turn pro in 2019. He'll compete in the 800-meter run.
Hoppel, 23, a native of Midland, Texas, said he wanted an early taste of international competition before training for the Olympics.
"Just getting started in that and learning everything at that young of an age was really a great thing," he said recently in Lawrence after the trials.
Christina (Manning) Clemons, 31, has been a volunteer coach at KU while training for the Olympics in the 100-meter hurdles. She's from Landover, Maryland, and had an outstanding collegiate career at Ohio State University.
It appeared that her career was over eight years ago after a ruptured Achilles tendon, and it was a long road back to qualify for her first trip to the Olympics.
She said, "Honestly, I feel like I've had so much time taken away."
Distance runner Karissa Schweizer became the first woman from the University of Missouri to qualify for the Olympics in track and field since Natasha Kaiser in 1996. Schweizer, 25, qualified for the 5,000 and 10,000-meter runs. She's from Urbandale, Iowa.
Shalysa Wray completed her sophomore season at Kansas State last spring and will compete in the 400-meter dash for the Cayman Islands.
Hammer thrower Brooke Andersen, 25, grew up in California and attended Northern Arizona University. Leading up to the Olympic trials, she trained in Manhattan.
Gleb Dudarev, a hammer thrower who finished his eligibility at KU last spring, continued his training in Lawrence and will represent Belarus.
Baseball
Bubba Starling is best known for turning down a football scholarship offer at the University of Nebraska to sign a $7.5 million bonus when the Kansas City Royals drafted him fifth overall ten years ago out of Gardner-Edgerton High School. He didn't make it to the big leagues until 2019 and briefly played for the Royals for two seasons. This year, Starling was playing for the Royals top farm club team in Omaha before making the Olympic baseball roster.
Softball
Kelsey Stewart graduated from Maize High School outside Wichita and played college softball for the Florida Gators. She anchored third base to help the Gators win the Women's College World Series in Oklahoma City in 2014 and '15. At 26, Stewart has continued to play well enough beyond her days at UF in time for the return of softball to the Olympics.
Trapshooting
Derrick Mein is a 35-year old trapshooter who grew up in southeast Kansas and lives in Paola. He found out just before entering high school that shooting was an Olympic sport and traveled to Colorado Springs with his father for a tryout at the Olympic training center.
"That was two or three months before the Sydney, Australia (2000), Olympics, well past the point of being able to qualify for that, but it was a good intro into that nature of shooting," he said.
Swimming
Mizzou swimmer Mikel Schreuders is representing Aruba in the Olympics for the second time. He finished his career with the Tigers in 2019.
Michael Andrew turned pro as a swimmer at the age of 14 while he lived outside Lawrence. He's coached by his father, Peter, who built a two-lane pool on their property. Andrews, now 22, and his family relocated and make their home in southern California. He'll compete in the 50-meter freestyle,100-meter breaststroke and 200-meter individual medley.
Women's Wrestling
Jacarra Winchester, 28, grew up in Oakland, went to Missouri Valley College in Marshall, Missouri, and was part of the women's wrestling team before staying on as a trainer. She has since moved to Colorado Springs to train.