Where do you go when you're too scary for other haunted houses? Kansas City's 'Exiled' forest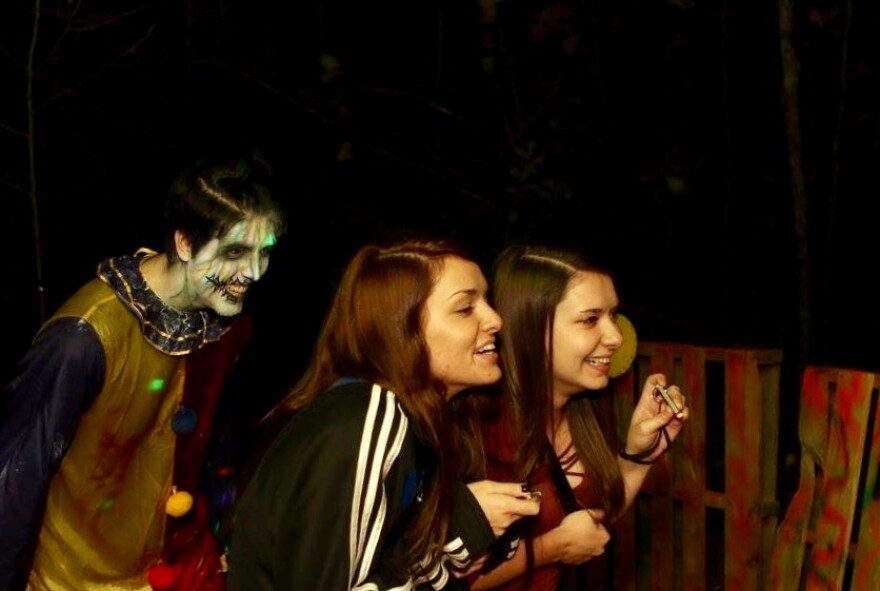 Located in Bonner Springs, Kansas, Exiled promises visitors will encounter a forest full of deranged freaks, people who have been exiled — by force or by choice — from society along its mile-long trail.
Every October in Kansas City, people flock to the metro's haunted houses.
Whether its the the converted warehouses in the historic West Bottoms or the Halloween Haunt at Worlds of Fun, "haunted-housing" is a time-honored tradition here.
But one of the metro's newest haunted attractions takes you out of the city — and into the woods.
Exiled opened in 2016 at the ZIP-KC site in Bonner Springs, Kansas.
It's easy to figure out how it got it's name. Even after the 30-minute drive out of the city, the last few miles wind down a narrow, unlit road. There are no signs you've actually arrived — just a truck blocking the road indicating where to park. That's followed by a walk down a gravel road until finally a gap in the trees opens up to the ticket booth.
Exiled promises visitors will encounter a forest full of deranged freaks, people who have been exiled — by force or by choice — from society along its mile-long trail.
But haunt manager Kim Frost says there's another significance to the name.
"Certain houses blacklisted our people from stuff they did when they were young and stupid or when they went above and beyond and they said, 'Well, you can't work here, you can't scare them like that,'" she says. "I say, 'Yeah you're exiled from working there ... we're Exiled, c'mon.' So now they all work with me."
Frost and the actors that work for her live for this season.
"I love hearing people scream and use their jeans for a bathroom," Frost says. With a wry smile, she explains what happens when people are too confident going in.
"The ones that [are] at the gate are running their mouths," Frost says, "I'll put a bounty on them. I'll tell my guys, 'If you get them to quit, I'll pay ya.' And they will be crying halfway through."
Looking at actor Adam Fletcher, it's not difficult to see why. At over six feet tall, and covered with animal furs and blood, the mere sight of him is enough to bring out the worst in people.
"I've had people push their kids at me and run," Fletcher says. "I had a group of friends come through — they bought their tickets, saw me from 20 feet away, took off running around, one tripped the other one on purpose to leave them behind."
Going through the trail in near darkness is terrifying. But equally as scary to co-owner Dan Scott is maintaining the trail itself.
"It is an intimidating venture to do a mile of outside haunted trail. Every day there's something — a tree falls down, it rains, it's a constant battle with lights since we don't have electricity out here," Scott says.
Another unpredictable factor? The animals who call the woods home.
"If at any point you see an animal of any kind, we do not have animal props. They are real, they are alive, this is their home, please do not try and touch it," a worker tells a group of nervous thrill-seekers.
It takes nearly an hour for people to finish the hike, which is pretty physically demanding.
But the biggest question remains — was it scary?
20-year-old MyEsha from Kansas City, Missouri, had this advice for people waiting in line: "All y'all: Turn back!"
For any group of Halloween-heads, that's a rave review.
Lisa Rodriguez is the afternoon newscaster for KCUR 89.3. She's on Twitter @larodrig.