KCUR's Gina Kaufmann brings you personal essays about how we're all adapting to a very different world.
Ollama Isn't Just A Coffee Shop. It's A Legacy Of Mexican Culture On A Changing Southwest Boulevard
When Irma Hernandez rented a desk inside a music store on Southwest Boulevard, she never dreamed the entire space would one day belong to her — or that her daughter would turn it into a Mexican coffee shop.
For more stories like this one, subscribe to Real Humans on Apple Podcasts or Spotify.
In a new coffee shop on Southwest Boulevard — between a cluster of Mexican restaurants to the west and the Crossroads to the east — Lesley Reyes serves café de olla the old-fashioned way.
Café de olla is coffee steeped with cinnamon, star anise and piloncillo, a hard brown cone of refined cane sugar that melts down into syrupy sweetness. This style of coffee is a morning tradition among grandmothers in rural Mexico.
It's also the house specialty at Café Ollama.
When Reyes and her husband started fantasizing about opening a coffee shop in Kansas City, they were young professionals moving city to city: Chicago, Los Angeles, Phoenix. They harbored mixed feelings about moving back to Kansas City, where Reyes says Latino culture feels "hidden."
Plus, how would they ever juggle a coffee shop with their existing careers — Reyes as a makeup artist, and her husband as a soccer coach?
The coffee shop itself was no sure thing, but one matter was firmly decided.
"We were going to make some bomb café de olla," Reyes tells me with a laugh, pointing an index finger to the table in front of her. "Like, true to how it's supposed to taste. And we were going to get the piloncillo in Mexico. Straight off the bat."
They opened Café Ollama in March, and café de olla is the first drink on their short menu. It transports Reyes' customers to a familiar place — even if coffee isn't how they'd planned to get there.
This storefront previously functioned as a terminal for El Conejo, a bus line that traveled one route: Kansas City to Mexico, Mexico to Kansas City.
El Conejo shut down with the border, at the start of the pandemic, and Reyes and her husband moved home around the same time. Makeup artists and soccer coaches couldn't find much work under lockdown, so the couple started rehabbing the now-unused space almost immediately.
They scraped paint off the big picture window. They tore up a grimy old floor. But they didn't touch the counter where El Conejo had sold tickets since 2016 (before that, the ticket counter and waiting room were located just a couple doors down).
"When we first opened, there were a lot of customers that would come in still looking for El Conejo," Reyes says. "They would wonder, 'What was this? Like, what is going on in here?'"
Reyes let wayward travelers know that, while she couldn't get them to Mexico, she could get them a cup of café de olla. She received a lot of doubtful looks in return.
"Almost like they don't believe you," Reyes explains. "Then they try it and they're like, 'Oh s–––. They do have café de olla.'"
The coffee carries history and meaning. So does this building — which belongs to Reyes' mom, Irma Hernandez.
Hernandez came to the United States from Mexico at 14, the third child in a family of seven. Her older siblings went to high school together. Her younger siblings went to grade school together. But Hernandez went to middle school alone.
She got straight Fs on her first report card because nobody realized the quiet new girl in the class didn't understand a word of English. The principal only found out when he called Hernandez into his office to discuss her performance.
"I improved," she says. "But for three months I would go to school with a headache, wanting to vomit, my tummy would hurt, thinking, 'Here I go again.'"
Hernandez had kids and raised them in the 1990s, supporting herself and her two daughters mostly on her own. Mondays through Fridays, she held down full-time jobs, then spent her weekends offering tax and notary services on the side.
For that, Hernandez needed a place to meet with clients. "I couldn't afford to pay monthly fees to lease an office space," she recalls.
Then she noticed a desk in the corner of a little record store — right where Café Ollama stands now, and El Conejo before it. Hernandez and her daughters visited the store a lot; she says it was the only place in Kansas City to buy CDs and tapes in Spanish.
"I asked, I said, 'Would you be willing to lease me that corner right there with the desk and the chair, every weekend?'"
The music shop's owners, a married couple from Mexico by way of Texas, readily agreed. Their only stipulation: no computer. It would send electricity bills soaring.
Camped out in the record store throughout the early 2000s, Hernandez became not just a trusted tax preparer, but an easy-to-find helper for immigrants in Kansas City's Mexican community.
She took people to doctors' appointments. She translated paperwork. Whatever people asked of her, if she could do it, she said yes. Even though some of the requests admittedly stumped her.
"They're always calling me for everything," says Hernandez, with obvious affection. "'Do you do divorces?' No, I don't divorce people. 'Do you do wills?' No, I'm not an attorney."
In 2010, the wife who owned the record store started looking to sell. Her husband had died, and running the store alone became depressing. She got offers for the building from potential buyers, but she already knew exactly who she wanted to have it: Irma Hernandez.
"I said, 'But how am I going to?'" Hernandez recalls. "She goes, 'I don't know, I don't care, but you will keep it.' I said, 'Well, if we come to an agreement.' So we did and that little corner turned into this building."
Now, Hernandez shows up at the building looking regal: fully made up, high heels, breezy dresses. With "realtor" added to her list of job titles, she still keeps an office behind the café.
I ask Hernandez how it feels to see her daughter running a coffee shop in her building, a place where she once had a single desk. A rented desk, at that. She starts to cry.
"I had been working so much that I didn't realize what I had. I really didn't," Hernandez says. "Always three, four jobs, I don't know what a weekend is for so many years. Like five years ago it hit me. I was like, 'Wow. Wow.'"
"I'm very proud of my daughter," she adds.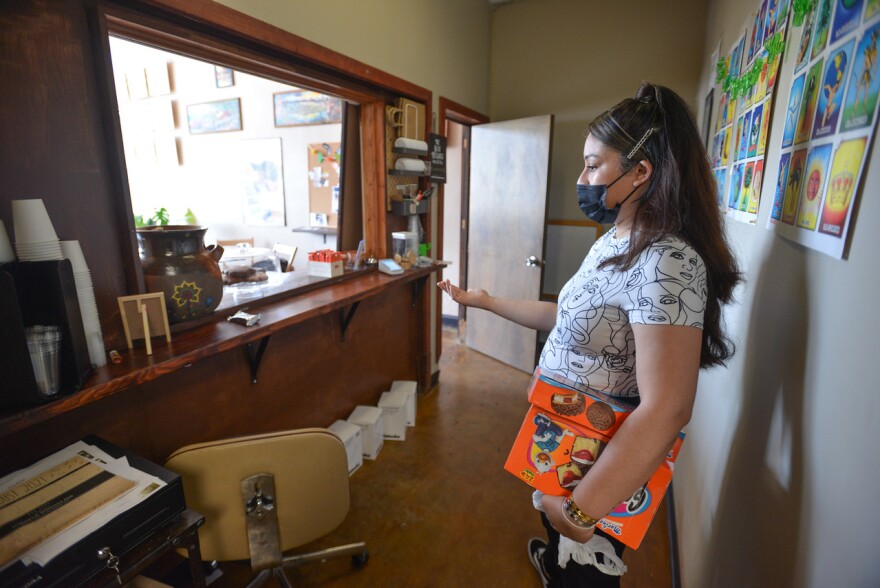 Growing up, Lesley Reyes didn't give much thought to this block, or the neighborhoods surrounding it.
"The West Side was just a Latino neighborhood," Reyes says with a shrug. "Back then, like it was almost kind of—" she stops short. "There was nothing down here."
That's changed dramatically.
"The whole West Side neighborhood, it's a beautiful neighborhood. I love it. But now it's almost like impossible to live there," Reyes says. "It's a crazy thing. I want to be for change and for improvement, but then it's almost like, at what cost?"
Just west of Ollama, long-established Mexican restaurants dot the Boulevard, but the trendy new shops moving in nearby show little evidence of the community that defined this neighborhood. Sure, you can still get tacos and margaritas. But you can also find luxury pajamas and French crepes and artisanal grilled cheese. For a price, you can own a sleek modern house overlooking the city.
A new business with a distinctly modern look and feel, one that clearly speaks for and to a new generation, and that is also proudly Mexican? That makes a statement here.
"We weren't looking to conform to anybody," Reyes says. She cites the café de olla as an example. "A lot of people said, like, 'Oh, this is too sweet' or not sweet enough or whatever, but we still have not changed the recipe. That's how you drink it. That's how it's made."
When you step inside Ollama, you'll hear music sung in Spanish. You can enjoy coffee table books depicting work by modern and contemporary Mexican women artists, and telling the stories of historic Mexican revolutionaries. You can buy an earthen mug, the kind café de olla would traditionally be served in.
You can almost feel the presence of every passenger who bought a ticket to Mexico in this building, and sat waiting for their bus to pull up.
Reyes is not just selling coffee. She's making sure her culture isn't hidden in Kansas City, on a street where she knows it belongs.