After 170 Years, The Northland's Liberty Tribune Prints Last Paper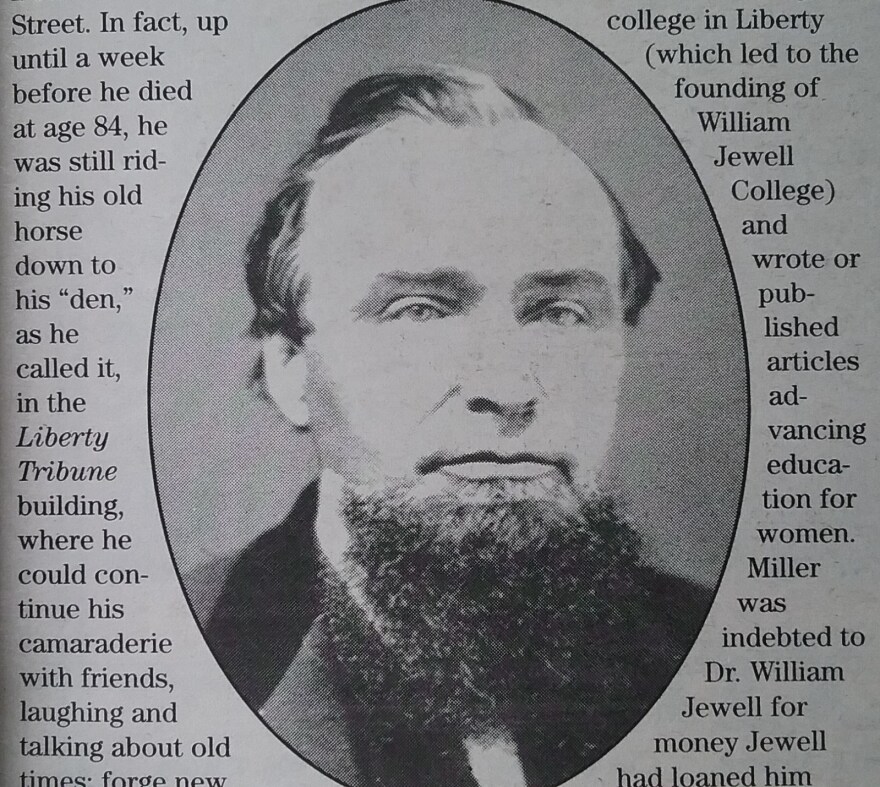 The Northland's Liberty Tribune newspaper, one of the oldest weeklies in the country, recently rolled off the printing press for the last time. Since 1846, residents had unfurled their own paper published under the motto, "Willing to praise but not afraid to blame."
However, with circulation figures in slow decline, a merger with the Kearney Courier and the Smithville Herald allowed the owners, the News-Press & Gazette Company, to cut costs.
Three positions are gone, bringing total staff down to 15. The Smithville office has also closed.
"Essentially it was formalizing that collaboration that had been happening already," says managing editor Amy Neal.
At 32 pages, the new print publication, the Courier-Tribune, is longer than its three component papers used to be, but there is less space for stories just about Liberty.
During its 170-year history, the Liberty Tribune covered a surprising range of local, national and international events.
In 1973, the paper's scribes were there for tenor Luciano Pavarotti's American debut performance at Liberty's William Jewell College. In 1980, presidential candidate Ronald Reagan's campaign stop made the front page.
Joe Roberts lives in Arlington, Virginia but grew up in Liberty and his great grandfather, Irving Gilmer, owned, edited and published the paper from about 1890 until 1929.
Roberts says in those days the paper was known for stories on local history. Like today's big national news organizations, it also covered America's overseas wars.
"I think he published it daily during the Spanish American War and I think the only daily that Liberty ever had was during that period of time."
That was in 1898. In 1846, the year it was founded, the Liberty Tribune had a correspondent covering the Mexican War.
"There was Colonel John Hughes that sent letters in to the Tribune covering the Alexander Doniphan expedition to Mexico," says Roberts.
Robert Hugh Miller was the editor and owner then, and he was only 19 at the time. He arranged a loan of $5000 to start the Liberty Tribune. Like most of its readers, the paper was anti-union and pro-slavery. But Miller, who ran the paper for forty years, did have nobler aspirations. In an early editorial, he hoped the Tribune would become a "focus of intelligence and literature."
With such a rich and sometimes controversial history associated with his great grandfather's paper, Roberts was disappointed to hear about the merger.
"I think that's a sad thing," he says. "I'm happy that at least there's a remnant of it left. And I'm sorry that the name of Liberty Tribune is fading from the scene."
Perhaps the biggest change at the Tribune in recent years, rather than the merger, is its move away from investigative reporting.
"I always used to just follow the money," says Angie Borgedalen. Until a few years ago Borgedalen was the paper's editor, reporter and opinion writer. During her 37-year tenure she liked nothing better than a political scandal.
During the mid-1980s some of Liberty Hospital's administrators were illegally using hospital money. One illegal perk exposed by Borgedalen was a tropical holiday taken by some administrators and doctors while their hospital was struggling to stay open through a winter snowstorm. The former editor says Liberty residents formed queues outside her office eager to read the next installment in what became a hospital corruption saga lasting many months.
Like any good journalist exposing corruption, she made enemies.
"The politicians are kind of like sharks if they smell one drop of blood in the water they're just after you," she says.
Borgedalen says it's hard for newspapers to be courageous unless they have a financially stable owner prepared to back them "no matter what." She received that level of support in Missouri's 2004 Congressional race. During the election, political consultant Jeff Roe's campaign for Republican incumbent Sam Graves included attempts to tarnish his opponent, Charlie Broomfield, for being married three times.
"One day, I wrote an editorial saying that was pretty low down for them to bring that up when they know darn well that Charlie's wife died of cancer and he was left to raise two little girls on his own. They were four and six when his first wife died," she says.
Roe, who also ran Texas Senator Ted Cruz's recent presidential bid, was unrepentant. Borgedalen says he threatened to get her fired.But Liberty Tribune owner, David Bradley, supported his feisty editor.
"He said, 'Don't you take any s*** off of Jeff Roe,' and I said, 'Don't worry I won't!'"
Over the years Borgedalen's stories led to arrests and convictions for some corrupt local officials.
Today, her successors at the now Courier Tribune have different editorial tastes but the Bradley family's News-Press & Gazette Company are still the owners. Managing editor Amy Neal remains optimistic about the future.
"What we really pride ourselves on today is covering those stories of what are the people in our communities doing, whether it's their hobbies, whether it's their businesses, whether it's what's going on in the schools." Neal says.
Time will tell whether the Liberty Tribune's merger and current editorial preferences extend its impressive longevity, or hasten its demise.
Danny Wood is a freelance reporter for KCUR.89.3.