Kansas House Rejects $1.2B Plan To Repeal Most Brownback Tax Cuts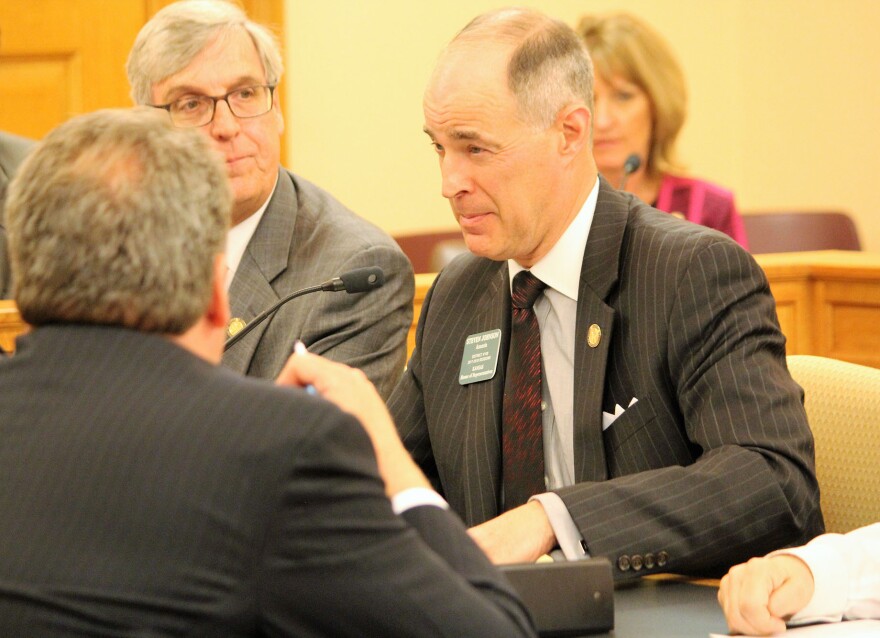 Kansas lawmakers marked the fifth anniversary of Gov. Sam Brownback's signature income tax cuts becoming law by rejecting a bill that would have largely repealed them.
The bill defeated Monday night by the House was similar to a measure rejected May 10 by the Senate. Both would have raised more than $1 billion over two years to cover a projected budget shortfall of $900 million by increasing income tax rates and repealing a controversial exemption given to more than 330,000 business owners and farmers.
Moderate Republicans supported both bills, but each failed due to lack of support from Democrats who split on whether they would have generated enough to also cover an increase in public school funding needed to comply with a Kansas Supreme Court ruling.
The 53-68 House vote sends members representing the tax committees in both chambers back to the negotiating table as legislators hit the final days of a planned 100-day session.
But Rep. Steven Johnson, a Republican from Assaria who chairs the House Tax Committee, said the vote left him unsure what to try next.
"I know what people say they would like to see run. I do not know what will pass," Johnson told the Wichita Eagle after the vote.
Rep. Melissa Rooker, a key moderate Republican from Fairway, said legislative factions that control roughly equal numbers of votes are making it hard to reach compromise solutions on the budget and school finance.
"There is no controlling faction," Rooker said. "There is no group of people who have a voting block large enough to run the show."
The failure of Democrats to support two tax bills that ostensibly met their demand for a rollback of the Brownback tax cuts has frustrated several moderate Republicans.
After the Senate vote, Rep. Russ Jennings, a moderate Republican from Lakin, said he considered Democrats "unreliable partners."
Meanwhile, approximately 40 conservative Republicans from both chambers continue to argue that tax increases aren't needed to balance the budget. Their plan, outlined Monday at a Statehouse news conference, calls for freezing state spending, diverting more money from highway projects and securitizing a portion of the state's tobacco settlement payments.
Rep. Randy Powell, an Olathe Republican, said his constituents want government to live within its means.
"They're not wanting bigger government. They want a balanced budget," Powell said.
Advocates for the children's education programs funded by tobacco settlement dollars immediately denounced the proposal.
"We're almost 100 days into the session and rather than address failed tax policy, some lawmakers want to eliminate the state's entire early childhood infrastructure," said Annie McKay, president and CEO of the nonprofit advocacy group Kansas Action for Children.
"Selling off the revenue stream that supports the Children's Initiatives Fund is robbing from the future of Kansas kids — all to continue a devastating tax experiment," she said.
Jim McLean is managing director of the Kansas News Service, a collaboration of KCUR, Kansas Public Radio and KMUW covering health, education and politics. You can reach him on Twitter @jmcleanks. Kansas News Service stories and photos may be republished at no cost with proper attribution and a link back to kcur.org.