Settling Medicaid Fraud Allegations Not Necessarily A Bar To Participating In KanCare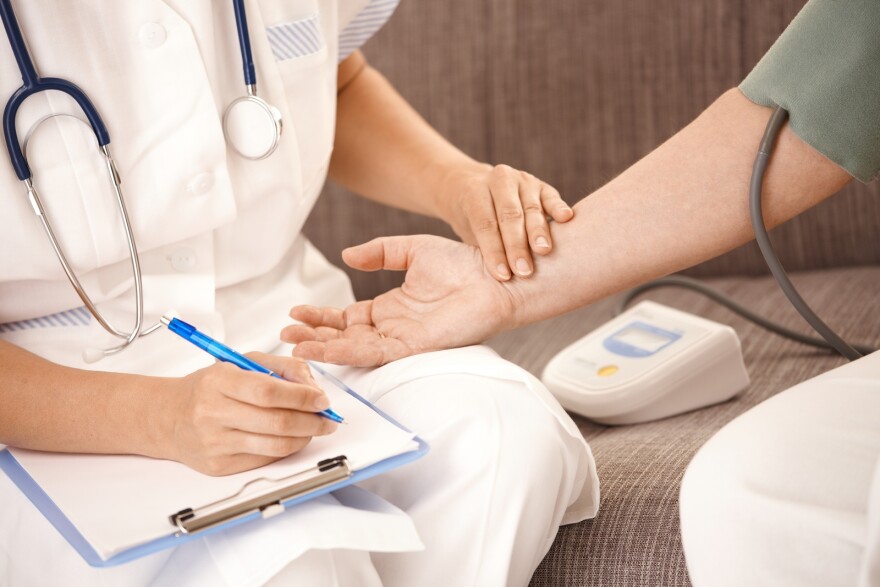 Kansas is continuing to do business with a home health care agency that a few weeks ago agreed to settle a federal kickback case for $1.8 million.
State officials say that because the agency, Best Choice Home Health Care Agency Inc. in Kansas City, Kansas, did not admit liability as part of its settlement with the government, the state's hands are tied.
Angela deRocha, a spokeswoman for the Kansas Department of Health and Environment, said in an email that the agency was not excluded from participating in Medicaid by federal officials and therefore Kansas "is unable to take termination action" either.
DeRocha added, however, that neither the state nor the managed care organizations that run Kansas' privatized Medicaid program, KanCare, are precluded "from investigating activity outside of the covered conduct listed in the settlement agreement."
She did not say whether such an investigation is underway.
A spokeswoman for Amerigroup, one of KanCare's managed care organizations, said the company had no comment. Representatives of the other two managed care organizations did not respond to requests for comment.
Julie Brookhart, a spokeswoman for the local office of the Centers for Medicare and Medicaid Services, confirmed that states are not required to terminate the Medicaid enrollment of a provider that has settled a False Claims Act case.
"Each state has considerable flexibility to put in place its own enrollment requirements, as long as those don't run afoul of the 'Free Choice of Provider' provision" of federal laws, she said in an email.
The provision states that Medicaid beneficiaries generally have the right to obtain medical services from any qualified provider.
Kansas scrutiny?
Nicole Navas, a spokeswoman for the U.S. Department of Justice, said that Best Choice and its owner, Reginald King, have made required payments on the $1.8 million settlement so far. She said the money is to be paid over a six-year period.
Kansas may have no choice but to continue doing business with Best Choice. If Kansas were to terminate its Medicaid funding, Best Choice would probably go out of business, making it highly unlikely it could pay the $1.8 million.
"There is certainly something to the notion of ability to pay, and if the government is to get paid under the agreement and is otherwise confident that the violation has been rectified, then the defendant likely needs to remain in business to do so," said Nathan Garrett, a Kansas City attorney with experience in Medicaid fraud cases who was not involved in the Best Choice case.
Still, other local home health care agencies expressed concern that Kansas is continuing to do business with Best Choice.
"It is disconcerting that these activities can go on without the state being able to catch on earlier," said Janet Williams, founder and president of Communityworks, Inc., a local home health agency that, like Best Choice, specializes in patients with brain injuries. "I am curious as to how they were able to bypass the scrutiny of the state TBI (Traumatic Brain Injury) Program and the three managed care organizations all of this time."
Settlement details
The settlement reached by Best Choice resolved a lawsuit filed by a former employee in 2013 alleging the agency paid kickbacks in exchange for referrals in Kansas. In October, the federal government joined the lawsuit, which initially was filed under seal under the federal False Claims Act. Under the act, the government has the option to intervene and request that the lawsuit be unsealed.
The suit alleged that Best Choice and King, its owner, had paid former employee Christopher Thomas $58,000 over a two-and-a-half year period in exchange for his referral of more than 100 clients to Best Choice. It also alleged that employees of Best Choice falsified the number of hours they worked; failed in some cases to show up for work at all; and billed for work for a client who was in jail or homeless at the time.
King did not respond to requests for comment.
Garrett, the attorney, said it's not uncommon for False Claims Act settlements to exclude, suspend or debar the defendant, "but it is not so here."
Patrick McInerney, a former federal prosecutor who was not involved in the Best Choice case, said he was surprised the settlement did not include an oversight provision.
"Usually in these deals, where there is some sort of an agreement that there's going to be an ongoing operation, there's almost always a compliance monitoring program or an independent monitor who audits and oversees referral source arrangements or source of patients," McInerney said. "Or, if it's a lead-dependent practice, then where the leads are coming from and what the payment structure is on those."
McInerney said that because civil prosecutors are supposed to work in tandem with criminal prosecutors in federal cases with possible criminal overtones, "you have to assume there will likely not be criminal proceedings here."
Kansas' inability or unwillingness to bar Best Choice from participating in KanCare stands in marked contrast to its attempt to bar another medical provider, Planned Parenthood Great Plains, from participating.
Although Planned Parenthood Great Plains has not been convicted of any crime or found liable for any wrongdoing, the state sought to cut off its Medicaid payments earlier this year after Gov. Sam Brownback accused Planned Parenthood of profiting from the sale of "baby parts" in his State of the State speech.
Planned Parenthood Great Plains does not have a fetal tissue program in any of the four states – Kansas, Missouri, Arkansas and Oklahoma – in which it operates.
Dan Margolies, editor of the Heartland Health Monitor team, is based at KCUR. You can reach him on Twitter @DanMargolies.