Johnson County public transit may be headed towards big changes, like route cuts and fare hikes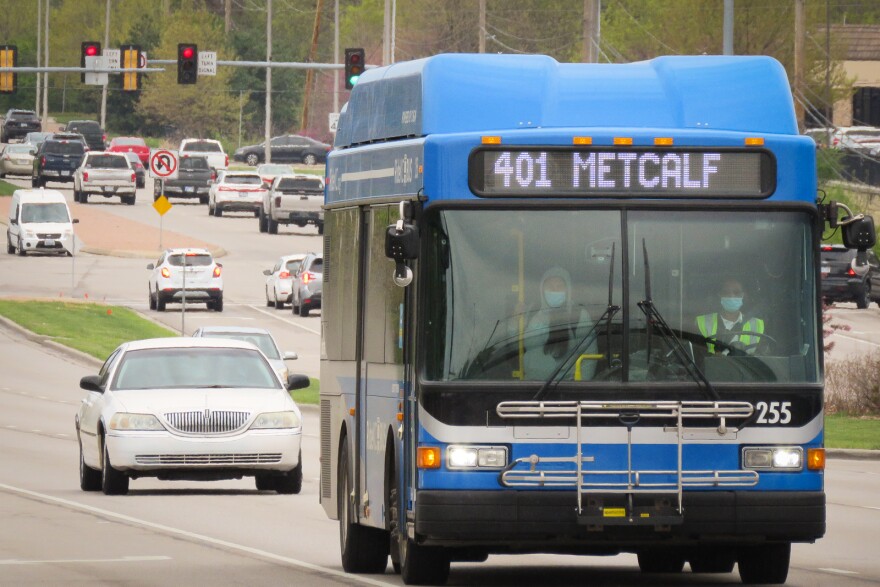 A majority of Johnson County commissioners recently indicated they were willing to at least temporarily add fares, cut routes and make adjustments in other services while they do a deep dive into how to provide a good transit system for county riders without breaking the bank.
Major changes appear to be in the offing for Johnson County bus and micro transit riders as county commissioners begin to grapple with a confluence of demographic, growth and commuting patterns that have had a profound effect on ridership.
No changes to the eligibility-based paratransit services for those with physical or mental disabilities, low-income riders or those 65 and older are being discussed.
But in a recent Committee of the Whole workshop, a majority of county commissioners indicated willingness to at least temporarily add fares, cut routes and make adjustments in other services while they do a deep dive into how to provide a good transit system for county riders without breaking the bank.
The commissioners discussed:
Micro transit: The seven commissioners voted unanimously to look at increasing fares to the $10-$12 range, with perhaps a lower fare for those using the service to connect to a fixed route bus stop. There was also sentiment to explore charges for no-shows and a limit on number of trips.
K-10 Connector: Bringing back fares for the line to Lawrence was discussed, with $3 suggested. Commissioners said they would like to also return to discussions with the city of Lawrence, which has so far declined to contribute to funding for the line. The vote was unanimous.
Pausing service on three underused express routes: Those lines include the Overland Park Flex 482, the Olathe Express 519 and the Gardner-OP express 595, with the option to bring them back later. No changes were discussed for the new 520 Strang Line express, which is the second-highest used express route behind the K-10 Connector. The vote was 6-1 in favor of this, with Commissioner Shirley Allenbrand voting no. (The Gardner express is in her district.)
Saturday service: A 5-2 majority of commissioners also wants to take a look at delaying implementation of Saturday service on some fixed routes. The Saturday run was supposed to have begun already on the 487 line that links the Lenexa and Overland Park farmers markets along 87th Street, but it has been delayed because of labor shortages. Some other fixed routes were to begin Saturday service in January.
Commissioners voted to ask staff to prepare an option that would include at least a partial-year Saturday service on the 487. All but Commissioners Charlotte O'Hara and Michael Ashcraft voted in favor of that.
What happens next?
The votes at the committee meeting do not mean cuts are imminent.
A return to fares, for example, couldn't begin right away because RideKC buses have not been equipped with fare boxes since the system went fareless during the pandemic.
The commission will discuss these ideas again after staff works up more precise proposals.
But the cuts do reflect commissioners' desire to do something to cut costs while the bigger picture is addressed. All seven voted to ask staff to begin the process of starting a strategic plan.
"We need to have an honest conversation about what level of transit we want to be able to provide to the people of Johnson County," said Chairman Mike Kelly.
That means developing a system that people can rely on and fund it efficiently as the county grows, he added.
But mass transit can be a challenge in a suburban area, said Commissioner Michael Ashcraft.
"That's the fundamental issue, trying to develop a mass transit system in the region that is very car-centric and is very spread out," Ashcraft said.
Pilot projects have mixed results
Cutting back on some services is now a budget necessity as commissioners find out how a series of pilot projects approved in the spring of 2022 have performed.
Using $15.2 million in one-time COVID relief money from the federal government, the commission approved some new routes, hours, an expanded territory for micro transit and eventual Saturday service.
Now that the routes have been in use for a while, commissioners and transit officials must deal with the end of that federal money, labor shortages, ongoing revenue loss from a fareless system and an exploding demand for the expensive-to-run micro transit.
RideKC eliminated bus fares in 2020 through 2023 but micro transit, which allows individual riders to hail vans, is not included in that.
New commuting patterns that have emerged from the pandemic also have played a part, as evidenced in some of the lower ridership figures for express routes, said Josh Powers, transit director for the county public works department.
Third-quarter ridership for all routes is up over 2022, but in most cases has not fully returned to the pre-pandemic year of 2019, Powers said.
When the third quarter of this year is compared with 2019, there are big disparities between routes.
Express routes ridership is down by 82% while micro transit use has exploded with a 407% increase, according to Powers' presentation to the commission.
That puts the county in a dire position for 2024, if no changes are made to fares, service or new revenue.
In that case, the transit service would be $2.4 million short next year, although there would still be some reserves to cover that, he said.
"We wouldn't continue to barrel ahead under these conditions with this kind of five-year model," Powers said.
Micro transit is an outlier
Many of the budgetary challenges have been attributed to the micro transit system, which has proved extremely popular.
Micro transit works like other ride-hailing services, only with vans that handle trips for more than one passenger, possibly going to different destinations. Riders set up their pickups through an app or phone call.
Initially, the micro transit fare was $1.50, but the 2022 pilot project expanded the territory it covered and raised fares to $3 or $5, depending on the destination.
Transit officials expected ridership to go down with increased fares, but Powers said the opposite has happened.
"We have people taking micro transit from Johnson County to downtown Kansas City every single day," he said.
But no-shows have been a problem, Powers said. About 19% of the booked trips — totaling about 30,970 from July 2022 to September 2023 — have been no-shows.
Commissioners said they were open to increasing micro transit fares to $10 or $12, as well as some kind of fee for no-shows, although Powers said the no-show fee might be difficult to enforce.
Suspension of the low-performing express routes, which have been carrying three or four riders per hour, would save $833,000 and adding a fare to the K-10 Connector would save another $155,000.
Some commissioners expressed concerns
Some commissioners said they had mixed feelings about some of the cuts.
The 482 Overland Park Flex route, for example, runs Monday, Wednesday and Friday and serves elderly residents of the Santa Fe Towers apartments in Overland Park.
Powers pointed out that there are still other options for those residents, such as paratransit.
Commissioner Becky Fast said she was surprised by micro transit's growth and also pleased that it is helping employers fill vacancies.
She added that it will be important for the county to have reliable public transit in time for Kansas City's hosting of the 2026 World Cup.
Commissioner Janeé Hanzlick and Fast said they hope a strategic plan will result in a more stable transit system with routes that people can rely on not changing or being cut back.
This story was originally published on the Shawnee Mission Post.