For Kansas City's LGBTQ+ community, Pride parade is about celebration and solidarity
The Kansas City Pride Community Alliance held its annual parade and PrideFest this weekend. Despite recent political attacks from Kansas and Missouri lawmakers, and a suspected pellet gun attack at a local LGBTQ+ bar last weekend, attendees used the time to get to know each other and find joy in the shared community.
Kansas City's LGBTQ+ community and its allies celebrated Pride month with a parade and festival on Saturday, as part of a weekend of festivities.
Thousands of people gathered for nearly two hours to watch the Kansas City Pride Community Alliance's KC Pride parade, which stretched from Westport to Frank A. Theis Park, just east of the Country Club Plaza. The party continued through the afternoon and evening at PrideFest, which boasted drag shows, music and the KC Pride Royal Court.
Frequent rain showers failed to spook people away from the festivities, and crowds lined the miles of roads along the parade route. Attendees wore bright, colorful outfits and displayed countless Pride flags.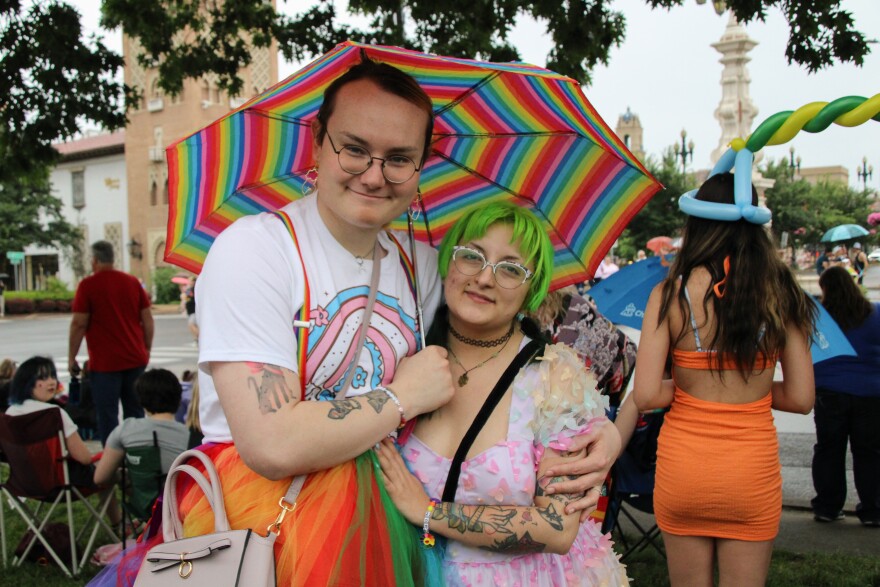 "Pride means my refusal to go back in the closet," said Olivia Perdue, who drove in from Manhattan, Kansas, with her wife Daniela Perdue for their second Pride event.
"I've only been out of the closet for less than a year," Olivia Perdue said. "It's still a bit of a culture shock and it's a very nice culture shock. I spent 27 years in the closet, and I will not do that again."
The couple came to experience a bigger Pride parade and community than they have access to in Kansas. Olivia Perdue grew up in a town of fewer than 400 people. She said she didn't know what to expect being around this many people, but was excited to meet new people at what she called "Gay Con."
Daniela Perdue said Pride was about supporting her wife and others in the queer community.
"We pretty much just wanted to be around the supportive community we want to be in, which is not something we have in Manhattan as much," Daniela Perdue said. "It's better than other smaller towns, but I feel like in this particular case we're going to have a lot more opportunity to get something like that."
"It's being able to express myself and be able to finally accept who I am, who I love, and who I want to be," she said.
Many people in Kansas City's queer community have been on edge recently because of an alleged pellet gun shooting last weekend outside Fountain Haus, an LGBTQ+ bar in Westport. But Saturday's events were calm and the celebrations went on without incident.
It was the first Pride parade for Francie and Louis Cortez, from Topeka, Kansas, who spent the day celebrating their children and son-in-law. The couple wore matching "Proud Parent" T-shirts with rainbow hearts in the middle.
Louis Cortez was quick to mention they have two children to celebrate today — "proud gay parents," he said, of Camille Cortez and Louie Gaeddert.
This year's Pride was Geaddert and his husband's first time attending as a married couple. Geaddert said people are generally more accepting of gay people than when he was growing up.
"Now that people are starting to learn that it's more of a normal thing, kids are coming out younger now," Gaeddert said. "They're feeling more comfortable and more open to actually being themselves."
It was Geaddert who gave his sister Camille Cortez the confidence to come out, she said.
"I just feel lucky," Camille Cortez said. "I know a lot of people have a really hard time coming out because their family's just not accepting. I was still terrified because coming out, it's always scary, but I know at the end of the day they were still going to love me."
After the parade, people made their way to the PrideFest grounds at Theis Park, which included food trucks, more than 100 vendors, musical guests and a gaming tent. Rainbow flags waved in the breeze as a long line of people waiting to get into the festival stretched north on Oak Street past the Nelson-Atkins Museum of Art.
Lee Holmes was attending their fourth Pride event with their partner, Juno Lewis, a Pride rookie. Both are transgender, and Holmes said they feel like they can be themself at Pride, without having to explain anything.
Lewis said he enjoyed the energy of the festivities, all the different outfits and getting to know people better — particularly the older generations of trans people.
"It's comforting knowing that people like me live long enough to be old and still come to these things," Lewis said.
"With recent things against trans people, it is really nice to have this community of people who all believe that trans rights are human rights," Holmes said. "They're going to fight for us and that's nice. It's really sweet to see."
Just last week, Missouri Gov. Mike Parson signed legislation that bans access to puberty blockers, hormones, and gender-affirming surgery for incarcerated people and minors who have not already started treatment. Parson also signed a law that prohibits transgender athletes from competing in sports that align with their gender identity.
After overturning a veto from Governor Laura Kelly, the Kansas Legislature passed a law in April that bars people who are born without the ability to produce eggs for reproduction from using women's restrooms, locker rooms, and other gender-specific areas in athletics and prison facilities, domestic violence shelters, and "areas where biology, safety or privacy are implicated that result in separate accommodations."
Still, Holmes said, the sheer number of people at Pride made them wish it was more than once a year. The event, they said, helped reassure them — even as Missouri, Kansas and many other states are threatening their rights.
"People think a lot of these things are a newer generation," Holmes said. "We've been here forever. Trans, gay people have always existed and (people here today are) proof of that, so that's really nice to see."
KC PrideFest continues through 5 p.m. on Sunday, June 11 at Frank A. Thies Park, at Oak and 47th streets, Kansas City, Missouri 64110. Admission is $5 and children 12 years and under get in free.