Mayor Quinton Lucas 'embarrassed and ashamed' that Kevin Strickland continues to be incarcerated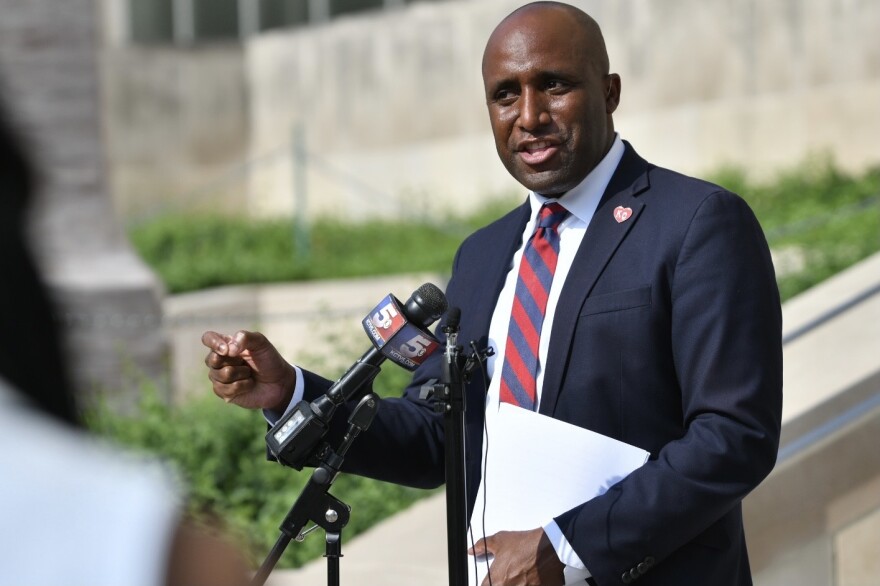 As the Strickland evidentiary hearing continues at the Jackson County Courthouse, Mayor Lucas remains critical of Strickland's continued imprisonment.
"I'm embarrassed and I'm ashamed. As someone who is admitted to the bar in Missouri, Kevin Strickland should not be in anymore. He should not be behind bars," Lucas told KCUR's Up To Date.
"When you have the Jackson County Prosecutor, when you have witnesses recanting, when you have most of the criminal justice system saying it is not right to keep this man in prison for a single additional day, I do not know what is in the heart — or what is lacking in the heart — of our attorney general... when he stands in the way of justice."
Lucas also discussed the what he would like to see for the houseless with winter on the way. Top of the list is "to continue to share our information, good or bad, about where we are and how many folks are on the street every day."
He also asked his peers across the state line in Kansas, "to actually support overnight shelter opportunities for people in Johnson County" noting that they have CARES Act funds to facilitate doing so. The mayor bases that request on last winter's occurrences of police within Johnson County dropping off people at Kansas City's warming shelter in Bartle Hall.
The mayor was asked what the new stadium development announced by Kansas City's women's professional soccer team, the KC Current, will mean for the city. The team is privately funding a $70 million dollar, 11,000-seat stadium that will be placed at the Berkley Riverfront downtown. He believes that it shows both excitement for the riverfront and Kansas City's commitment to women's professional sports.
"For any of you listeners who have been around Kansas City for some time," says Lucas, "we remember the riverfront as something very different. The city tow lot, basically a big dump. And now, we see that we have not just residential, but also building — I think — true cultural amenities on the riverfront, which I hope over the next generation we see developed even further."
When it comes to a downtown baseball stadium, Mayor Lucas acknowledges that this would offer a different way to enjoy a sporting experience. Fans coming to a downtown location means "having a diversity of people and buildings and experiences and restaurants and everything that you get in the core of the city."
Should plans actually materialize, Lucas wants to be sure that any deal made with the city is best for the taxpayers. "If it was a fully privately financed baseball stadium, that would be some great conversation."