Kansas Citians Want More From 18th And Vine — More Restaurants, More Parking, More Options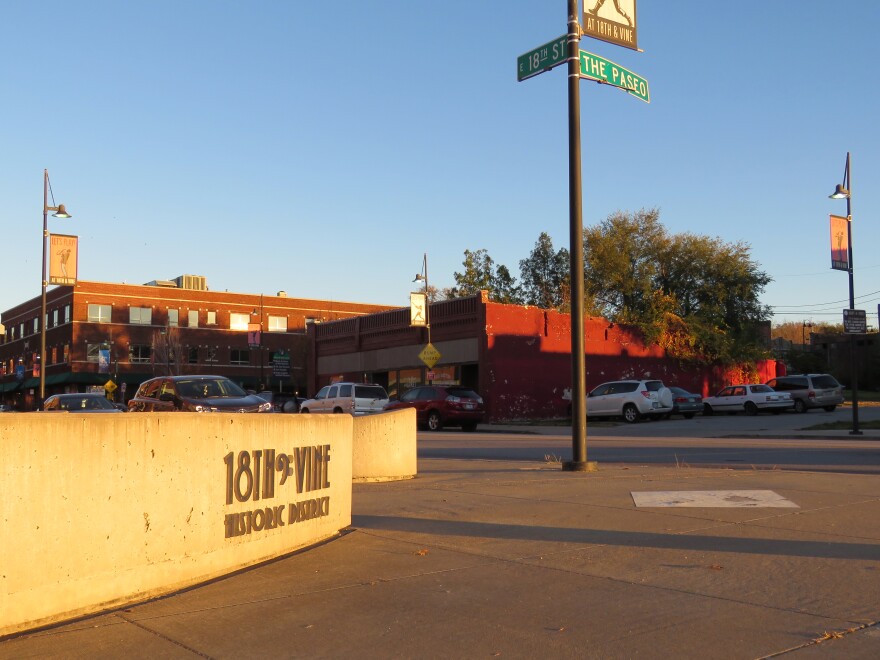 The 18th and Vine Jazz District played a crucial role in Kansas City's history as a center for African-American commerce and culture. Today, it's home to the American Jazz Museum, Black Archives of Mid-America, Kansas City Friends of Alvin Ailey, Negro Leagues Baseball Museum, and more.
But the district has struggled to achieve the vision laid out by city leaders when they invested in redevelopment more than two decades ago. In early January, the City Council passed a resolution calling for $18 million in additional funding. The city manager is in the process of creating a financing plan — exploring both private and public funding.
When we asked, "When was the last time you went to 18th and Vine?" in a Tell KCUR questionnaire, we received a range of responses from people who considered themselves regular patrons to those who had never been.
"I am not really a jazz or a baseball fan so [I have] no real interest in the subjects," wrote Rebecca Welch, 58, of Kansas City, Kansas.
Leslie Holliday, 45, of Olathe, Kansas, gave us two reasons that she'd never visited, including the cost of admission to venues and the shortage of restaurants: "I am vegetarian so there is nothing to eat at the restaurants down there."
Food — and the lack of options in the district — was a recurring theme.
Ernest Schein, 55, of Olathe, Kansas, hasn't been to the district in more than five years — and that was to dine at a restaurant that's now closed. He suggested the area "get a good restaurant with good parking."
The last time Carol Bates, 78, of Kansas City, Missouri, stopped by the district she ate dinner at Danny's Big Easy, the Cajun restaurant on E. 18th Street. She visits about once a year. But she wrote to ask, "Why is there no barbecue at 18th and Vine? Our trademark is jazz and barbecue!"
"More restaurants would be nice. Otherwise I like it," wrote Dana Seeley of Liberty, Missouri, who drives to the district at least once a month, often to hear music at the Blue Room.
Distance and walk-ability were concerns for some.
Andrew McKeegan, 27, of Kansas City, Missouri, drops in a few times a year — most recently, to a late-night jam session at the Mutual Musicians Foundation. But he can walk from his house to other entertainment districts, such as the Country Club Plaza and Westport.
And if you've been to the district once, some wrote that they just haven't found a reason to return.
Joe McClernon, 56, of Kansas City, Missouri, told us that he "went to the grand opening event and expected to frequent the area but never went back." He added, "I guess the location just is not convenient enough for me."
"It's kind of like a ghost town," wrote Jordan Bruening, of Independence, Missouri. He's 22, and a full-time student at the University of Missouri-Columbia. "There's nothing really to draw you back once you've been to and seen the museums."
Steve Hoog, 55, lives in Festus, Missouri, but he drives through the 18th and Vine neighborhood about once a year. And he's been disappointed. "Nothing there of interest to me other than NLBM [Negro Leagues Baseball Museum]. Blue Room occasionally, but far from consistent."
A friend or an out-of-town visitor often prompts a return visit, or a fresh set of eyes.
"I went there with friends visiting from Denver," said Ben Hyde, 36, of Overland Park, Kansas. But that was more than five years ago. "I think the biggest reason why I have not been back is due to finances and safety. It is not a safe place, especially during the night for females to walk around."
Diane Capps, 75, of Kansas City, Missouri, would disagree: "I'm certainly not afraid to go to that area."
"I brought a buddy who loves jazz but hadn't been to the [Mutual Musicians] Foundation," said Reggie Berry, 34, of Kansas City, who visits about once a month. "I was very pleased with the music and the atmosphere. A KC jewel."
But Berry added that the district "needs to be better promoted. It has a lot to offer."
Laura Spencer is an arts reporter at KCUR 89.3. You can reach her on Twitter, @lauraspencer.