With Its Nine-Hour 'Orphan' Cycle, A Kansas City Theater Brings Home A Timeless Story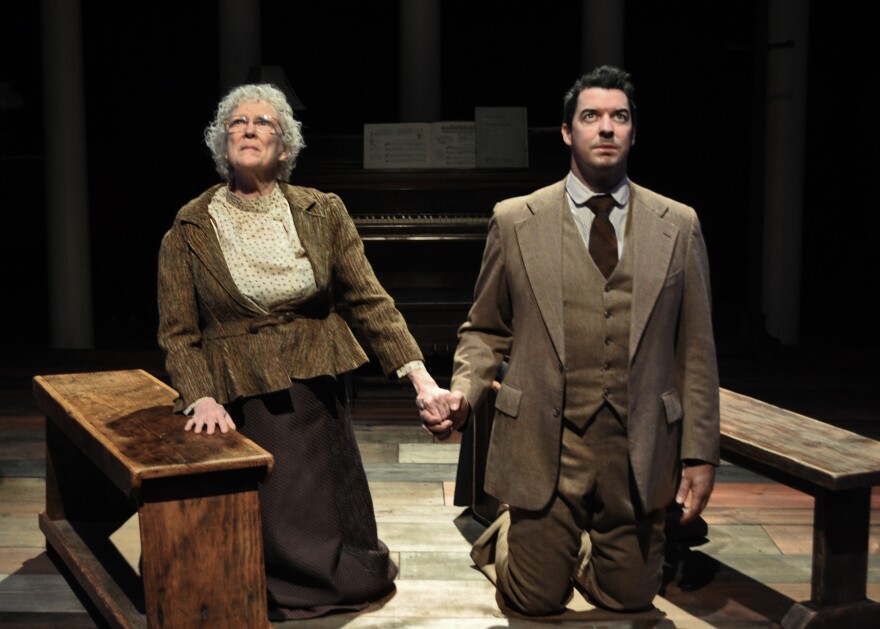 Plenty of people don't think twice before binging on episodes of a favorite TV show or series of movies. Would that crowd consider watching live theater the same way?
"You know how when you binge-watch 'Lord of the Rings?'" asks Karen Paisley, artistic director of the Metropolitan Ensemble Theater. "This is sort of like binge-watch theater."
Paisley has taken on a production of Horton Foote's massive "The Orphans' Home Cycle," only the second time it's been produced anywhere. To watch the entire cycle, a theater-goer will commit to watching three three-hour performances.
However, Paisley says, the audience has some wiggle room. Each evening's play stands alone, so someone could only attend one night and still understand the story. Or, attend a different play each week during its three-week run.
She says the middle play, "The Story of a Marriage," is the most romantic and has been produced many times in theaters, on television, and in movie versions; act three, "Valentine's Day," was made into a film that featured Matthew Broderick.
The play follows character Horace Robedaux from childhood through adulthood at the turn of the last century. Horace lives in Texas during the period of Reconstruction after the Civil War and the decades building up to World War I and the Great Depression.
He has it very rough. The character is orphaned at age 12 after the death of his alcoholic father; his mother left the father years before and has married a man who wants nothing to do with her son. He is left to fend for himself.
Seeing the entire course of events that make up a character's life and influence his decisions can be like seeing our own lives flash before our eyes; the contraction and distillation of key moments lends a unique clarity.
"Some victories in life that are really important and pivotal come from weathering something extremely difficult and getting to the other side and then you see the victory," Paisley notes. "Victory doesn't always come with big banners and big giant moments."
Kansas City actor Todd Lanker is one of 30 actors who fill a total of 64 roles. He plays Horace from ages 20 through 38, and says people in that age bracket will relate to the story.
"As a storyteller in my mid-30s, I'm part of a generation that feels very disconnected and very much like we're forging the world on our own," he explains.
"I'm sure previous generations have felt this, but I definitely know it from my own experience, and I think that's something we're all looking for: things to cling to and bind us together, and more and more we get pushed further and further apart."
Lanker is also the MET's associate artistic director. He says the play speaks to the idea that many people in contemporary society feel rootless and adrift, and in that way they are all orphans like Horace was 100 years ago.
Paisley says that throughout the cycle, the audience will see Horace take control of his life by creating his own support network.
"The whole idea of 'friendsgiving' didn't exist. That's really a new idea that there would be people who are creating family," she says. But Horace would have hosted one of these alternatives to the traditional family Thanksgiving.
"He begins to make his own (family)," Paisley says. "What I love about (the story) is the sense of ownership of being in your own space."
The political and social upheaval of those early decades of the 20th century will also feel familiar to audiences. Lanker says when society straddles major changes caused by wars, disease, unusual political unrest, or changes in technology, that causes a schism between generations.
"(The play) could so easily be describing our current climate of generations that cannot understand each other and are stuck in different places in history, whether it's looking back or looking forward, but are equally adrift," he says.
Ultimately, Paisley says, "The Orphans' Cycle" is an "extremely hopeful and encouraging" story. It's more the tale of a hero's journey than it is a dark commentary on the all-too-familiar sounding societal situation.
"It's not just getting up from being knocked down, it's being the last man standing. In those hard moments," Paisley says, "that's victory."
"The Orphans' Cycle," presented by the Metropolitan Ensemble Theatre in three parts beginning at 7 p.m. on Saturday, October 27 at the Warwick Theater, 3927 Main Street, Kansas City, Missouri 64111. Runs through Sunday, November 18. Visit the box office online for details about individual shows and packages.
Follow KCUR contributor AnneKniggendorf on Twitter, @annekniggendorf.