This special series explored the history and impact of the most distinct lines in Kansas City: Troost Avenue, the State Line, the Wyandotte-Johnson county line, and the Missouri River.
While Kansas City Voters Consider Incentives, Some East Side Development Projects Are Underway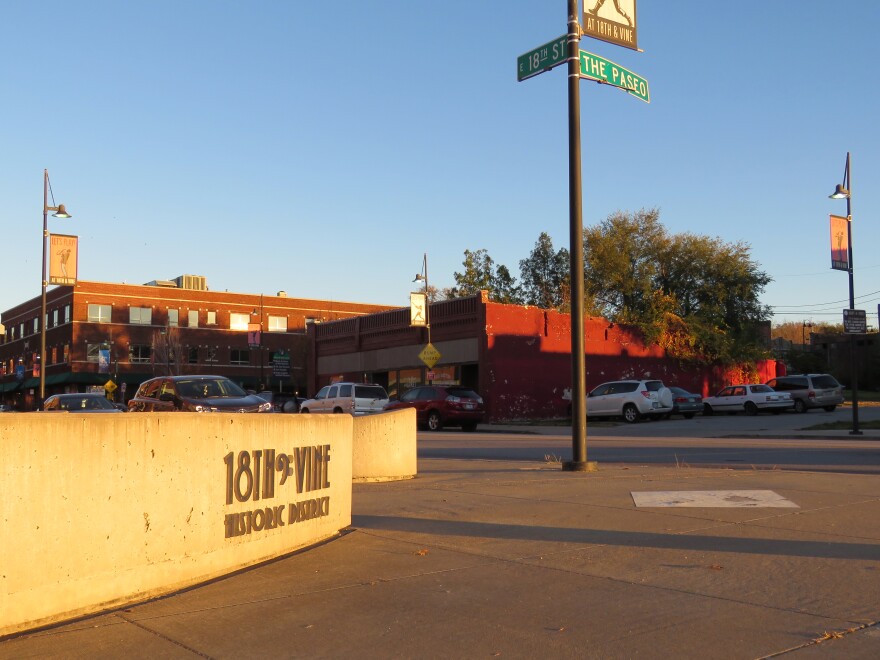 Kansas City's East Side is receiving renewed attention this year with several initiatives aimed at attracting investment to an area that's struggled economically for many decades.
Topping the list is a grassroots proposal championed by East Side clergy and others that will ask voters next month to approve a 1/8th cent sales tax increase. It would generate an estimated $8 million annually to support development east of Troost Avenue.
There are other new plans and proposals as well.
In recent months, a string of private developments along Troost, the city's historic racial divide, have been announced at strategic intersections along a roughly four-mile stretch from 22nd to 55th streets.
And last fall, the Urban Neighborhood Initiative, an outgrowth of the Greater Kansas City Chamber of Commerce "Big 5" strategic plan, released its KC-CUR proposal to target investment in four East Side locations.
Rev. Vernon Howard Jr., a leader of the "one city" sales tax initiative to be considered by voters April 4, said the health of the overall community depends on reviving the East Side.
"We need to embrace the reality it's right to invest in areas that have been neglected and abandoned," he said. "To us, it's a moral issue."
There has been a flurry of announcements for projects along Troost in recent months.
Building on the successful Beacon Hill residential development at 25th Street and businessman Ollie Gates' commercial investments at 47th Street, new projects are in the works for the intersections at 27th Street, 30th Street, Linwood, Armour, 43rd Street and 55th Street.
John Hoffman of UCB Properties, recently announced an $18 million plan to redevelop the former Katz Drug Store at Linwood and Troost and several nearby properties into apartments and commercial space.
Hoffman advocates a ripple theory to redevelopment, building on the successful revitalization of downtown and midtown by gradually advancing it eastward to Troost and then Prospect.
He got his start on the East Side building homes in Beacon Hill more than 15 years ago.
"We put a foothold in Beacon Hill and showed you could build east of Troost and be successful," he said.
It has been a struggle to get lenders to back private development because of the greater financial risks involved, Hoffman said.
"A bank won't go into a neighborhood where the market shows the rent rates won't justify the loan," he said.
Factors contributing to those development risks are racial discrimination, lack of retail and housing, crime and poor schools, he said.
Kim Zeuli, a senior vice president for the Initiative for a Competitive Inner City, said her Boston-based nonprofit believes the inner city must be on a "level playing field" with the rest of the city.
That includes infrastructure, both physical and IT, security, services and amenities.
"Imagine you're investing in real estate or thinking about where to locate a business," she said. "You can't have everything be worse in the inner city and expect the same level of investment."
Research done by the ICIC indicates public incentives don't have a large role.
"Very few businesses locate in the inner city because of tax incentives," she said. "We think of that as the icing on the cake."
The ICIC believes the most sustainable economic development is growing businesses already in the inner city because they are more likely to create jobs and hire residents in the area.
Last October, the Urban Neighborhood Initiative released its Kansas City Catalytic Urban Redevelopment plan or KC-CUR. Stephens Samuels of the Kansas City Local Initiatives Support Corp. said the plan was a year in the making.
It calls for focusing city and private resources on four targeted areas as opposed to reacting to scattered development proposals: Troost from 30th street to Linwood Avenue; Prospect between 25th and 33rd streets, and the Ivanhoe and Wendell Phillips neighborhoods. It would require an estimated $35 million in public and private subsidies to fulfill. The goal is to encourage larger projects by developers with the expertise to be financially successful.
Still, Samuels said developing on the East Side will require "patient capital."
"Traditional underwriting and loan terms are more aligned with hot real estate markets where people expect returns of 10 percent or more," he said. "That doesn't work with markets like the East Side."
"It's more of a social impact investment. Not a grant, but money where people don't expect a high return and they're in it for the longer term."
Developers welcome knowing in advance where the city will support their plans to minimize the financial risks, said Audrey Navarro of Clemons Real Estate.
Her firm is pursuing Legacy Crossing, a mixed-use redevelopment plan for the 31st and Troost area that includes renovation and new construction.
"If the city has invested time to identify not only a strategy but to provide resources, it shows developers there's support to close the funding gap," she said.
Kevin Collison, a freelance contributor to KCUR 89.3, writes about downtown Kansas City for his website CityScene KC.