Mayor Lucas appraises Kansas City's 2021 performance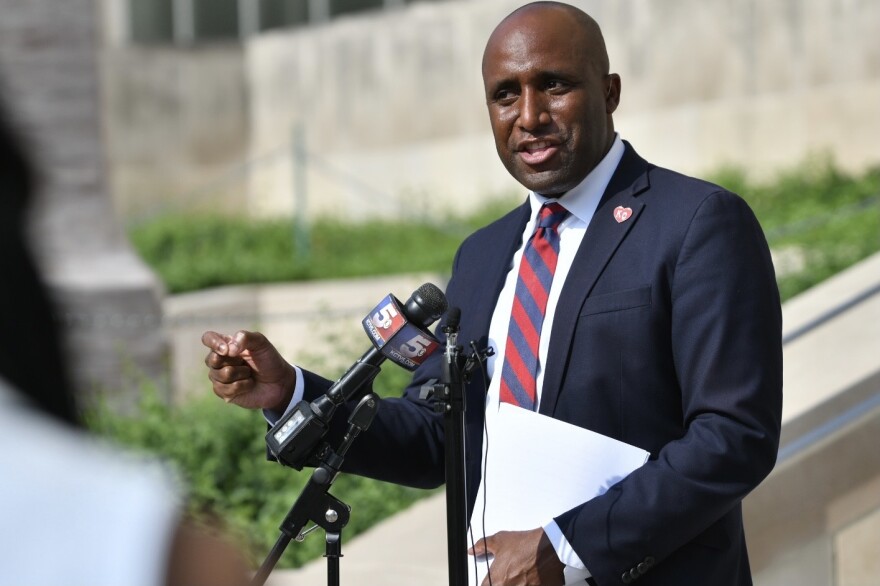 Mayor cites progress for city's houseless population as one of the best achievements of the year.
It's been a couple of tough years according to Mayor Quinton Lucas, but the mayor of Kansas City is looking forward to an "exciting 2022."
Reviewing his office's progress in 2021, the mayor is pleased with the efforts made fixing roads and making his office more responsive.
"I think we have done an outstanding job, particularly thanks to our new city manager," Lucas said.
But many of the challenges the city faced, won't dissipate with a new year. Mayor Lucas acknowledged that violent crime continues to plague Kansas City.
"That is something that, it continues to be disappointing to me," he admitted.
As the year's end approaches, Kansas City has already tied the record for its second deadliest year according to the mayor.
"I can't sleep at night," Lucas said. "I can't keep moving with these types of numbers, this type of tragedy on our streets."
There are easy parts to the job Lucas noted, but says one of the hard parts "is talking to a police department, a police chief, a police board and saying, 'You know what? This needs to change.'"
"It's something I will continue fighting for as long as I'm in this office," he said.
Kansas City's police chief will retire in the new year and his replacement is as important for the city as finding a new mayor, according to Lucas.
As a member of the Police Board of Commissioners tasked with replacing the chief of police, Lucas said he won't limit himself to an inside hire. The mayor wants a nationwide search for the most qualified candidate; someone who will take a creative approach to crime and prevention.
He encouraged residents to "make noise" by talking with and emailing the board of police commissioners regarding what they want in the next chief.
A city council move that angered some Kansas Citians, and which Mayor Lucas voted in favor of, was the $7.5 million in tax breaks for the Fidelity Security Life Insurance Co. Lucas pointed out that Kansas City reduced both the number years that incentives are granted and the total number of dollars that groups can get.
But the mayor also realizes that Kansas City must remain a competitive market in recruiting and retaining jobs.
"We'll continue to see incentives largely used in areas where we can attract development through traditional means," Mayor Lucas said.
"We continue to spend tens of millions of dollars every year in building up the east side of Kansas City," Lucas added. "This is not an either-or sort of thing."
It is in advancements for the houseless population that Kansas City's mayor takes the greatest pride.
Progress in that area includes an improved relationship with shelters, less restrictive admission standards to those shelters and more support services. The city also purchased two hotels to provide transitional residences for people experiencing houselessness.
"I am damn proud that this is a city that cares and that has acted in a way that we have never done in our past," the mayor declared.
"We will not be perfect," Lucas said. "But what we're not going to see is headlines where people are dying on our streets and us kind of of shrugging our shoulders and saying 'well it's just another winter in Kansas City'."