Kansas City election guide: What voters need to know about the November 2023 ballot
Election Day is Tuesday, Nov. 7! While Kansas City, Missouri, has no candidates on the ballot, voters will have several important questions to answer. In Johnson and Wyandotte counties, voters will have all kinds of local council, mayor, school board and other races to decide.
Tuesday, Nov. 7 is Election Day for voters on both sides of the state line. But because it's an off-year for federal and state elections, your ballot will look very different depending where you are in the Kansas City metro.
In Kansas City, Missouri, there are no candidates — just several ballot questions (although they're important in their own right)! In Johnson and Wyandotte counties, the ballots will be filled with all kinds of local council, mayor, school board and other races.
Here's what you need to know about voting in Kansas and Missouri. Plus, you'll find guides to the candidates in various local races, and information about specific ballot issues, thanks to our partners at the Kansas City Beacon and Shawnee Mission Post.
Important voting information
In Missouri, polls are open from 6 a.m. -7 p.m. on Nov. 7.
In Kansas, polls are open from 7 a.m.-7 p.m.
Here's where you can look up your polling location in Missouri and Kansas. But take note: Your polling place may have changed since the last time you voted.
If you are in line at the time that polls are closing, you have a right to cast a ballot — stay in line!
Before you head to the polls, though, make sure you're registered to vote. Voter registration deadlines have passed in both states, but you should double check your voter status in Missouri and in Kansas.
Both Kansas and Missouri require photo ID to vote, and the accepted forms of identification differ in each state. If you don't bring proper ID, you'll have to cast a provisional ballot.
Kansas City, Missouri, elections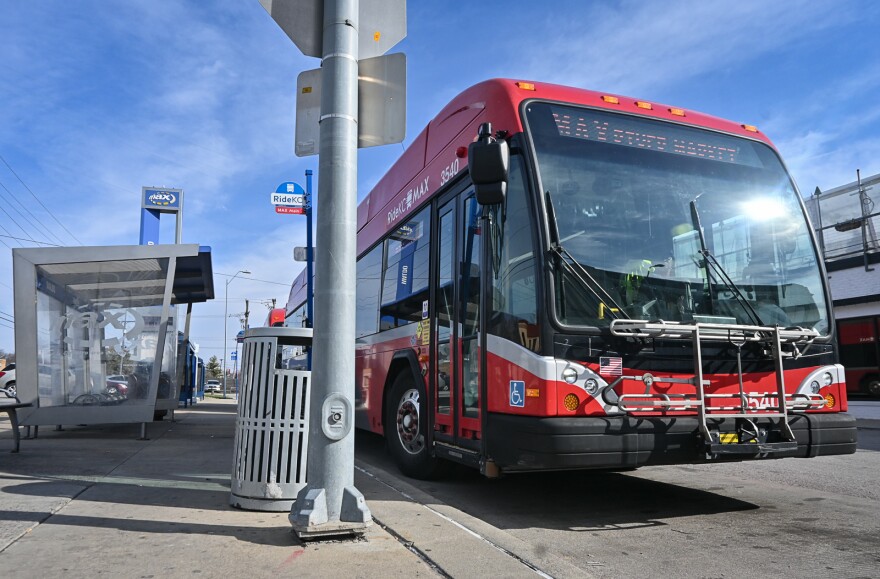 No municipal elections are taking place in Kansas City, but local voters will see some important questions on their ballot.
The biggest one is about buses. Kansas City is asking voters whether or not to continue a city sales tax that has subsidized the public bus transit system for the last 20 years.
The 3/8-cents sales tax is added to every purchase in Kansas City.As the Kansas City Beacon reports, the tax most affects the city's poorest families, and residents who live north of the Missouri River have complained they don't receive their fair share of bus service.
However, removing the tax funding would remove a large portion of KCATA's budget, requiring layoffs for about 100 transit workers and cutting of bus routes and weekend and night service. Any changes to bus availability in Kansas City would hit working class residents the hardest.
A yes vote on the ballot issue would approve the sales tax for 10 more years. A no vote would end the sales tax and trigger a 30% cut in the KCATA budget.
Voters will probably see two other questions as well.
Jackson County will ask voters about a local use tax to finance road and bridge construction projects, homelessness assistance, and courthouse repairs. A use tax is a sales tax applied to online purchases from vendors outside Missouri. A yes vote would pass the tax, a no vote would deny the tax.
Kansas City is asking whether to remove about 5.4 acres of undeveloped and vacant land from the park system. A yes vote would allow Kansas City to remove the land, a no vote would keep the land as part of the park system.
Johnson County elections
If you live in Johnson County, this year's election features much-watched contests for city councils and local school boards (which have become some of the most contentious races in recent years). Voters will also be selecting new mayors in three of Johnson County's biggest cities.
Here are a list of voting guides from the Shawnee Mission Post and Kansas City Beacon to prepare you:
City councils and mayors
School board races
Other races
Wyandotte County elections
The Unified Government of Wyandotte County and Kansas City, Kansas, has several seats up for the taking. There are also local school board and utility board races that will have consequence for the area.
The Kansas City Beacon prepared these voting guides:
Unified Government
Other races
---
KCUR and our partners will be providing election results from across the Kansas City metro. Sign up for the Early Bird, KCUR's free morning newsletter, to get the biggest headlines from Election Day.