Each week, KCUR's Adventure! newsletter brings you a new way to explore the Kansas City region.
A guide to Kansas City's best trivia nights for every day of the week
Question: How many bars and restaurants host weekly trivia competitions across the Kansas City metro? KCUR did some digging to bring you the answer.
This story was first published in KCUR's Adventure newsletter. You can sign up to receive stories like this in your inbox every Tuesday.
For some, trivia night is a competition of the minds, a weekly hobby that tests your knowledge and skills under pressure. For others, it's a good venue for a date night or an excuse to get a group of friends together.
In recent years, trivia events have become wildly popular, cropping up all over the Kansas City region in bars, breweries, coffee shops and restaurants.
"People are looking for new hobbies," says Buford Logan, a local trivia host who recently joined KCUR's Up To Date to discuss the popularity of trivia events in Kansas City. "You have the guys who do frisbee golf, the guys who go golfing, and then those who want to flex those brain muscles."
Playing trivia typically cost between $5-10 a person, with the funds often going to the winning team at the end. Some trivia events — including those hosted by Big 5 Trivia and Geeks Who Drink — are free to play.
But as any good pub trivia host will remind you, ordering food and drinks while you're playing (and tipping your server and bartender!) is the best way to support the game and the business hosting it.
Whether you're a pop quiz whiz looking for your next challenge or a novice in search of a fun night out, here's a list of the many places you can find weekly trivia nights in Kansas City.

Monday night trivia in Kansas City
Make the most of your Mondays with a few rounds of trivia and drinks at these local hot spots.
Start your week with Monday night trivia at Gaels Public House & Sports, located at 55th Street and Troost Ave. Gaels' trivia, which is a favorite of some KCUR staffers, is free to play and starts at 7 p.m. Mondays are also $9 burger nights, so you can grab a lamb or mushroom burger with their housemade chips. The event is hosted by Intelligence Check Trivia, another popular trivia organizer in Kansas City.
Chicken N Pickle in Overland Park and North Kansas City host Geeks Who Drink trivia on Mondays starting at 7 p.m. See the Overland Park event page and North Kansas City for more information.
Atomic Cowboy hosts Monday night trivia in Westport with a Geeks Who Drink quizmaster starting at 7 p.m. While you're there, fuel your game night adventures with a bite to eat from Denver Biscuit Co. or Fat Sully's Pizza.
Find Big 5 Trivia playing Monday night trivia in Lee's Summit at Martin City Brewing Co. Pizza & Taproom and at Sinclair's Blue Springs from 7-9 p.m. at both locations. The game is free to play with gift cards awarded to the top two teams.
Tuesday trivia across Kansas City
Tuesday is easily the biggest night for trivia in Kansas City. In almost every neighborhood and suburb, you can find a trivia event that suits your tastes. Here's a sampling of some of the most popular Tuesday night trivia around Kansas City.
Regardless of your trivia prowess, you're guaranteed to have fun at All-Star Trivia Tuesday nights at Hamburger Mary's. Voted as the "Best Trivia in KC" in 2021 and 2022 by The Pitch, this game is free to play with prizes at the end and runs from 7-8:30 p.m. Reserve your spot in advance.
Located on East 31st Street in Kansas City, Brick House KC hosts Tuesday night trivia each week with Geeks Who Drink starting at 7 p.m. Try the House B.L.T. for a delicious grilled cheese-meets-B.L.T. experience.
Rochester Brewing & Roasting Company is another Kansas City brewery and coffee house that hosts Tuesday night trivia in the Crossroads with Geeks Who Drink. Whether you're craving a coffee or a beer to go with your trivia, Rochester has all three every Tuesday from 7-9 p.m. Try their iced mango black tea for a delightful non-alcoholic option.
With an impressive number of participants most weeks, Cinder Block Brewery hosts Tuesday trivia in North Kansas City run by Geeks Who Drink. The game is free to play with teams of up to six players and runs from 6:30-8:30 p.m.
Serv, a restaurant and entertainment space featuring pickleball courts and six container kitchens, offers "something for everyone" in Overland Park — including Tuesday night trivia with Intelligence Check Trivia starting at 7 p.m.
Intelligence Check Trivia also makes a Tuesday night stop at Block 15 Tavern & Exchange in the River Market. The game begins at 7 p.m. with host Adam Clark (who also hosts the Gael's trivia night). Happy hour at Block 15 lasts until 8 p.m. with $3 wells, $4 margaritas and $5 wine pours. Cheers to that.
Brew Lab in downtown Overland Park hosts a free trivia night with KC Pop Quiz on Tuesdays from 7-9 p.m. Take advantage of $2 tacos paired with a pint of craft beer.
Searching for Tuesday night trivia in Waldo? Lew's Grill and Bar hosts weekly trivia with Big 5 Trivia from 7-9 p.m. Enjoy three rounds of general knowledge trivia, a "sound round" and one themed round.

Wednesday trivia around Kansas City
Wednesday has become another popular night for weekly trivia events across the Kansas City metro. Here are some of our top recommendations.
As Kansas City's "first board game pub and geek bar," it's no surprise that Pawn and Pint hosts a popular weekly trivia event on Wednesdays from 7-9 p.m. With eight rounds of trivia from Intelligence Check Trivia, you can "have a drink while you think" after paying a $5 cover.
If you're looking for an LGBTQ-welcoming space for your trivia night fun, check out DoubleTap KC, a virtual reality arcade and sports bar in River Market where "all players are welcome." DoubleTap KC hosts trivia every Wednesday with Geeks Who Drink starting at 7:30 p.m. and offers specials like $15 surprise buckets and $2 off appetizers.
As recommended by longtime KCUR reporter Dan Margolies, Roland Reschke hosts Trivia Blitz at Flying Horse Taproom in Brookside most Wednesdays starting at 7 p.m. It costs $5 to play, and be sure to check the Trivia Blitz Facebook page for confirmation and category clues and to reserve your team's spot in advance.
"Capacity [at Flying Horse Taproom] is about 50 people, and typically we bring in about 40," says Reschke, so teams over four participants are encouraged to show up early.
Also in Brookside, Charlie Hooper's hosts weekly Wednesday trivia from 7-9 p.m. Quizmaster Travis runs the game with Geeks Who Drink, so it's free to play. Take advantage of the Wednesday special with $3 off Charlie Hooper's mac 'n cheese.
Featuring a rotating menu and a broad selection of year-round and limited-release brews and hard seltzers, Torn Label Brewing Co. in the east Crossroads hosts "Small Batch Trivia" with Geeks Who Drink on Wednesdays at 7 p.m.
North Kansas City's Vignettes Bar, a destination for pop culture pop-ups, hosts a number of themed trivia nights celebrating fandoms from The Office to Bob's Burgers. Currently, Vignettes is celebrating the cultural sensation of Greta Gerwig's "Barbie" blockbuster with its Malibu Dream Bar concept, open now through Aug. 12. Keep an eye on Vignettes' Instagram page to see what new themed events will pop up next.
Brewbakers, a bar and grill in Belton, Missouri, hosts a weekly Wednesday night competition with help from KC Trivia Geeks. It costs $5 to play with teams of up to eight players and runs from 8-10 p.m.
You can find trivia in Shawnee every Wednesday at Transport Brewery on Johnson Drive. The game begins at 7 p.m. and along with craft brews, players can enjoy fancy hot dogs and snow cones from Scotty C's Food Truck, or bring their own snacks to the brewery.
Burg and Barrel in Overland Park hosts a weekly Geeks Who Drink trivia night on Wednesdays at 7 p.m. Craving a burger to pair with your trivia? Good luck choosing from an extensive offering of specialty burgs, from the spicy El Diablo burger to the funky Bleu Moon.
Big 5 Trivia also makes a Wednesday stop at Llewelyn's Pub in Lee's Summit from 7-9 p.m.

Thursday trivia in Kansas City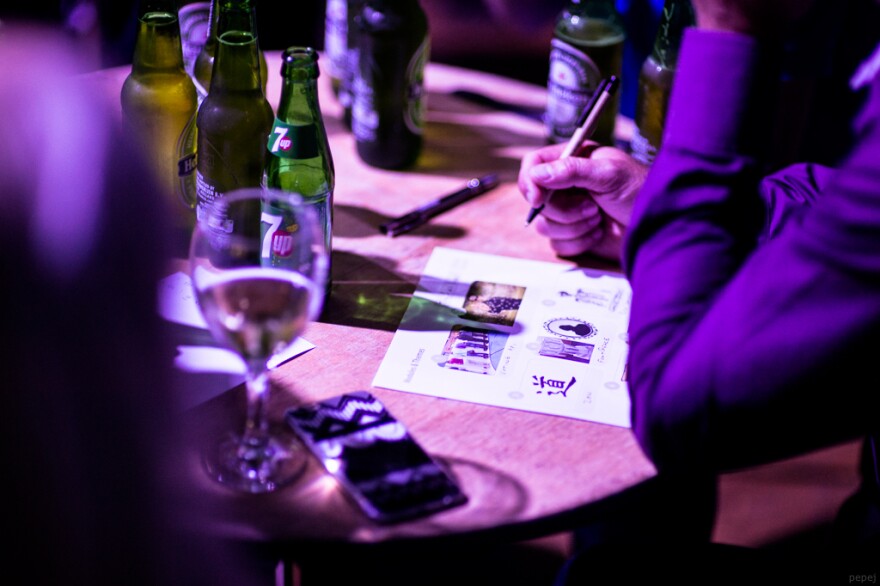 Bricks Pub & Grub in downtown Lee's Summit hosts trivia every Thursday from 8-10 p.m. with the help of KC Trivia Geeks. This weekly quiz costs $5 to play with teams of up to eight players.
Test your knowledge at the Piano Room in Waldo Thursdays from 7:30-9:30 p.m. Check the Piano Room's Facebook for a preview of categories prior to each week's event. The best team name gets a free shot, and the winners receive $5 off their tab.
Westport's live music joint, Tin Roof, hosts trivia on Thursdays at 7 p.m. with Intelligence Check Trivia. Choose from a menu including burgers, quesadillas, fried chicken tenders and wings, or test your taste buds with an order of Nashville hot chicken.
For Thursday night trivia in Lee's Summit, Smoke Brewing Co. hosts weekly play with help from Big 5 Trivia from 7-9 p.m.
Friday and weekend trivia in Kansas City
Hosting weeknight trivia is a popular (and effective) tactic for bar and brewery owners looking to increase business on slower evenings — which is why there are fewer options on Fridays and weekends. But that doesn't mean you won't find weekend trivia happening somewhere in KC.
Intelligence Check Trivia makes a Friday night stop at Fountain Haus each week. Located on the corner of Westport Road and Broadway Boulevard, Fountain Haus is an LGBTQ+-owned bar serving Kansas City's queer community. Weekly trivia starts at 8:30 p.m. after the RuPaul's Drag Race watch party.
KC Wine Co. hosts themed trivia events each month, including an upcoming Top Gun trivia session on Saturday, Aug. 19 from 6-8 p.m. Enjoy wine slushies, beer and cider along with free trivia. Look out for KC Wine Co.'s seasonal and spooky events in October, starting with "Hocus Pocus" trivia on Sunday, Oct. 1 from 2-5 p.m.
Sail Away Wine hosts trivia in North Kansas City on Sundays from 1-3 p.m. On your first visit to the wine bar, you'll receive a free "Wine Passport" to keep track of which wine blends you've tasted.
"We fill the house up most Sundays," says Logan, who runs Sail Away Wine's weekly trivia, so be sure to show up early to claim your spot in the game.
Waldo's KC Bier Co. invites you to "Get Trivial" with free trivia on Sundays from 1-3 p.m. with prizes for the top three teams.
---
Did we miss your go-to space for trivia night in Kansas City? Email us the details — including the date, time, location and frequency of the trivia event, and we'll add it to our list.